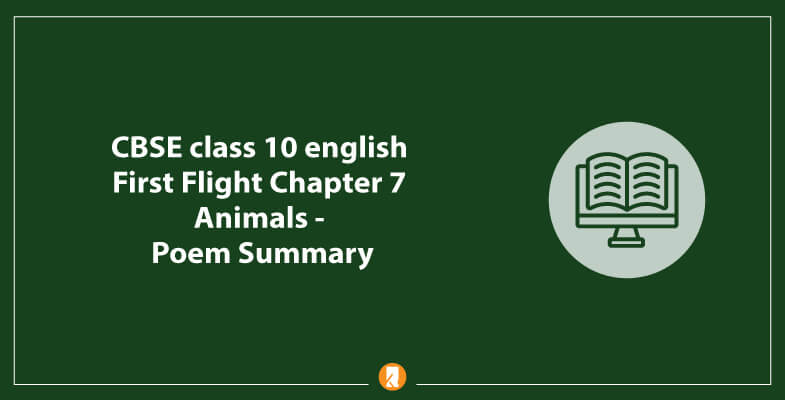 CBSE Class 10 English First Flight Chapter 7 Animals – Complete Poem Summary: In this blog, we have highlighted a short summary of CBSE Class 10 English First Flight Chapter 7 Animals. The name of the poet is Walt Whitman. The poem Animals has been taken from his work 'Song of Myself' in the Leaves of grass. In this poem, the poet Walt Whitman expresses his love for animals.
He thinks they are way better than human beings. The poet desires to spend a life with animals because he wants to live a life free of complaints. He wants to be a part of a life where everyone is free of sins and sorrows. He has also compared the life of animals with humans because he wants us to know about the flaws of their nature.
We have presented the summary here and after you finish reading remember to check the meanings of the important words. You will find it at the end of the summary. Read each part with a focused mind.
CBSE Class 10 English First Flight Chapter 7 Animals – Complete Poem Summary 
God structured man and animals in a way that would help them to live on earth. God placed human beings in a position that was way better than the animals. The great American poet, Walt Whitman has a belief and the belief is that animals are better than men.
There are some qualities in animals that drew the attention of the poet and he thought it was something which was not present in human beings. He tried to present his thoughts on animals and man in his poem "Animals".
Walt Whitman is always attracted to the company of animals. The poet wants to live a life among the animals because he believes that animals are calm and independent in the truest sense. They don't complain about anything or weep during various situations. They are satisfied with what they have and they focus on their duties towards God.
Animals have always tried to spread the message of love and respect for human beings. Animals usually spend their lives peacefully without having any kind of demands. They are not emotionally attached to any kind of possession. They don't try to show respect for others and they don't even try to pay tribute to the thousand old descendants. They treat both sorrow and happiness equally.
The poet has tried to make some comparisons here. Human beings are always obsessed about materialistic things and they lie awake at night. They feel bad for the things they have done and they cry. They also fight for little things.
Animals are totally different on the other hand. Animals are always at peace. They don't waste their time by talking about their duties to God like human beings. He thinks that humans are falling behind in terms of qualities such as signs of love, quietness, kindness, selflessness, honesty, patience, sympathy, etc. We need to have these qualities for a peaceful life.
The poet is interested to learn from the animals since they share their deepest thoughts with them. They are always true to themselves. Their qualities has driven the poet crazy. He wishes to learn from them despite the fact that he has been careless . He thinks that the life of a man is nothing but a package which consists of stress, depression, anxiety, unhappy. For this reason he doesn't want to live with other humans.
He desires to live in a place which will be surrounded by animals and over there he will try to establish a connection with them. He thinks that he will understand the meaning of real happiness from the animals. He craves for a real connection with animals. This is a short of summary of the poem "Animals" written by Walt Whitman.
You can Download NCERT Books and solutions for CBSE Class 10 English First Flight Chapter 7 Animals – Poem.
Important Word Meanings from the CBSE Class 10 English First Flight Chapter 7 Animals – Poem Summary
Here you can check the word meaning for CBSE Class 10 English First Flight For Chapter 7 Animals – Poem.
Placid – quiet, calm
Self-contained – poised (in the right mind; in full control of self)
Sweat and whine – to cry (to complain)
Sins – misdeeds (immoral actions)
Demented – affected with madness
Mania – madness
Owning – possessing
Kneels – bends (as a sign of respect)
Tokens – symbols
Evince – to show
Possession – ownership
Negligently – in a careless manner
We have covered CBSE Class 10 English First Flight Chapter 7 Animals – Poem Summary. Feel free to ask us any questions in the comment section below.