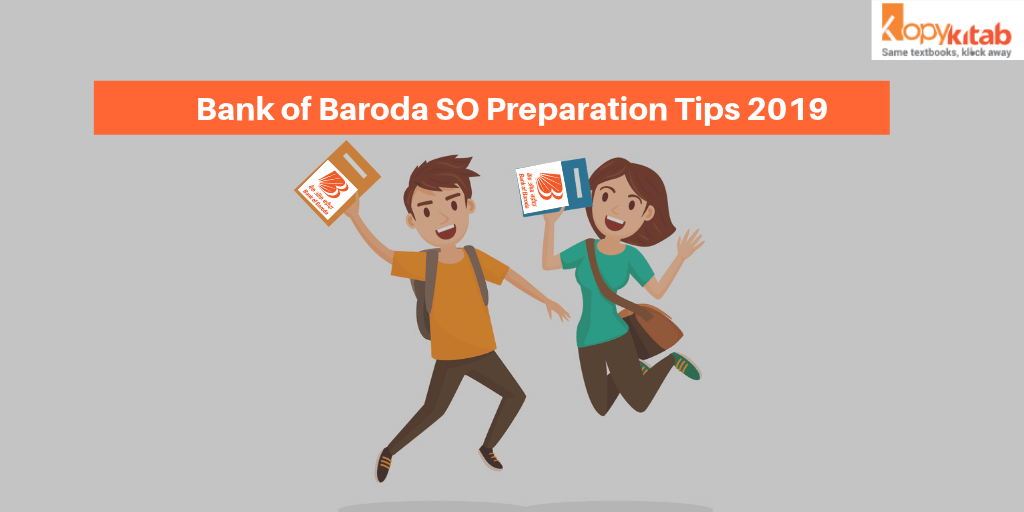 Are you preparing Bank Of Baroda SO exams?  Are you confused about the steps you should take? Don't worry, In this guide, you will get brief information on Bank of Baroda SO Preparation Tips 2021.
Bank of Baroda SO exam is going to be highly competitive. Because it offers excellent opportunities to career growth, if you want to guarantee your selection, you should start your Bank of Baroda SO Preparation as earliest as possible.
Bank of Baroda SO Preparation Tips 2021
You should know the Bank of Baroda SO exam pattern and syllabus to score better and crack the exam. Along with it, you need to build a proper Bank of Baroda SO Preparation strategy.
You should cover all the topics of BOB SO exam wisely. You should be aware of time management and practice to solve quickly.
Bank of Baroda SO Exam 2021 Highlights
| | |
| --- | --- |
| Name Of the Recruiting Authority | Bank Of Baroda (BOB) |
| Name of Post | Specialist officer (SO) |
| Number of Vacancies | 913 |
| Selection Stages | Online Test and Psychometric Test / Group Discussion /  Personal Interview |
| Mode of Application | Online |
| Mode of Examination | Online – Computer Based Test |
| Official Website | www . bankofbaroda . com |
Because you will get only 2 hours for 200 questions, there is negative marking 0.25 for every wrong answer.
Bank of Baroda SO selection process consists of three phases. Those are
An Online Test with objective questions
A Group Discussion
A Personal Interview.
So you have to prepare for all these three phases.
Bank of Baroda SO Exam 2021 Question Pattern Highlights
| | |
| --- | --- |
| Name of Tests | Number of Questions / Maximum Marks |
| Reasoning |  50 / 50 |
| English language |  50 / 25 |
| Quantitative Aptitude |   50 / 50 |
| Professional Knowledge |  50 / 75 |
| Total |  200 / 200 |
Bank Of Baroda SO Preparation Tips For English Language
The English Language section will have three types of questions.
Grammar,
Vocabulary
Reading Comprehension.
You should prepare for the English language as early as possible. To improve any language, it will take time. In the case of English, you have to become more consistent with it.
Grammar:
Improve your grammar. For a beginner, it is better to pick a standard book and learn some rules and understand them properly. Then check the application of those rules in the article of newspapers or any other source. Also, go through examples for each topic given in the book and solve all exercises.
Make sure you are revising whatever you learn before. Practice questions at least 1 hour daily for every topic you finish.
Vocabulary:
Vocabulary cannot be improved overnight. To improve your vocabulary, you first need to adopt new habits. Like,
Reading books, eBooks, newspapers
Listening audiobooks
Make a habit of learning new words every day and try to use them in real life. Slowly increase the number of words as much as you can.
Reading Comprehension:
For this type of questions too, you need to cultivate reading habits. Start reading newspapers for at least 15 minutes every day and increase it into 30mins. Try to read in speed gradually.
It will increase your reading speed, and you will be able to comprehend what you have written in much lesser time. By reading newspapers, you will get updated regarding the current events.
Bank Of Baroda SO Preparation Tips For Reasoning
You have to understand the concepts and practice a lot to improve this section. Do practice daily and with proper understanding. It will help you solve quickly in the exam and save more times for other parts.
Start early and give enough time to practice for Reasoning.
Refer to standard books and understand the logic. Especially when you solve puzzles.
Give more time to puzzles and look out for the logic applied and with practice. You will see that you can solve problems quickly.
Take mock tests and develop the habit to solve puzzles in less time possible.
While taking mock tests or practising, read the questions very carefully, understand the variables and terms involved and the relation between them.
Practice questions with different difficulty level to increase your speed and accuracy.
Bank Of Baroda SO Preparation Tips For Quantitative Aptitude
This section covers mathematical problem-solving skills.
To get a better score in this section, you have to memorize all the formulae and understand the basic theoretical concepts.
First, finish the topics which are direct-formula based and then start with questions which analytical and critical thinking as well.
Learn to solve sample problems of different types to understand the core concept instead of mechanically learning the formulas.
Solve and practice varieties of questions to enhance your problem-solving skills and accuracy.
Practice a sufficient number of exercises to discover the shortcuts by yourself. So it will be easier to remember.
Bank of Baroda SO Preparation Tips For Professional Knowledge
In this section, the questions will mainly be based on
Marketing,
Trade, banking,
For this section, refer previous year questions paper and the standard books in details.
Bank Of Baroda SO Preparation Tips (Advanced)
We have already covered the preparation tips according to the question pattern of examination. Here we are providing some additional tips so that you can focus more on preparation.
Make a proper schedule for different section.
Take rest for 10mins after completion of a chapter.
Don't gossip on preparation or the result.
Stay Focus.
Adopt new habits of reading the topics of your interest in English.
Stay motivated.
Take healthy foods and enough water.
Mediate daily to stay calm.
Do regular basic exercise to stay healthy.
Clear your doubt for any topic on the same day.
We have elaborated the guide on Bank of Baroda SO Preparation Tips 2021.  Quick action and hard works are key to success in any field. Wish you all the best for your Bank Of Baroda SO exam. If you have any questions related to the examination or preparation Visit : https://www.bankofbaroda.in/ or please let us know. We are always ready to solve your queries as soon as possible.