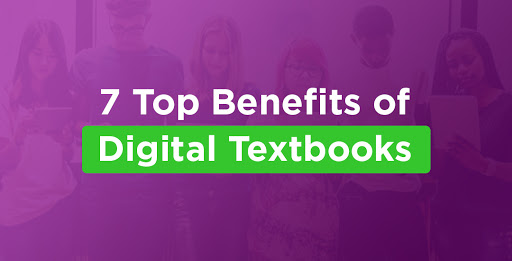 Printed textbooks have been a part of the education fabric the world over for centuries. However, the sweeping wave of digitization transforming every aspect of our lifestyle makes these traditional textbooks seem like an obsolete baggage. With the upcoming generation of technologically savvy students accustomed to processing information from pocket-sized devices, embracing digitized versions of textbooks and study materials can make imparting and absorbing information effortless. These seven top benefits of digital textbooks tell you why this new-age spin on traditional learning methods is a logical step forward for aiding the learning abilities of tech-minded youngsters and improve their academic performance:
Easy Access
With eBooks, students no longer have to worry about a textbook or supplementary study material being out of stock or waiting in line to make a purchase. These can be bought instantly from online stores and saved on your device. Today, there are quite a few digital libraries that let students borrow eBooks for a nominal fee. You can even build up your own library of necessary study material on a single device.
Versatile Learning Options
Most digital textbooks today come with multi-media tie-ins that help students gain more clarity on different concepts and topics by simply clicking on a hyperlink included in a text. For example, a student unsure about grammar usage in a particular sentence can simply click on a multi-media link and learn about it from a video tutorial or an infographic. Similarly, a medical student can gain clarity on a surgical procedure by watching online videos of real doctors performing it.
Learning Aid for Differently-Abled and Foreign Students
A majority of ebooks and eReaders on the market currently come enabled with text-to-speech functionality (TTS) – a feature capable of enhancing learning abilities in more than one ways. The TTS feature is increasingly being used by teachers to help students with medical conditions like visual impairments, learning disabilities, reading challenges and dyslexia gain a better grasp on the school curriculum. TTS also serves as a great support for students learning a foreign language or foreign students pursuing a course in a language they are not adept in.
Cost-Effective
Footing the cost of textbooks and school supplies, especially for students in higher classes, can cause quite a dent in parents' pockets. Given the steep price of most supplementary books, practice materials and sample papers, most students have to plan their purchases with budgetary constraints in mind. Digital textbooks, on the other hand, are a lot more reasonably priced and do not come with hidden shipping and delivery costs. On an average, ebooks are priced at half the cost of their printed counterparts. The money saved can be used for buying additional study materials or pursuing after-School programs.
Interactive Learning
eBooks and study materials in the online format are highly interactive, offering students the options to run instant search for specific terms, topics or chapter titles, highlight important portions, adjust font size and even hear audio translations of texts. This makes processing hundreds of pages of study material that much easier. Many digital textbooks also come with question and answer sets, quizzes and practice tests at the end of each chapter or module, which helps in assessing students' understanding of a their course material. If a student is dissatisfied with their performance, they can simply reset and start over. This encourages independent learning without the need for constant monitoring.
Convenient to Work With
In this age of digitisation, class assignments and preparing notes too has undergone a paradigm shift. Instead of maintaining notebooks, students today are expected to prepare PowerPoint presentations, submit papers and work on assignments – all of which require the use of a computer. The simple 'copy and paste' feature that all eBooks come equipped with can streamline most of these tasks. Instead of sourcing information from a printed textbook and typing it all in, students can simply look up relevant materials in their digital textbooks and 'copy and paste' as necessary. They can also enhance the quality of their class assignments by taking inputs from different source, and in turn, expand their knowledge. The same is true for preparing their personal notes.
Learning On-the-Go
Be it last-minute revision on the school bus or outside the exam hall or making use of everyday commute to brush up on class lessons, learning on-the-go has never been easier. Students no longer have to worry about carrying huge weight of books on their backs or the struggle of holding up a book in place on a moving vehicle. All the study material is conveniently stored in pocket-sized smartphones, tablets or palm-sized eReaders, offering a convenient solution for the need to multitask in today's pressure-driven lifestyle.
Digital textbooks also promote a new-age classroom ethos, allowing educators to connect to their students in an environment they are most at ease with. It helps in fostering interactive, cost-effect and up-to-date education programs. From simple economics that can ease up the monthly household budget to practical solutions to roadblocks in learning and positive psychological implications, the benefits of digital textbooks are truly manifold.