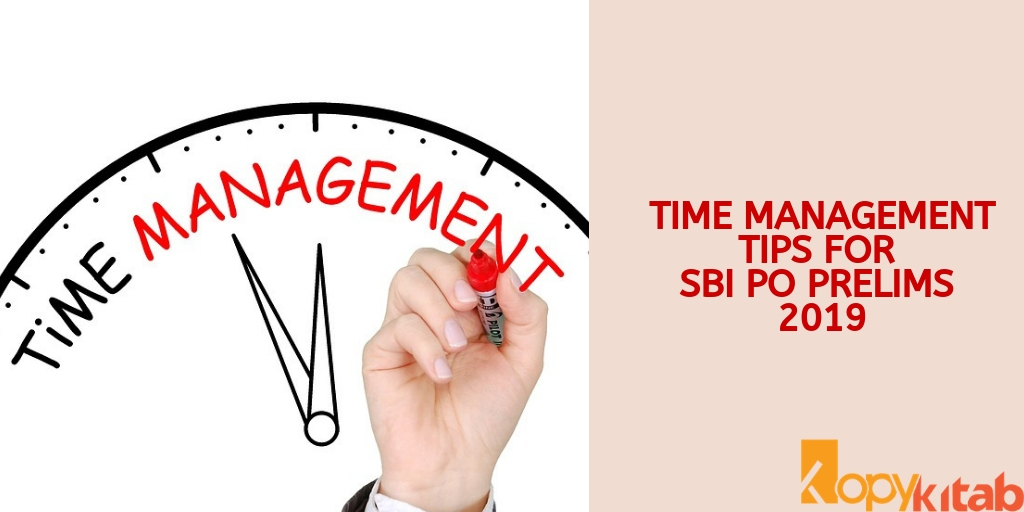 Managing Time is the key point for success. For any competitive exam, time management skills are very important. Especially for bank exams, managing time is important. During the examination, solving all questions quickly plays an important role in scoring more. Bank exams have a high level of competition as there are a large number of candidates taking up the exam every year. So, to know how to save time and complete the SBI PO exam in the given time, you must know the time management tips for SBI PO Prelims and also the SBI PO Syllabus. The SBI PO exam is conducted in three levels: Prelims, Mains, and Interview. Prelims is the qualifying exam for Mains. So, candidates who are taking up the upcoming SBI PO Prelims 2019 are suggested to go through the blog completely to know how to answer the questions easily and quickly.
SBI PO Exam Pattern
Before proceeding with the Time Management Tips for SBI PO Prelims, here is the exam pattern for SBI PO Exam 2019 Go through it once before beginning the preparation.
Section
No. of Questions
Max. Marks
Duration
English Language
30
30
1 hour
Quantitative Aptitude
35
35
Reasoning Ability
35
35
Total
100
100
1 hour
Time Management Tips for SBI PO Exam 2019
The SBI PO Prelims paper is conducted for 1 hour (60 minutes) which carries a total of 100 questions for 100 marks. Each candidate has 60 minutes to complete the entire question paper. SO, it means there 0.6 minute or 36 seconds to answer each question. In this 1 hour, if 5 minutes is deducted for switching between questions and 15 minutes for previewing and reading the question paper, then you are left with 40 minutes to solve 100 questions. This means for each question you have 0.4 minutes or 24 seconds to understand and answer the questions. Hence, if you know how to manage your time, then half of the work is done.
Key Points to Remember while Writing the Exam
The prelims paper is conducted for 60 minutes. So, complete focus and concentration are required for students to get through this paper. Do not get distracted.
Know your strength and weakness before going to the exam. Attempt all the questions you know. Do not waste your time.
Do not waste time answering in the tough ones. If you are unable to solve, then move to the next one.
Do not waste time in rewriting the questions on the rough sheet. Use the rough sheet only for calculations.
According to previous statistics, around 15% of the questions in the paper will be difficult.
Do not think much about the questions which you left. If you have time in the end, then attempt it else forget about that.
Time Management Tips for SBI PO – Subjectwise
The question to time ratio is less than 1 i.e., You cannot take one whole minute to answer one question. Skip the questions which take too much time.
If you are stronger in any subject, then give less time in answering that section. Spend more time for difficult ones.
Questions in Reasoning and Quant sections can be time-consuming. So, identify the short questions without many calculations and solve them first.
Be aware of sectional cutoffs
So, you need to attempt enough questions correctly to clear the exam
There is 0.25 negative mark for each wrong answer so make sure to answer correctly else move on.
It is not mandatory to attempt all 100 questions.
Time Management Tips for SBI PO Preparation
During your preparation, make sure you give more time for Grammar. It needs a lot of practice. So spend time in practicing and solving more exercises.
Data Analysis and Interpretation is a calculation involving subject which requires a lot of practice
Reasoning section can be improved with regular practice
To strengthen your vocabulary, go through the list of frequently used words and phrases.
Memorize the formulas well
Remember the shortcuts and solving techniques for Quantitative and Logical Reasoning.
Thus, by utilizing these time management tips, there is no doubt that you can clear SBI PO 2019 Exam with more marks. You can enhance your preparation levels for the exam with a wide range of SBI PO Mock test available online.
  [related_books catid="451″ product_type="ebook" algo="Latest"]