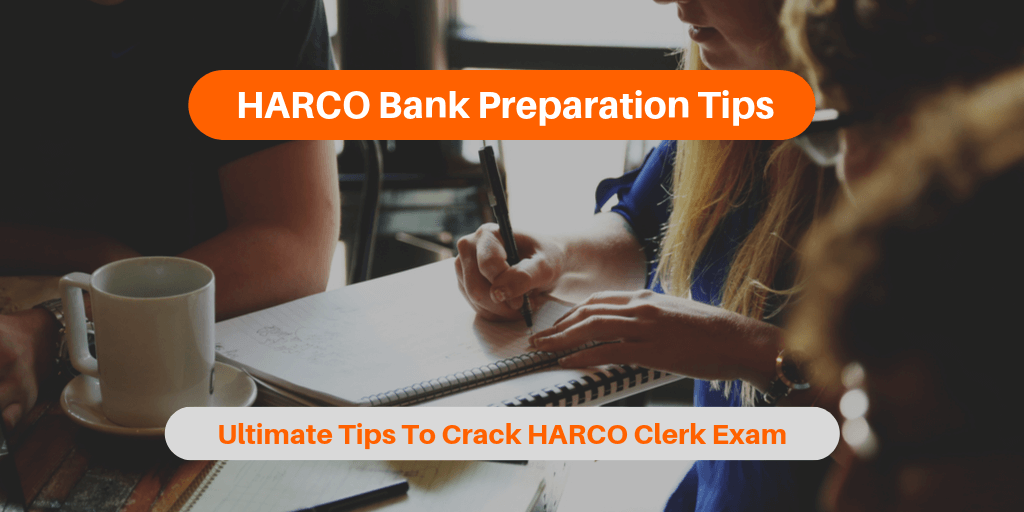 HARCO Bank Preparation Tips 2019: Are you preparing for the HARCO BANK exam? Are you wondering about a better score on the exam?
If your answer is yes, then congratulations, you are in the right place at the right time. Here we are providing you the detailed guide on HARCO Bank Preparation Tips 2019.
HARCO Bank Recruitment 2019
Before starting the complete guide, you should know a basic overview of the recruitment. The Haryana State Coop. Apex Bank is organizing the exam to recruit eligible candidates for multiple posts. There's a total of 978 Vacancies available. The HARCO Bank exam is scheduled to take place in October/November 2019.
HARCO Bank Preparation Tips 2019
Here you will get the ultimate tips to crack the HARCO Bank exam.
Know the HARCO Bank Exam Pattern
Without knowing the exam pattern, your exam preparation will be incomplete. You should know the detailed exam pattern and make a solid and effective study plan.
Here in the below table, you can see the HARCO Bank exam pattern for the post of clerk.
S.No.

Name of test

No.of question

Maximum marks

Medium of exam

Time Allotted

1

English Language

30

30

English

90 minutes

2

Reasoning

30

30

English & Hindi

3

Numerical Ability

30

30

English & Hindi

Total

90

90
Check HARCO Bank Syllabus 2019
It is the essential one after the exam pattern comes the syllabus. You should check the detailed HARCO Bank Prelims syllabus for the post of clerks. You should note down your easy and tough sections in the syllabus.
Make A Study Plan And Stick On It
You should make a study plan after analyzing the syllabus and exam pattern. You should provide more priority to your areas of weakness. So that before the exam, you will able to convert your weaker section into the strong one.
HARCO Bank Preparation Tips for the English Language
English Language Important Topics
Reading Comprehension
Fill In The Blanks
Para Jumbles
Error Spotting
Phrase Replacement/ Sentence Correction
You have to follow the point as given below to prepare for HARCO Bank English language effectively.
You have to read a newspaper and an English magazine daily. While doing so, you must note down new words that you come across.
This practice will increase your reading speed and also improve your vocabulary.
You need to re-visit your grammar rules and lessons.
Keep in mind that you should not forget to revise after learning any topics.
You have to practice English by taking an English quiz or mock test on a regular basis.
HARCO Bank Preparation Tips for Reasoning
Reasoning Important Topics
Puzzles & Seating Arrangements
Direction Sense
Blood Relation
Syllogism
Order & Ranking
Coding And Decoding
Inequalities
Alpha-Numeric Symbol Series
You must study all the topics under the reasoning section and try to build a depth concept on each topic.
You have to pick three questions from each topic every day and practice it.
You should revise and attempt a mock test to ace your preparation.
HARCO Bank Preparation Tips for Numerical Ability
Numerical Ability Important Topics
Data Interpretation
Number Series
Miscellaneous Questions: Average, Simple Interest, Compound Interest, Mensuration, Percentage, Ratio & Proportion, Algebra, Profit & Loss, Time Speed & Distance, Time And Work, Permutation & Combination, Mixture Problems, Probability Etc.
Simplification And Approximation
You should know that you have to learn all the formulas by the heart of each topic.
You should become master the application of formulas by practicing quant questions every day.
You must learn shortcut tricks to solve quant questions quickly and easily.
You should know that the revision is a must. Try to revise the learned concepts/formulas to retain memory.
You need to practice with mock test/previous year question paper.
Learn Time Management Skills
You should learn time management skills to utilize your time for the HARCO Bank exam.
You should learn shortcut skills and strategies to attempt all the questions within the time during the exam.
HARCO Bank Model Question Paper
You should solve the HARCO Bank Model question paper as much as you can. It will help you to understand the HARCO Bank exam pattern, types of questions asked, exam trends.
You should consider the real exam and solve the HARCO Bank Model Question Paper. I will also help you to know the exam better.
Attempt HARCO Bank Mock Test & Test Series
HARCO Bank Test Series and HARCO Bank Mock Test will help you in analyzing your preparation level.
You will understand your weaker and strong areas after attempting mock tests or quizzes.
Eat Hygienic Food and Basic Exercise To Stay Healthy
Say no to unhealthy foods. Eat healthy food.
Do yoga and meditation to make yourself healthy and stress-free.
We have covered the detailed article on HARCO Bank Preparation Tip 2019. Feel free to ask any questions in the comment section below.
.