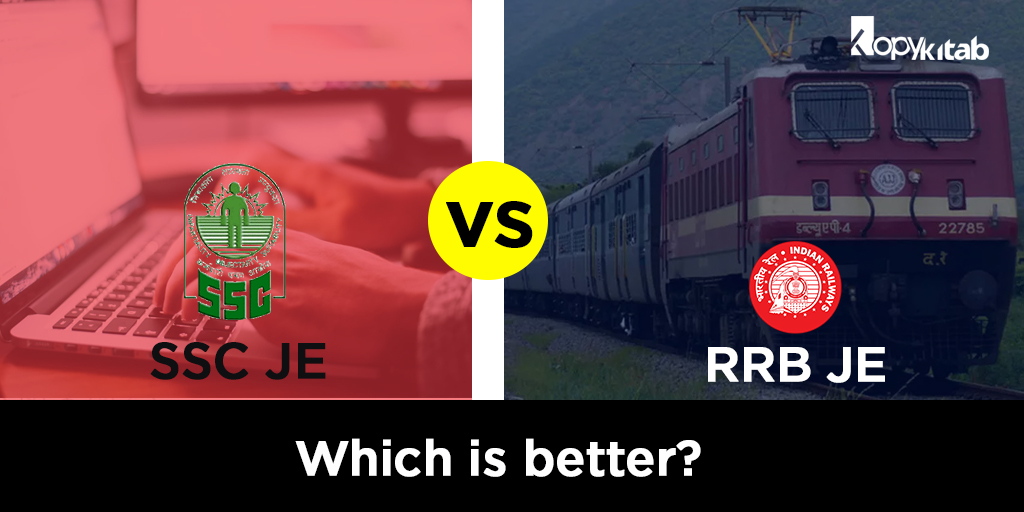 SSC JE Vs RRB JE, both have equal competition in the market. It is not so easy for candidates to clear them easily unless there is a long term preparation. It completely depends on an applicant and his abilities to take up the exam. There are lot of candidates who take up both exams and then think after getting selected in both. This is not how you judge a career. Both SSC JE and RRB JE have their own pros and cons. Hence, candidates should wisely chose up on their career. In this blog we give you complete information on which is better- SSC JE vs RRB JE  based on various aspects like type of examination, recruitment process, pay scale, growth of the job, facilities of the job, transfers and many more.
Type of Examination
RRB JE
SSC JE
This is computer based test
This is partially computer based test
There are two phases of Exam:

Stage 1 CBT- 100 marks

Stage 2 CBT- 150 marks

There are two phases of Exam:

Paper 1- 200 marks

Paper 2- 300 marks

Questions are framed from all engineering branches and also aptitude section.
Questions are asked from candidate's branch itself. Check out latest SSC JE preparation Books here.
Candidates can apply only area wise i.e., if you apply from Bangalore then after selection you will be posted in Bangalore itself.
You can be posted anywhere across India after selection.
Selection rate is 100-300 out of thousands of applicants
Selection rate is 100-200 out of thousands of applicants
[related_books catid="448″ product_type="ebook" algo="Latest"]
Pay Scale
For both SSC JE and RRB JE, pay scale is almost in the same range i.e., in between 9300 and 34800.
Nature of the SSC JE vs RRB JE Job
| | |
| --- | --- |
| RRB JE | SSC JE |
| Here you can be posted in TRD, IT, Workshop, P-way, and bridge. | Here you can be posted in CPWD, MES, and postal departments. |
Other Facilities
| | | |
| --- | --- | --- |
| | RRB JE | SSC JE |
| Housing | Due to frequent loss in this department, they do not provide better housing facility for its employees. | They do provide housing facility for employees |
| Travelling Fare | Employees are offered 1st class AC fare and other discounts on railway tickets | Once in a year, airfare is provided to spend vacation in any part of India. |
| Work Area | It involves a lot of fieldwork. | It is completely office based work. |
| Growth | There is limited growth. | Offers study leave to pursue higher studies that helps in promotion to higher levels. |
On a whole, both SSC JE and RRB JE have their own advantages and disadvantages. It depends on the candidate to chose his/her interest in career and choose the right exam. Candidates can prepare well for their RRB JE exam with all latest RRB JE preparation books available online.
[related_books catid="247″ product_type="ebook" algo="Latest"]