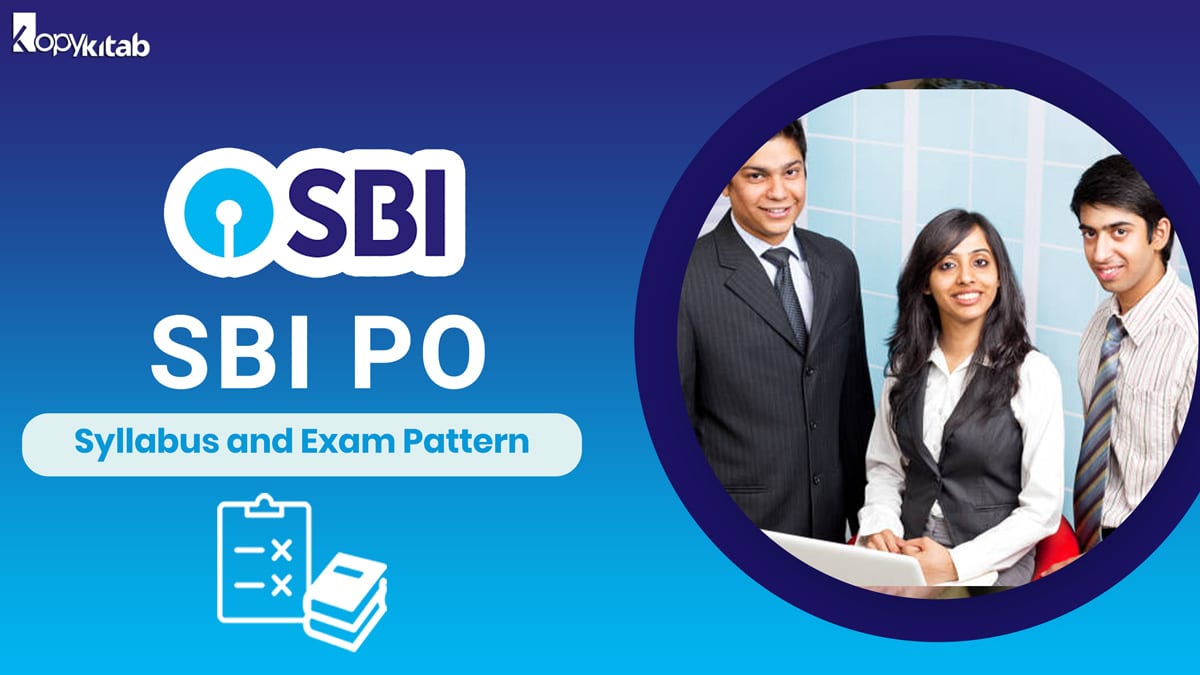 SBI PO Syllabus and Exam Pattern:  SBI PO Syllabus is similar to the other banking exams, it focuses more on Quantitative Ability Section and Computer Aptitude. Based on the topics SBI PO Syllabus, the question paper for the preliminary exam and SBI PO mains exam will be set. There are few topics which candidates find similar in the SBI PO Syllabus of Mains and Prelims, but the level of difficulty is not same. 
Go through the blog to know in detail about the SBI PO Syllabus and Exam Pattern.
SBI PO Exam Pattern 2021
SBI PO Exam Pattern for Prelims exam 
| | |
| --- | --- |
| Duration of Examination | 1 hour |
| Type of Questions | Multiple Choice Questions (MCQ) |
| Maximum Marks | 100 marks |
| Total number of questions | 100 questions |
| Marking scheme | 1 mark each for every correct answer |
| Negative Marking | A quarter of the marks assigned to the question will be deducted |
| Mode of examination | English/ Hindi Language |
Section-wise Pattern for Prelims
| | | |
| --- | --- | --- |
| Section Name | No. of Questions | Total Marks |
| English Language | 30 | 30 |
| Quantitative Ability | 35 | 35 |
| Reasoning Ability | 35 | 35 |
| Total | 100 questions | 100 marks |
SBI PO Exam Pattern for Mains
| | | |
| --- | --- | --- |
| Section | Objective Test | Descriptive Test |
| Duration of the examination | 3 hours or 180 minutes | 30 minutes |
| Number of questions | 155 questions | Letter Writing/ Essay Writing |
| Maximum marks | 200 marks | 25 marks |
| Negative Marking | A quarter of the marks assigned to the question will be deducted | NA |
| Mode of examination | Hindi and English (Hindi will not be applicable for English language section) | English |
Section-wise Exam Pattern for Mains
| | | | |
| --- | --- | --- | --- |
| Section | Total Questions | Maximum Marks | Duration (minutes) |
| Reasoning & Computer Aptitude | 45 | 60 | 60 |
| Data Analysis & Interpretation | 35 | 60 | 45 |
| General Awareness (Economy & Banking) | 40 | 40 | 35 |
| English Language | 35 | 40 | 40 |
| Total | 155 Questions | 200 Marks | 3 hours |
SBI PO Exam Pattern for Group Discussion and Interview
Candidates who qualify for SBI PO Mains, appear for the Group Exercise and Personal Interview rounds.
Marks for the Group Exercise round are 20.
Marks for the Personal Interview round are 30.
Exclusive SBI PO Syllabus 2021
SBI PO Syllabus for Quantitative Aptitude
Below is the detailed SBI PO syllabus for the quantitative aptitude section
| | |
| --- | --- |
| Topic | Syllabus |
| Simplification | This includes problems based on the BODMAS rule, fractions, approximation, decimals, and surds & indices. |
| Number System | It is based on problems related to divisibility & remainder, multiples & factors, integers, LCM & HCF. |
| Average | Questions on average weight/height/age/marks, average money expenditure, average temperature, etc. will be asked from this topic. |
| Percentage | There will be calculation-oriented basic percentage problems. |
| Ratio and Proportion | Problems based on simple ratios, compound ratios, proportions, etc. can be expected from this topic under Quantitative aptitude. |
| Interest | Problems based on simple interest, compound interest as well as the mixture of both SI & CI are commonly asked in SBI PO examinations. |
| Number Series | Problems based on completing the series, finding the missing term, finding the wrong term. The concepts behind this can be based on simple AP, GP, AGP or more complex patterns. |
| Profit and Loss | Questions like successive selling, partnerships, discount & MP, and dishonest dealings are commonly asked from profit and loss topics. |
| Speed, Time, and Distance | 1 or 2 questions can be asked on relative speed, average speed, problems based on trains, boats, and streams. |
| Algebra | Problems based on quadratic equations in which two quadratic equations are given and we have to determine the relation between x and y. Linear equation questions based on ages may be asked, Sometimes Inequalities are also asked. |
| Mensuration | Problems based on areas of the square, rectangle, circle, semicircle, and parallelogram. Questions pertaining to cone and cylinder can also be asked. |
| Data Interpretation | Problems that fall in this category are line graphs, bar graphs, pie charts, tables, and other miscellaneous infographics. Triangular graph & radar graph problems appear rarely. Missing data types questions are also asked in the SBI PO examination. |
| Time and Work | Problems based on work efficiency, pipe & cistern, work, and wages can be asked. |
| Permutation and Combination | – |
| Mixture Problems | Problems based on making a mixture of two or more entities/mixtures. |
| Probability | Basic questions are asked from the probability section. |
| Data Sufficiency | Data sufficiency problems are based on almost all the topics mentioned above. |
Get SBI PO Previous Year Question Papers Here
SBI PO Syllabus for Reasoning Ability
Topics
SBI PO Syllabus
Coding & Decoding
Most questions include coding and decoding by letter shifting, coding by analogy, and coding letters of a word.
Inequalities
Mostly direct mathematical inequalities problems are asked in the inequalities concept.

 

There may be a single statement or 2-3 complex statements. There may be 2-4 conclusions which can be extracted from these statements.

Ordering and Ranking
Several questions on arranging by age, floor, rank, an order in row etc. can also be asked.
Directions & Distances
Simple problems can be solved by just plotting all the given information on paper.

 

The questions under this concept are rarely asked in SBI PO examination.

Arrangement & Pattern
Questions related to this topic are less likely to appear in SBI PO examination.

 

However, if asked, then questions on a random sequence of alphabets, number arrangements and dictionary or alphabet based arrangements etc. can be thrown at a candidate.

Analogy
This includes meaning based, letter based and number based questions.
Classification
These questions are also less likely to appear and includes letter based and meaningful words based questions.

 

GK based and number based questions can also be asked.

Syllogisms
Problems with numerous statements and multiple conclusions can be dealt with.

 

Questions are asked whether the conclusions follow or not.

Mostly possibility based questions will be asked.

Blood Relations
As the name suggests, questions pertaining to the family tree and coded blood relation will be asked in this category.
Input-Output
Words and numbers are arranged based on some pattern which is to be identified and applied on the question statements to arrive at the output.
Data Sufficiency
Questions on various topics including blood relations, ordering & ranking, coding in a fictitious language, circular arrangements, directions & distances, ages & birthdates can be asked as per the observations made from previous SBI PO examinations.
Circular Seating Arrangement
This concept basically includes uni-directional and bi-directional problems (i.e. facing inside, outside or in both directions).

 

Sometimes, tough square/rectangular/hexagonal table problems also asked.

These questions may be paired with blood relations or some other double line-up information along with circular arrangement information which makes the problem more difficult and time-consuming.

Linear Seating Arrangement
Problems involving single row or 2 rows facing each other are given under this category.

 

It can include double line-up type problems with information sorting.

Double Line Up
These problems are usually negatively informed so, the candidate is required to attempt clean charting, proper technique and step-by-step solving of the problem.
Scheduling
Questions in this category are less likely to appear.

 

The problems in this category are very similar to double line-up problems.

Grouping and Selection
These are the questions which are less likely to appear.

 

Problems on teams and committees asked under this category.

Verbal Reasoning
Cause and effect, the course of action, statement and assumptions, statement and arguments, statement and inferences, statement and conclusions and critical reasoning questions are possible.
SBI PO Syllabus for the English Language
Topics
SBI PO Syllabus
Fill in the Blanks
Double blank type questions.

 

Vocabulary-based questions.

Answers can be easily picked by eliminating options and understanding the context of the sentence.

Reading Comprehension
Likely the RC will consist of one passage of 10 questions, including 3-4 questions on vocabulary.

 

The topics you should look out for are moral stories, banking & economy, business, education, technology, and social issues.

Synonyms, antonyms, and meanings of phrases will be asked in vocabulary based questions.

Theme and main idea based questions can also be asked.

The fact-based and inference based questions require a thorough reading of the passage and sometimes could be a bit tricky.

Para Jumbles
A set of 6 sentences will be given to be rearranged and form a meaningful paragraph.

 

All questions will be based on this single test.

Sometimes, the correct order is asked.

The passage can be on any general topic.

Cloze Test
A single passage with 5 or 10 blanks.

 

Passage could be on any topic ranging from banking & economy to social issues.

Words are usually easy to moderate, but there is always one or two tough words.

Understanding the context of the passage will help the candidate to solve it easily.

Error Spotting
Questions in this category could be asked either from grammar or vocabulary section.

 

Important topics covered under this are tenses, subject-verb agreement, article-noun agreement, correct part of speech, correct use of prepositions, parallelism, phrasal verbs, easily confusable words, contextual usage, sentence construction, the degree of comparison, conjunctions, finite and non-finite verbs.

Phrase Replacement/ Sentence Correction
Mostly grammar-based.

 

Candidate must avoid guessing too much in these questions.

The questions sometimes test candidate's standard construction of sentences, the order of words etc.

Phrase Idiom Meaning
To attempt this topic candidate must be sound with the interpretation of given phrase idiom.

 

The phrases will be given and will need to select the correct meaning of the given phrase.

Spellings
Candidate will have to choose the word that is correctly spelled or wrongly spelled from the given options.
Sentence/ Paragraph Completion
Candidate will be given an incomplete long sentence with four options to choose from to complete the sentence meaningfully.
SBI PO Syllabus for Computer Knowledge
Basics of Computer
Hardware and software
Operating system
MS Word and MS Excel
PowerPoint
Generation of Computer
The internet, etc.
Short forms (Eg. Jpeg, mp3, pdf)
Android and Apple related news
SBI PO Syllabus for General Awareness
News related to RBI (Reserve Bank of India) and other Banks
Awareness regarding Union, State, and Railway Budget
Economics
Current Affairs- A candidate must be aware of National and International awards, sports, author and books, summits, etc.
SBI PO Marketing Syllabus 
Basics of Marketing and its strategies
Market Segmentation and Management
Marketing Mix and Products Life Cycle
Developing stage of organization
Brand and Advertising
4 P's and 4 C's of marketing
SBI PO Syllabus for Descriptive Test
This is Level 2 in the Main exam of SBI PO. It will commence immediately after candidates complete an objective test. Listed below are the highlights of the SBI PO descriptive test.
The exam is conducted in online mode i.e. candidates are allocated a desktop in which they are supposed to type their answers.
Candidates are given 30 minutes to complete a Descriptive paper
There are a total of 2 questions in this section namely Letter writing and Essay Writing
The letter and essay could be asked to be written on any topic relating to banking reforms, social/political or economic policies.
Each question is of 25 marks which brings the total marks to 50.
SBI PO Syllabus for Group Discussion / Interview
Is the right to freedom being misused?
Cleanliness should be the fundamental duty of every citizen.
What are the merits and demerits of the One Rank One Pension scheme?
What measures should be adopted for avoiding NPA?
SBI Merger: Pros and cons?
What do you think about reservations in education and jobs?
How is Swaach Bharat Abhiyan currently important for India?
NSG is the need of the hour for India.
Rail budget should have merged into the general budget much earlier.
Women employment is possible through mass awareness rather than launching programs.
Is the government just renaming the old schemes?
Wind power Vs Solar Energy?
SBI PO – Recommended books
These are some of the books recommended for the candidates to prepare for the exam. The books are mentioned below in the table:
| | |
| --- | --- |
| Books | Publication/Author |
| Comprehensive Guide to SBI Bank PO Preliminary & Mains Exam (8th Edition) | Disha Experts |
| Quantitative Aptitude for Competitive Examinations | R.S. Aggarwal |
| A Modern Approach to Verbal and Non-Verbal Reasoning | R.S. Aggarwal |
| Word Power Made Easy | Norman Lewis |
| Analytical Reasoning | MK Pandey |
| Banking Awareness | RPH Editorial Board |
| Objective Question Bank of Computer Awareness for General Competitions | Arihant |
SBI PO – Preparation tips
Here are some tips for the candidates to prepare for the SBI PO Entrance Exam 2021.
Make a plan: Proper planning is the first and most important step in SBI PO Exam Preparation. Make a timetable which includes a considerable amount of time for all the subjects. You can give more time to the subjects which are tough for you.

Know the exam pattern: To prepare efficiently for the exam, knowing the exam pattern is necessary. After preparing the timetable you can gather information about your exam. The exam pattern, number of questions, exam weightage, syllabus, etc., needs to be known.

Syllabus: How come one can prepare for the exam without knowing its syllabus? So the next step is to know the syllabus for the exam. Check the official website for the exam syllabus and prepare accordingly.

Clear your basics: Build your base by clearing the basic concepts. Only after clearing those concepts, you can go for more complex questions. For solving the tougher questions you need to clear your conceptual knowledge.

Prepare notes: Whatever topics you cover, make notes. It will help in quick revision and you can read them any time you want. Writing things help you to learn them better.

Mock tests and previous year's paper: Test your progress by giving mock tests and attempting previous year's papers. Attempt it just like the real exam and check your progress. You can then work accordingly on the weaker/tougher sections of the exam.
We have included all the information regarding SBI PO Syllabus and Exam Pattern. For any queries regarding the SBI PO Exam, you can ask in the comment box. 
FAQs: SBI PO Syllabus and Exam Pattern
What are the stages of the SBI PO Entrance Exam 2021?
The stages of the SBI PO Exam 2021 are
Prelims
Mains
GD/Interview
What is the syllabus for Data analysis & Interpretation?
Data analysis & Interpretation Syllabus
Tabular Graph
Line Graph
Pie Chart
Bar Graph
Radar Graph Caselet
Missing DI
Caselet DI
Data Sufficiency
Probability
Permutation and Combination
Where can I fill SBI PO application form for 2021? 
You can visit the official website of SBI and complete the application process. 
What is the total number of questions for each exam?
For SBI PO Prelims Exam, there are 100 questions
For SBI PO Mains Exam, there are 156 questions
Will there be any negative marking in the exam?
Yes, for every wrong answer 0.25 marks will be deduced.