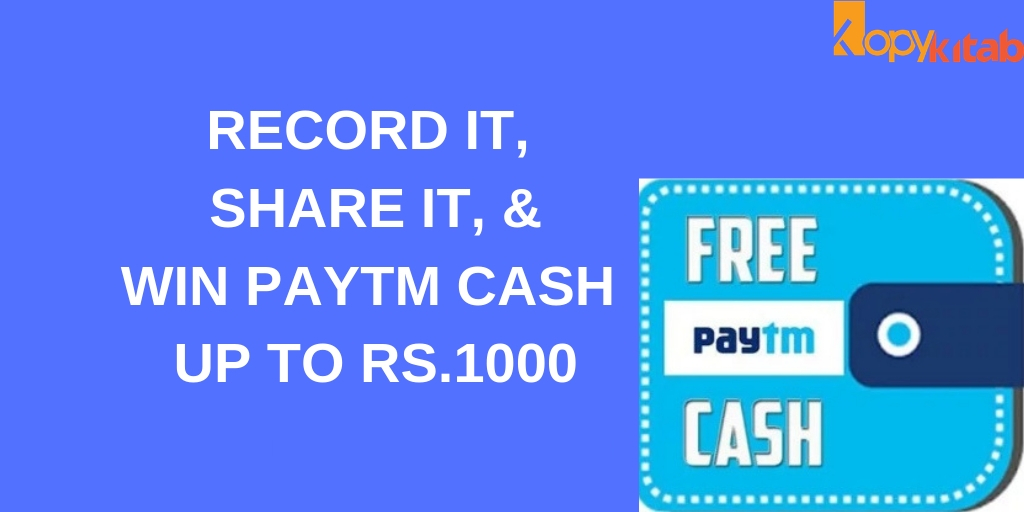 Wondering about the title? Thinking what to record, what to share, and how to win prizes? Well, just relax and be chill. You all might have heard about our Kopykitab website and our Mobile Apps. If not, just check it out once. You can find numerous preparation materials for different types of education and examination like School exams, competitive exams, Higher education, and many more. As now you are aware of us, here is a piece of exciting news for you all. Just by recording a video and sharing it you can win up to Rs 1000 Paytm Cash. Sounds interesting? So thinking about what video and how to win lots of rewards? Thinking how to win Paytm Cash? Read the below-detailed information completely and know how to win your prize.
What Video to be Recorded?
We offer a number of mobile applications related to competitive examinations, School students, Interview Purpose, Engineering, Medical and more. With these applications, you can win Paytm cash. Wondering how? Just go through the below description to know what exactly you must do?
If you don't have any of our apps then follow our below steps for easy recording.
How to Record?
There are many ways to record your Mobile Screen. Below are the steps mentioned in detail to record your mobile screen.
You can watch the below-given reference link. Make sure you guys record it the same way along with your testimonial.
Reference Link for Recording: https://www.youtube.com/watch?v=SQBKIQ2mdXw
Where to Share?
Once you are done with the recording, follow these below steps
Adding your testimonial is an advantage. The testimonial videos will be preferred first.
How will you be Benefited?
Well, this is a great chance to earn your pocket money. It is a very easy task which will fetch you a large amount. By following these simple steps, you can earn up to Rs 1000 Paytm cash. Don't miss this amazing deal. Start recording and win Paytm Cash. Hurry up. Don't wait until the last date.