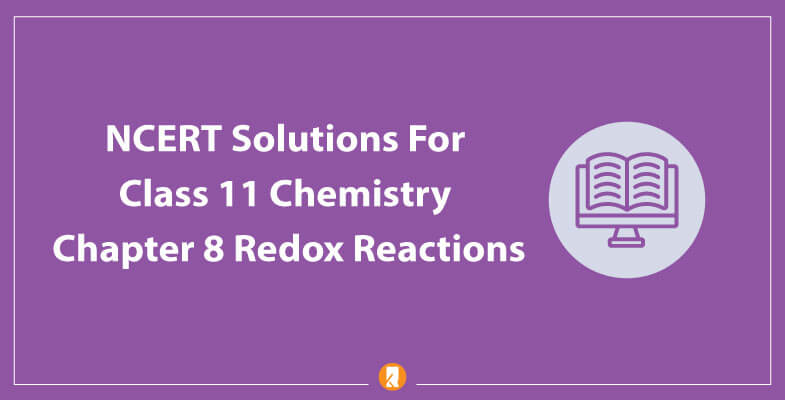 NCERT which stands for the National Council Of Educational Research and Training is responsible for designing and publishing textbooks for all the classes and subjects. NCERT textbooks covered all the topics and apply to the Central Board Of Secondary Education (CBSE) and various state boards. We provide free NCERT solutions in the Hindi medium as well as English Medium for all the classes. Created by subject matter experts, these NCERT Solutions in Hindi are very helpful to the students of all classes. 
The NCERT Solutions offer an insight into the exam pattern, latest syllabus, and complete marking scheme. The solutions are available in the pdf format which can be easily downloaded and saved for future reference as well. We are providing you free PDF of NCERT solutions for class 11 chemistry chapter 8 Redox reactions for download. 
NCERT Solutions for Class 11 Chemistry Chapter 8 Redox Reaction
The chemistry Class 11 Ncert Solutions Chapter 8 Redox Reaction deals with the permutations and combinations between the oxidation and reduction reactions. There are a number of phenomena, biological as well as physical that is concerned with the redox reactions. Also, reactions find their use in biological, pharmaceutical, metallurgical, industrial, and agricultural areas. Therefore, to guide you in your preparation for NCERT Class 11, we have offered the downloadable PDF for NCERT solutions for class 11 chemistry chapter 8. 
This chapter is solved by our subject matter expert and prepared as per the NCERT guidelines. These PDF consists of the exercise questions along with solutions that can help you revise the complete syllabus and thereby help you score higher marks.
You can download CBSE NCERT Solutions for Class 11 Chemistry Chapter 8 Redox Reaction from below.
Download NCERT 11th Chemistry Chapter 8 Redox Reaction Solutions
What will you learn in CBSE Class 11 Chemistry Chapter 8 Redox Reaction?
After studying our 11th Class Chemistry Chapter 8 Solutions pdf students will be able to identify the redox reactions as a reaction in which reduction and oxidation reactions are occurring simultaneously. Also, students will be defining the terms reduction, oxidation, oxidant, and reductant. Additionally, students will explain the mechanism of redox reactions using the electron transfer process. Along with that, you will use the concept of oxidation number in identifying reductant and oxidation in a reaction. So, you learn to classify the redox reaction into combination, displacement, decomposition, and disproportionation. Adding to that, you will suggest a comparative order among the various oxidants and reductants. You will also learn about balancing the chemical equations using the half-reaction method and oxidation number.
Whether you are unable to solve the difficult problems in the NCERT textbook or you are facing difficulty in understanding the complex theories of Science, Download class 11 chemistry chapter 8 NCERT solutions pdf to resolve all your doubts.
NCERT Solutions are a wholesome source of study material which provides the students access to solved queries and information. If you practice the solutions on a regular basis, you will give yourself a better chance of scoring higher points in your exam. With its help, students will be able to learn easy methods and ways to understand difficult concepts of redox reactions and oxidation reactions. Furthermore, they will also get to study competitive electron transfer reaction, electron transfer reach, oxidation number, types of redox reactions, and balancing the redox reactions. The chemistry chapter 8 redox reactions are a part of unit 8. In the final exam, unit 8, 9, 10, and 11 holds the total weight of 16 marks.
Below are the subtopics gave in this chapter.
Ex 8.1 – Classical Idea of Redox Reactions – Oxidation and Reduction Reactions
Ex 8.2 – Redox Reactions in terms of Electron Transfer Reactions
Ex 8.2.1 – Competitive Electron Transfer Reactions
Ex 8.3 – Oxidation Number
Ex 8.3.1 – Types of Redox Reactions
Ex 8.3.2 – Balancing of Redox Reactions
Ex 8.3.3 – Redox Reactions as the Basis for Titrations
Ex 8.3.4 – Limitations of Concept of Oxidation Number
Ex 8.4 – Redox Reaction and Electrode Process
Advantages of NCERT Solution for Class 11 Chemistry Chapter 8
Chemistry is one of the challenging subjects for most of the students. It is equally important because in Class 11th students prepare a foundation that will be of immense help in Class 12th. With the right study material and proper exam preparation, students can score very good marks on their Boards Exam.
NCERT Solution for Class 11 chemistry chapter 8 covers all the important topics given in the chapter.
It will prescribe you an idea about the marking scheme, pattern, and questions and prepare you for your exam.
Solutions will help you build your performance before the actual exam.
Practicing solutions will help you increase your pace and manage time during real exams.
NCERT solutions are framed by extracting content from the NCERT textbook.
Diagrams used are neatly labelled and self-explanatory
Conceptual based learning promoted
Answering methodologies as per the expected pattern
Solutions developed by subject experts
We have covered the complete guide on CBSE NCERT Solutions for Class 11 Chemistry Chapter 8 Redox Reaction. Feel free to ask us any questions in the comment section below.