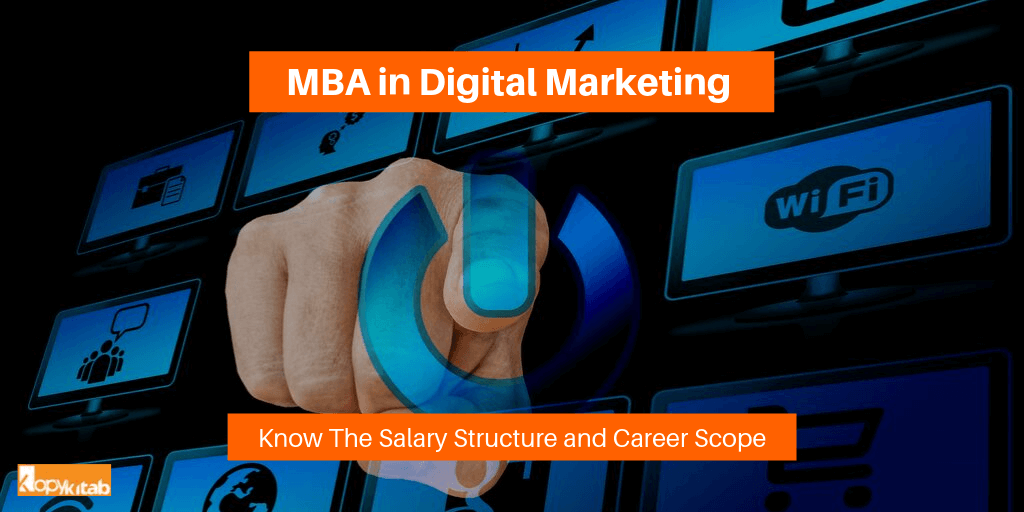 MBA in Digital Marketing: Do you want to peruse an MBA in Digital Marketing? Any confusion about future scope and salary structure?
If your answer is yes, then this guide is specially created for you. Here you can find a detailed guide on MBA in Digital Marketing.
MBA In Digital Marketing
Master in Business Administration in Digital Marketing is a two years full-time postgraduate course. It contains four semesters. Digital marketing is the best way to promote a brand or product via one or more digital media.
Best Book For MBA Entrance Exam
With the growth of technology and easily accessible internet has opened tremendous opportunities for manufacturers. Here you will learn a creative way to promote a product or service and tracking the behaviour of audiences for the promotion by using various tools.
After studying this program, you will learn how to implement, plan, and evaluate digital marketing strategies. This program specialisation includes interactive and direct marking, digital advertising, e-business technologies, and global enterprise.
Course Highlights
Shown below are some of the major highlights of the course.
| | |
| --- | --- |
| Course Level | Post Graduate |
| Duration | Two years |
| Examination Type | Semester System |
| Eligibility | Bachelor's degree |
| Admission Process | Counselling after taking Entrance Examination |
| Course Fee | INR 17,000 to 7 lakhs |
| Average Starting Salary | INR 2 to 20 lakhs |
All About Digital Marketing MBA
MBA degree in Digital Marketing is a new specialisation that is offered by various Universities. It is designed according to industry standards by experts. Here you will learn to handle the complicated new media landscape and find the right strategies to reach a broad and fragmented audience through creative campaigns. Here you can learn the creative planning, marketing management, ideation and creative expression.
Eligibility for MBA in Digital Marketing
You should accomplish a Bachelor's Degree or its equivalent from a recognised university, in any discipline.
MBA in Digital Marketing: Admission Process
You have to appear a specific entrance exam according to various institutions, or you can show your CAT score to get admission there. You may have to appear a Personal Interview before admission based on Institutions.
Top Institutes Offering MBA in Digital Marketing
Here we are providing some of the institutes or colleges offering the course in the country with the corresponding locations and fees charged by the respective colleges are listed below.
| | | |
| --- | --- | --- |
| COLLEGE NAME | CITY | AVERAGE ANNUAL FEE IN INR |
| Rai University | Ahmedabad, Gujarat | INR 49,000 |
| JK Lakshmi pat university | Jaipur | INR 6,08,000 |
| SIBMT | Pune | INR 3,50,000 |
| RIMT university | Punjab | INR 1,87,000 |
| Aditya Institute of management studies and research | Mumbai | INR 7,00,000 |
| SGT university | Gurgaon | INR 4,00,000 |
| Integral university | Lucknow | INR 2,50,000 |
| NIIT university | Neemrana | INR 10,53,000 |
| ITM business school | Bangalore | INR 6,56,000 |
| Devi Prasad Goenka management college of media studies | Mumbai | INR 1,05,000 |
| Sir Padampat Singhania university | Udaipur | INR 5,79,000 |
| ITM business school | Thane | INR 6,31,000 |
| Institute of business management and technology | Bangalore | INR 6,50,000 |
Career Scope After Doing MBA in Digital Marketing
Digital marketing is booming drastically in India. Compared to digital marketing, traditional marketing is extremely inefficient. A digital presence can provide vast access to the business owner to sell their products or services.
After completion of course, you can work for organisations to boost their brand or even start your digital marketing consultancy to work independently.
You can access a vast scope after doing MBA in Digital Marketing. Here we are providing few job positions and their works
| | | |
| --- | --- | --- |
| JOB POSITION | JOB DESCRIPTION | AVERAGE ANNUAL SALARY IN INR |
| Market research analyst | You have to help companies and organisations by understanding their competitors' activities and customers' wants. You should have strong skills in communication and data analysis. | INR 3,51,000 |
| Public relations manager | Here you should concern with helping a company, or government agency maintains a positive public image. By using various media, you can convey a positive message to a target audience. You may often work on multiple projects simultaneously and must be adept in handling high-stress situations.  | INR 4,84,000 |
| Sales manager | You have to train and direct teams of salespeople in a company setting. You have to set income goals and assign quotas for sales representatives. | INR 9,97,000 |
| Brand manager | You have to plan strategies to promote a brand among the targeted audiences. You have to do market research more to get the attention of audiences for your brand. | INR 9,14,000 |
| Advertising manager | You have to take care of the advertising activity of a business. Your role may vary based on the need of business. | INR 5,00,000 |
We have covered a detailed guide on MBA in Digital Marketing. Feel free to ask us any questions related to MBA in Digital Marketing in the comment section below.