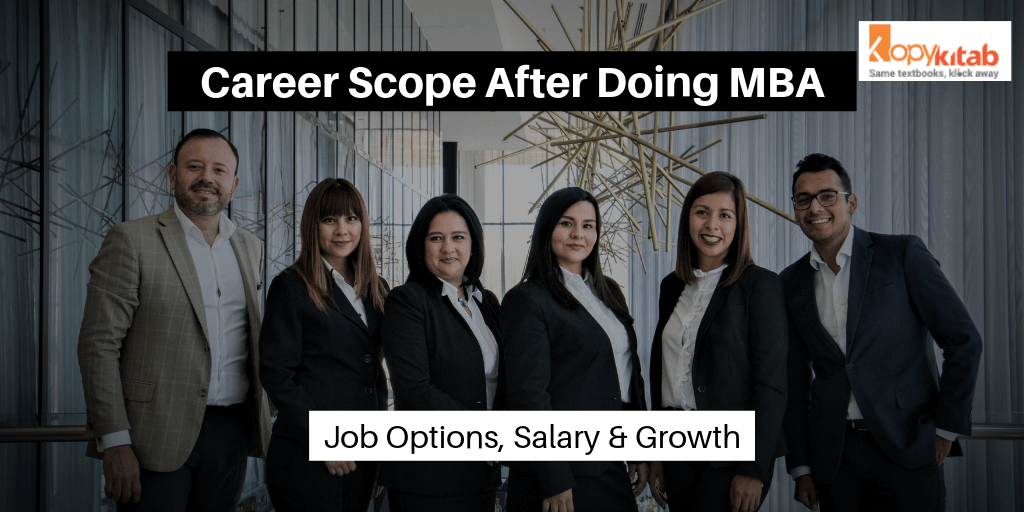 MBA is one of the best career choices nowadays. One can quickly get a job after MBA. Career Scope after doing MBA in India is vast, and it is the responsibility of the students to pick up the right branch according to their interest.
So that one can perform better in curriculum and also get a better job from the options available.
You have to crack the CAT exam to pursue MBA from Top Indian Institutions like IIM, IIT, NIT. You have to prepare well for CAT exam to get admission. While considering the job opportunities after MBA, the students must make a list of options, analyze the pros and cons.  
Career Scope After Doing MBA
Students may have so many questions in mind regarding the job opportunities after MBA in India such as job scope, nature of work, roles and responsibilities, salary structure, skills required and others.
Before joining any job, you should know about the prospect of the situation. Make sure it should fulfil your career goal and interest. Otherwise, you will easily feed up by the job no matter how much salary they are providing.
In this article, we are providing you with a brief overview of career scope after doing MBA in details.
What is the Purpose of Pursuing MBA?
No student pursues any course without a purpose or prospect. There may be many reasons for taking up a particular course. Before jumping into the job opportunities after MBA and career prospects, it is essential to analyze and understand the purpose of pursuing an MBA course.
Many students prefer MBA course to acquire the skills necessary to start entrepreneurship.
MBA gives a good career start and leads to a broad scope for career development and skills.
Experienced professionals do MBA course to make a shift in career.
MBA course provides a range of innovative opportunities.
MBA graduates will have the capability to network with the best in the market.
MBA degree offers a brand value to you. It enhances not only professional growth but also personal growth.
MBA graduates have enough chances to work outside their native places so that they can gain enough exposure and understand the market conditions in different regions.
From the above points, it is quite evident that an MBA offers an excellent career path. However, MBA students must enhance their skills such as Communication Skills, Language Proficiency etc. are mandatory to excel in the management field.
Get Free Access To CAT Study Materials
Factors to Consider Before Start Doing A Job After MBA:
Before start exploring job opportunities after MBA in India, you should understand some of the factors that are necessary to consider before joining a job: –
Organization:
You should analyze many factors before entering a position in any organization after doing MBA. The elements are,
The nature of work in the respective organization
The scope for career growth and salary structure.
Status and registration details of the organization. Whether it is blacklisted by MCA (ministry of corporate affairs).
Also check the market value and goodwill of the company.
Job Profile: 
Job profile should according to your interest. Don't accept every job that comes your way.  You should target a specific job profile that suits you.
You should take the decision wisely so that you can achieve higher goals as you have dreamt. Do not accept a role just based on pay, but think about taking a job based on your title because it will help you develop yourself as a specialist in a specific field.
Location of Job: 
Before joining a new job, enquire the site of employment. If the job location is outside of your native place, you have to consider the cost of living, accommodation and transportation.
So you can create a detailed comparison of the salary you earn and expenses towards the cost of living in that particular location.
Other Factors: 
You have to consider some of the other factors before taking a job are: –
Salaries structure and additional Benefits like incentives
Working Hours
Opportunities offered by Employers like a foreign trip
Job Opportunities After Doing MBA in India:
Before doing an MBA, students must have complete knowledge of career opportunities available after doing MBA in India. Based on that, you can easily choose a better career and nurture your career interest.
Some career scope after doing MBA in India are  –
Banking & Finance: 
The Banking & Finance domain includes portfolio management MBA graduates can find jobs in banks, insurance companies, security firms and various financial organisations. Some of the top companies that offer careers in this domain are Barclays RBS, Nomura, JP Morgan, Goldman Sachs etc.
For jobs in private banks, you have to go through the selection process undertaken by banks that involves Group Discussion, Personal Interview, Written Ability Test etc.
Investment Banking:
Investment banking has a high market demand. Some of the top companies that hire suitable candidates for this role are Bank of American Continuum, Motilal OSBSBI SBI Capital Markets etc.; The key responsibility is you have to connect investors to fund-needing organizations.
Management Consulting: 
If you have better problem-solving skills, jobs in management consulting is for you. The responsibility of professionals in management consulting is to solve organizational issues. You will be responsible for embracing fresh ideas and new problem-solving methods.
Some of the famous companies that hire management consultants are Cartesian Consulting, People Strong, Deloitte, Michael Page, Infosys Management Consulting, PwC, and Cognizant Business Consulting.
Entrepreneurship:
 Nowadays, entrepreneurship is one of the best path after doing MBA enhances the capability of the students to become an entrepreneur. Experience does not matter if you want to become an entrepreneur. You should have creative and innovative skills to become an entrepreneur.
Data Analytics: 
Due to the digital revolution in present days, big data has become significant for all types of business such as e-commerce, retail, banking and management. Many popular B-Schools have started offering data analytics MBA.
Private Equity: 
Similar to investment banking, the investment understanding of a person comes into action in a job profile associated with private equity. Job opportunities in this domain are vast. Some of the famous companies that recruit MBA graduates for this job role are Bajaj Finserv, ICIC Prudential Asset Management, Indiabulls Housing Finance etc.
Digital Marketing
You can join emerging startups in Fintech, Edtech and other such space as a Digital Marketer. As a marketing manager you can head Digital Marketing and other channels. Strategizing, planning and handling execution of the plan along with your team is something you have to do. You can learn Digital Marketing online and understand various aspects of it along with latest trends.
Salary Structure Offered To MBA Graduates In India:
The complete details pertaining to minimum, average and highest salary offered to MBA graduates in India: –
| | | | |
| --- | --- | --- | --- |
| Job Profile/Role | Minimum Salary Per Annum (lakh) | Average Salary Per Annum (lakh) | Maximum Salary Per Annum (lakh) |
| Operations Manager |  3.8 | 7.9 | 10.6 |
| Senior Business Analyst | 4.7 | 9.4 | 11.7 |
| Human Resource Generalist | 1.5 | 2.9 | 6.7 |
| Marketing Manager | 2.9 | 7.5 | 11.9 |
| Business Development Manager | 2.5 | 6 | 11.4 |
| Human Resources Manager | 3.1 | 7.3 | 11.7 |
| Business Development Executive | 1.8 | 3.1 | 5.9 |
| Project Manager (IT) | 5 | 12.3 | 20 |
| Assistant human Resources Manager | 2.9 | 5.3 | 9.4 |
| Relationship Manager | 2 | 4.2 | 9.5 |
| Marketing Executive | 1.6 | 3 | 5.5 |
| Business Analyst (IT) | 3 | 5.9 | 11 |
| Area Sales Manager | 4 | 7.8 | 11.4 |
| Senior Sales Executive | 2.2 | 3.99 | 7.2 |
| Executive Assistant | 1.48 | 3.2 | 8 |
| Financial Analyst | 2.2 | 4.3 | 8.4 |
| Regional Sales Manager | 5.5 | 11.8 | 20 |
| Finance Manager | 5.2 | 11.4 | 23 |
| Account Manager | 3.3 | 7 | 15 |
| Management Consultant | 5.6 | 13.5 | 20 |
Popular Cities that Offer Jobs to MBA Graduates:
Here is the list some of the popular cities in India that attract MBA graduates: –
Hyderabad, Telangana
Pune, Maharashtra
Chennai, Tamil Nadu
Mumbai, Maharashtra
Bangalore, Karnataka
Pay Scale For MBA Graduates From Top B-Schools:
There has been only a marginal rise in the pay package as reported by the top B-schools in India. Click on each college to know more about their placements. The 2016 pay scale has been illustrated in the table below:
| | | |
| --- | --- | --- |
| B-School | Average Salary in 2016 (INR) | Top Recruiting Areas |
| | 15.67 lakh per annum | Finance, Marketing & Sales |
| | 14 lakh per annum | Consulting, IT/ Analytics |
| | 15.14 lakh per annum | Marketing & Sales |
| | 13.01 lakh per annum | Marketing |
| | 12.91 lakh per annum | Marketing & Sales |
| | 12.51 lakh per annum | Marketing & Sales |
| | 18.01 lakh per annum |  Marketing, Sales |
| | 20.5 lakh per annum | Consulting, General Management |
| | 18.5 lakh per annum | Finance |
| | 17.09 lakh per annum | BFSI |
| | 18.13 lakh per annum | BFSI |
Now you have detailed information on Career Scope After Doing MBA. Feel free to ask here in the comment section if you have any confusion.