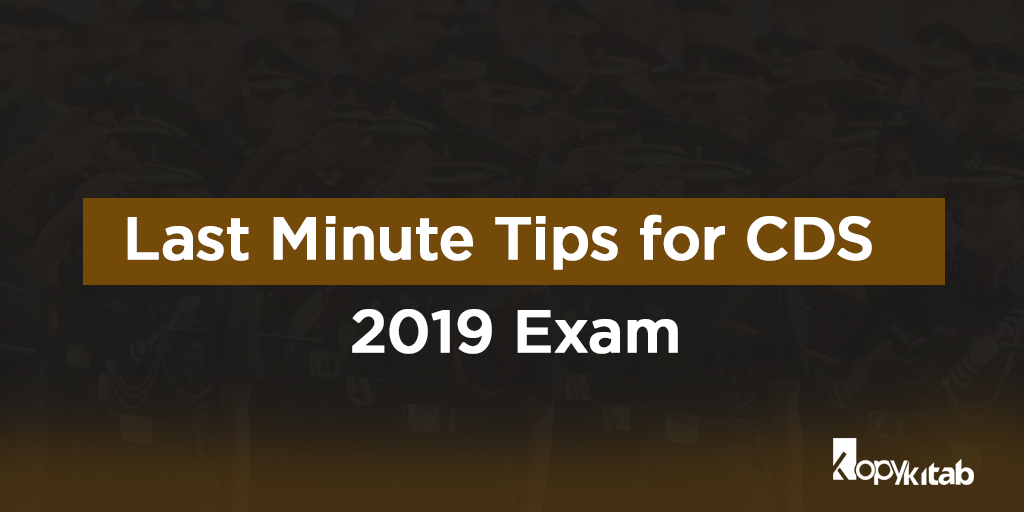 It is high time for candidates to do their last minute preparation for Combined Defence Services CDS 2019 Examination. The CDS 2019 will be conducted on February 3, 2019 which is nearing. The examination is conducted twice in a year by the Union Public Service Commission for recruitment into the Indian Military Academy, Officers Training Academy, Indian Naval Academy and Indian Air Force Academy. Every year lakhs of candidates take part in the examination. Hope everyone have already completed their preparation and started to revise everything again. We have provided few last minute tips for CDS 2019 exam. Go through the blog to know more about tips and tricks to crack CDS 2019.
Last Minute Preparation Tips for CDS 2019 Exam
Revise all formulas of Mathematics subjects. Hope you guys have made a note of all important formulas and keywords.
Do not read any new topic during last minute. Revise more on already studied topics.
Finish all your arrangements for examination, as you may have to travel to another city for examination.
Reach the examination center half an hour before the commencement of exam.
Do not take any gadgets inside the examination hall as gadgets like mobiles, calculators, etc are prohibited.
Do not forget to carry your black ball point pen, as you need to use black ball point pen to mark answers on OMR sheets and fill your details.
It is very important to carry a photo ID proof with you like Aadhar Card, Passport, DL, etc.
Make sure you mark the correct answer in the OMR sheets. There is negative marking, hence be careful before marking answers.
Though they give whitener when asked for in centers to correct your mistake in terms of choosing wrong option, yet it is advised to not commit a mistake anyhow. Though if you commit it then don't hesitate and ask for a whitener.
Make sure you remember the exams you have to appear for. There had been a few cases where people have applied for IMA/AFA/NA but thinking that they are appearing for only OTA they have not attended Mathematics papers.
It is advised to keep marking your answers alongside and not leave a bulk to mark in the end. Many people leave the answers to marked in end, but you should do it simultaneously as it will lessen chances of any mistake.
Do not panic if you are stuck in between any problem. Move on instead of breaking your head and wasting your time.
Read and understand and listen to all instructions very carefully and remove any doubts in the beginning only.
Do not plan to read the question paper once then start solving it. Solve while you read.
Some questions in CDSE are long, hence be focused while you read the question. Be careful and avoid silly mistakes, better if you read the question twice.
Be calm and relaxed you will definitely crack the exam and score more.
Hope candidates have received important tips. Make sure you concentrate and revise well.
All The Best!!!
[related_books catid="444″ product_type="ebook" algo="Latest"]