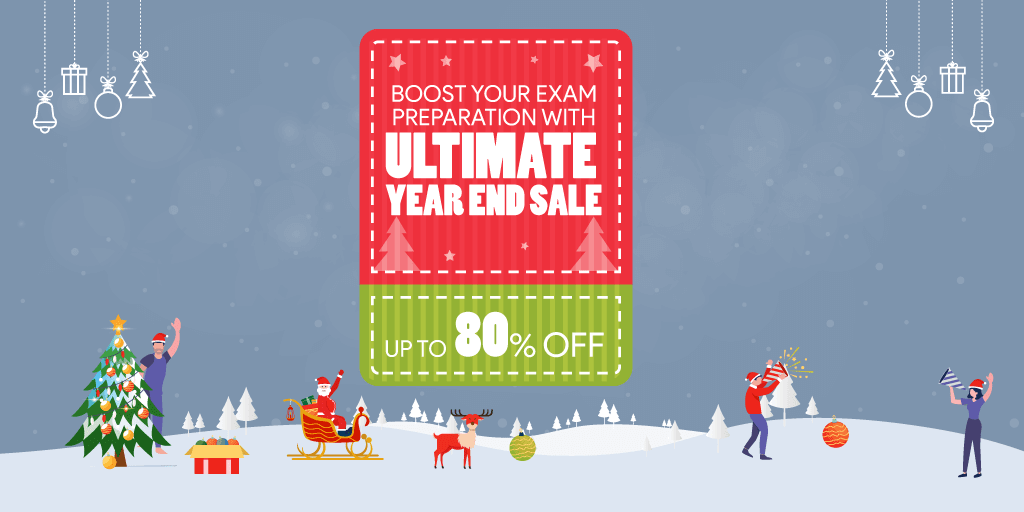 Year End Sale 2019: Celebrate this year's end by getting your required educational and competitive books and study materials at heavy discounts. Let this year's end sale brings you ultimate opportunities to boost your exam preparation and continue for the upcoming New Year.
Year End Sale 2019
To help you to boost your exam preparation, we are offering massive discounts and exciting offers on various curriculum and competitive exam related books and other study materials, as given below.
Study Packages Flat 60% Off For All Courses
Get Up To 100% Cashback On Android Mobile App
Books For Various Courses 30% Discount On All Products
Flat 50% cashback for All Indian Paypal users*
Refer & Earn: Click Here and Invite two friends & Get 100 Rs
You should know that the offers are valid from December 25, 2019, to January 5, 2020.
So grab the excellent opportunity to get your Study Materials before the huge offer ends and illuminate your preparation with the light our study materials.
You don't need to type coupon code. Just visit our product pages, and the offer will be applied automatically.
Kopykitab's Special Year End Sale 2019
Kopykitab's specials year-end sale is best for those who want to clear their concept on every single topic and build a depth base on the subject, whether it is educational or any competitive exam.
Here you will get the books and study materials from various Top Indian Publishers and Experts. Which has,
Latest Syllabus
Proper Explanation on every topic.
Easy To Understandable Language
We are also providing a flat 60% discount on study packages of upcoming exams, as given below.
GATE Exam 2020
With the better score in the GATE exam, you can apply for MTech from top institutions like IITs, NITs, and other prestigious institutions or for various exciting jobs in Top PSUs like IOCL, ONGC, GAIL, SAIL, etc.
Kopykitab's Special GATE 2020 Subscription pack is providing you,
The Latest Syllabus
Topic-wise Online Test Series
Topic-wise MCQs
Study Material eBooks
Previous Year Papers 2003-2019
Sample Papers
Special Short Notes
We are offering three types of GATE Subscription packs for all Engineering branches.
GATE Exam Guide (Especially For Revision)
Gate Mock Test Series 2020
Gate Study Guide 2020
You can easily apply the Year End Sale 2019 Special Offers by clicking on the below links.
IIT-JEE Exam 2020
After clearing the IIT JEE Exam 2020, you will be allowed to pursue an Engineering Degree from top technical institutions in India.
Boost your IIT JEE Exam 2020 preparation with Kopykitab's complete set of Study Materials.
You will get
Full-length Mock tests
Topic-wise Physics Tests
Topic-wise Chemistry Tests
Topic-wise Mathematics Tests
Previous year papers
JEE Latest 2019 Syllabus
Previous year papers
Solved Examples
Topic-wise Revision notes
You can easily apply the Year End Sale Special Offers on IIT JEE Subscription packs by clicking on the below links.
IES Exam 2020
Our experts have created special Study Packages for IES Exam 2020 to provide you the best quality study materials for IES Exam Preparation.
In our IES Exam 2020 Study Packages, you will get
Topic-wise e-Books
12 Mathematics e-Books According Syllabus
Test Preparation Series.
Previous Years Solved question papers 2005 to 2018
Click below links to easily apply the Year End Sale Special Offers on IES Exam 2020 Subscription packs for all engineering branches.
NEET Exam 2020
The National Eligibility cum Entrance Test is an entrance examination for medical courses (MBBS) and dental courses (BDS) in India.
In our NEET Exam Special Study packages, you will get
25+ Topic-wise Physics Mock tests
10+ Topic-wise Chemistry Mock tests
25+ Topic-wise Biology Mock tests
20+ Sample papers
Previous Year Papers 2005-2019
You can easily apply the Year End Sale Special Offers on NEET Exam 2020 Subscription packs by clicking on the below links.
How To Apply Kopykitab's Year End Sale 2019?
Follow the steps as given below to grab the Year End Sale 2019 before its too late.
Step 1: You have to visit our official website, i.e., kopykitab.com
Step 2: Now, you should click on any category from the navigation menu.
Step 3: In this step, you need to click on the specific exam, class, or course you are looking from the drop-down menu.
Step 4: You will see the number of books for the same exam, class, or course.
Step 5: You should click on any study material and click on the buy button.
Step 6: You will see the checkout page where the discount is automatically applied.
Step 7: Make the final payment at the discounted price.
Direct Link For Discount: You can click on the direct links in this article to apply discounts directly.
We have provided the Year End Sale 2019 offers and discounts for you. We Kopykitab Team wishing you Marry Christmas and Happy New Year 2020.
May this year illuminate your life and provide you an excellent opportunity to shine in your career.
If you have confusion regarding the offers and deals, please let us know in the comment section below.