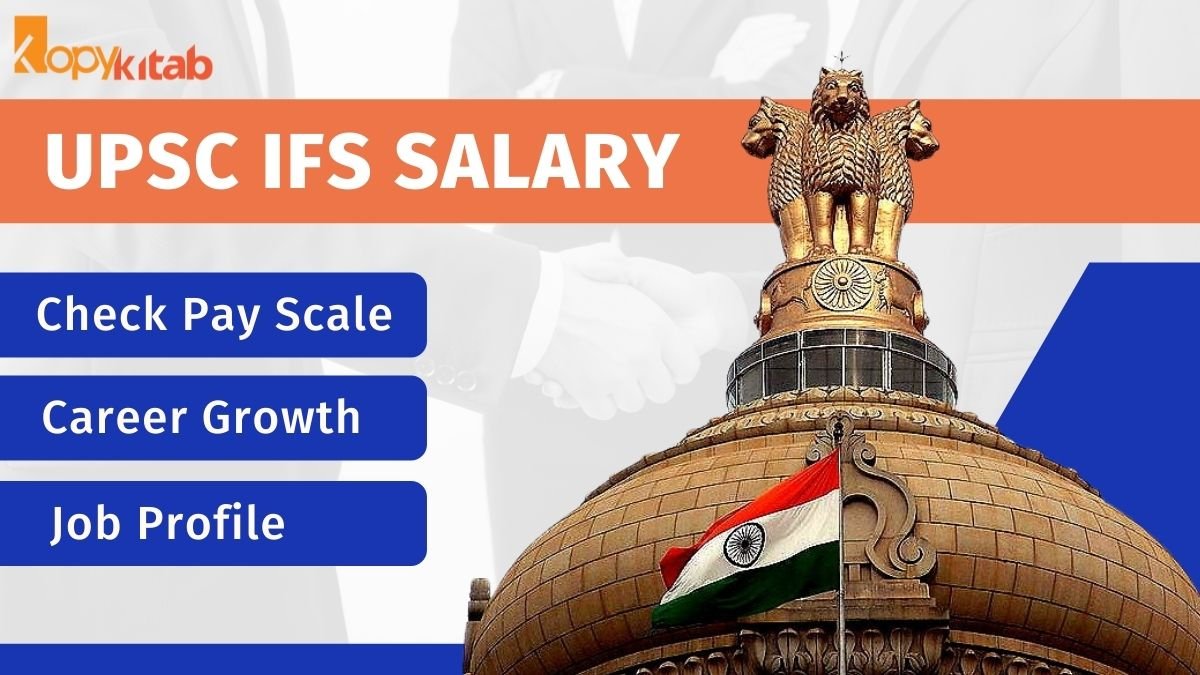 IFS Officer Salary & Job Profile 2022: The main roles and responsibilities of an IFS officer are to conduct diplomacy and manage foreign relations in India. IFS officer is one of the most renowned jobs in India. To become an IFS officer you need to clear the UPSC exam. The overall salary of an IFS Officer in India is Rs 60,000 per month. Also, the grade pay for an IFS officer starts from 5400 and it goes till 10000 This salary includes various perks and allowances.
Now let's have a look over the details of IFS Officer Salary, pay scale, career growth, and job profile.
Exclusive IFS Officer Salary in India 2022
The basic salary of an IFS officer is Rs 60,000 per month. But it can go as high as Rs 2.4 lakhs. It was also observed that the highest position one can attain is of the ambassador or the Foreign Secretary.
Let's look over the salary structure of an IFS Officer:-
| | |
| --- | --- |
| Scale | Salary in Rupees |
| Junior Scale | 8000 to 14000 |
| Senior Time Scale | 10650 to 16000 |
| Junior Administrative Scale | 12750 to 17000 |
| Selection Grade | 15600 to 18500 |
| Super Time Scale | 37,400 to 67000 |
| Apex Pay Scale | Around 80,000 |
| Cabinet Secretary | Around 90,000 |
As Senior Scale is divided into three major categories which are Senior Time Scale, Junior Administrative Scale, and Super Time Scale. Also, the Super Time Scale includes three categories as Super Time Scale, Apex Scale, and Cabinet Secretary.
As at some levels, the salary of an IFS officer seems to be the same to you but here comes the role of grade pay. Grade pay for every level officer is different.
IFS Officer Salary 2022: UPSC IFS Grade Pay
Now let's have a look at the grade pay of IFS officer at the various level:-
| | |
| --- | --- |
| Grade | Basic Pay/Grade Pay |
| Junior Time Scale | 8000/5400 |
| Senior Time Scale | 10700/6600 |
| Junior Administrative Scale | 12750/7600 |
| Selection Grade | 15100/8700 |
| Senior Administrative Scale | 18400/10000 |
| High Commissioner / Ambassador | 26000/Nil |
Sometimes these allowances are included in their salaries but sometimes they differ. However, the current Dearness Allowances (DA) is 80%, and if the basic pay is projected bro 90%.
These salaries and grade pay are considered according to the ranks that are given to the IFS officers. Here is the list of the grading officer along with the ranks with which salaries are provided to the IFS Officers.
Must-Read: IFS Officer Grade Ranks 2022
| | |
| --- | --- |
| Grade   | Ranks   |
| Junior Time Scale   | Undersecretary   |
| Senior Time Scale   | Undersecretary   |
| Junior Administrative Scale   | Deputy Secretary   |
| Selection Grade   | Counsellor Director   |
| Senior Administrative Scale  | Joint secretary   |
| High Commissioner/Ambassador   | Foreign Secretary   |
Must-Know: IFS Officer Perks and Allowances 2022
UPSC IFS officer gets amazing perks and allowances every year. As when the posts of IFS Officer increase they get more benefits during their job. These perks and allowances are paid along with the IFS Officer salary.
Here are the Major facilities that an IFS Officer gets, 
They get an annual increment in their salaries.
The IFS officers also get Dearness Allowances which is generally known as DA.
They also get House Rent Allowances which is known as HRA.
There are various other advances also to which IFS officer are eligible
They also get various medical benefits and expenses
They are eligible for pension and retirement benefits
The Officer is also eligible for Gratuity.
Sometimes they also get a car for commuting
Freephone call facility and also some abroad study options.
They also get free electricity and water facilities
Household helpers and security guards are also provided to them
They also get amazing accommodation of 2 or 3 BHK that too at very cheap rates.
Important: IFS Officer Job Profile 2022
The job profile of the IFS Officer is a little hectic. As they have to face various disciplines at home and as well as abroad on a wide variety of issues.
These are generally of political and economic operations, they are also related to trade and investment promotion, cultural interaction, press, and many more. But the main roles and responsibilities of IFS Officer are:-
They have to deal with all External Affairs and even responsible for all aspects of external relations.
They represent India in its Embassies, High Commissions, Consulates, and Permanent Missions to multilateral organizations like the UN
They even protect India's National interests
They even negotiate over the agreements on various issues with the authorities.
They also deal in extending facilities to foreigners and Indian Nationals abroad.
Their responsibilities also to promote friendly relations with the receiving states and also their people.
IFS Officer Salary and Carrier Growth 2022
IFS Officer salary is sound in nature. as the officers grow then the IFS Officer salary will also increase. Here are the details about the carrier growth of an IFS Officer
The officer begins their career abroad as a Third Secretary. Also, they are promoted to Second Secretary bassoon as they get confirmation about their selection in service.
Later they get various promotions during the tenure of service.
As they are promoted to the levels of First Secretary, Counsellor, Minister, Ambassador, High Commissioner, Permanent Representative.
Sometimes at the highest level of their service, they are also appointed to Indian Consulates abroad. Later the position of IFS officer goes upwards at the level of Vice-Consul, Consul, and Consul Generals.
In India, there are various posts for IFS Officer which are Under Secretary, Deputy Secretary, Joint Secretary, Secretary, Additional Secretary. And according to their further growth and performance, they are promoted over these levels.
Important Dates to Remember 2022
For Those who are preparing for the UPSC IFS exam, the dates for the exam have been released. As the application form filing of UPSC IFS 2022 Prelims is still under process.
the last date to apply for the exam is 24 March 2022. However, there is no such information about the UPSC IFS Mains examination and its result.
But the examination which will be conducted on March 24, 2022, it's result will get declared on June 27, 2022.
The timings of the examination will be till 6 PM. Admit cards for the Candidate will be released soon.
There will be an exam center throughout the country.
Books for UPSC IFS Exam Preparation 2022
Here is some book links are given which will helps a candidate in the preparation for an exam. These books will be beneficial for the candidate while preparing for the UPSC exam.
FAQs On IFS Salary Structure 2022
What does IFS stand for?
IFS stands for Indian foreign service. It is the most preferred job after IAS. 
Where does IFS training take place?
The IFS training takes place at LBSNAA, Mussoorie.
What is the salary of an IFS Officer?
The IFS Officer Salary range between Rs 15,000 to Rs 90,000
What is the overall salary of an IFS Officer?
The overall IFS Officer Salary is Rs 60,000
Are benefits included in the IFS Officer Salary?
Yes, the IFS Officer Salary includes many benefits and allowances.