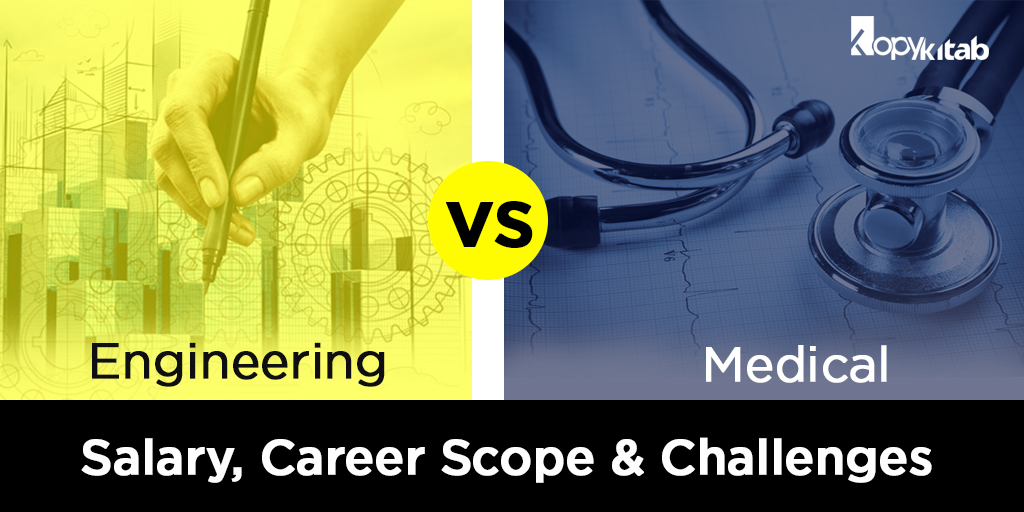 Every student studying in class 12 with science stream needs to choose a professional course after finishing 12th exams. Students choose their streams in 12th based on their priorities. It depends upon the student's interest and passion to choose their streams. Based upon the stream in 12th, they choose their professional courses which include Engineering, Medical, and many more other courses. This is the phase where students are perplexed to choose between Engineering vs Medical. We have explained both the professional courses in detail that includes salary, career scope and challenges faced. You can go through the complete blog and know which you prefer to study.
Engineering VS Medical – Choose your desired professional course
Engineering as a Career
Firstly we will explain salary, career scope & challenges in Engineering stream. Engineering has various branches to choose with. Different branches of Engineering stream include Mechanical, Electronics and communication, Electrical, Telecommunications, Computer Science, Information Science, Aeronautical, Mechatronics, and many more. Engineering is a four year Undergraduate Degree. There is a vast number of universities offering most of the engineering branches across India. Engineering is an evergreen stream having a lot of scopes. After completion of 4-year UG course, you can either start working or you can pursue higher education like M.Tech, M.S., and many more.
Pay scale
Regarding the salary, entry-level Engineers are offered an average salary of £31,000. Based on different branches and the type of work the salary may differ. But, engineers are paid well because for any software coding: a software engineer is required. Similarly, for electronic circuits fixing and designing: an Electronics engineer is required. To build buildings and structures: a civil engineer is required. For any construction of machines, designing machines: a Mechanical engineer is required. So, in every field, we see an engineer presence is highly required.
Future Scope
With industry expansion and an aging workforce, there's no shortage of engineering jobs on the horizon. There is a huge competition for engineering jobs. Thus, one should possess a unique skill set to fetch their desired job. In the upcoming days, there is no doubt that a lot of opportunities will be raising for engineers.
Challenges Faced
Since there are many branches in engineering, it might be difficult to find jobs for a few fewer priority branches. It depends on the location as well. Many industries are located outside the cities, hence candidates looking out for industry jobs must adjust with the location. In the software field, sometimes there is a recession period when companies neither they hire new candidates and nor they preserve newly joined candidates. It is the time when companies sack off candidates due to loss of projects.
But, there is nothing to worry as there are huge opportunities across the globe. You can get a job of your desired field with hard work and passion towards working.
[related_books catid="260″ product_type="ebook" algo="Latest"]
Medical as a Career
The medical stream is a dedicated field, wherein you are responsible for human life. There many branches in medical after finishing UG Degree course. The further Master course depends upon your wish. You can choose a different stream as a doctor. It may be a heart surgeon, ophthalmologist, veterinary, pediatrician, neurologist, gynecologist, and many more. The UG degree course MBBS is compulsory for any stream of Masters in Medical. It is the highly reputed job that offers high pay scale, huge career opportunities for an individual. Candidates can know the pay scale, future scope of medical and as well as challenges faced in medical stream. Students who have taken Biology as their optional in 12th, usually take up medical as their professional course.
Pay scale
A typical salary for a doctor can vary between $91,600 – $266,232 per annum. In the US, the average salary for a doctor is $156,153 per annum. In India, the annual salary for MBBS Degree holder starts from 3 lakh- 5 lakh approximately in the government sector.
Future Scope
Stating the obvious, the scope of the MBBS degree program and career as a medical professional certainly has a bright future where its scope is concerned, across the globe. With the increasing stress levels, pollution, deteriorating atmosphere and unhealthy lifestyles and then, people also becoming aware of the outcomes on their physical health due to all of this. This reason enough for a tremendous need and thereafter professional respect is given for the talented and knowledgeable doctors. And of course, the life-saving profile of a doctor is an added advantage to its wide scope at present and in future, always.
Challenges Faced
There are a few challenges faced by doctors. Some of the top challenges include- surviving the reimbursement changes, Time/energy required for prior authorizations, Lack of negotiating power with payers, Remaining dedicated to medicine, Maintenance of certification time and money investment, Lack of electronic health records (EHR) interoperability and also the rising costs for patients.
Thus, we hope you have understood about the two professional courses. Choose the best course between Engineering vs Medical. Think properly before choosing a course as it will be your future career. With complete interest and passion select your desired career.
  [related_books catid="244″ product_type="ebook" algo="Latest"]