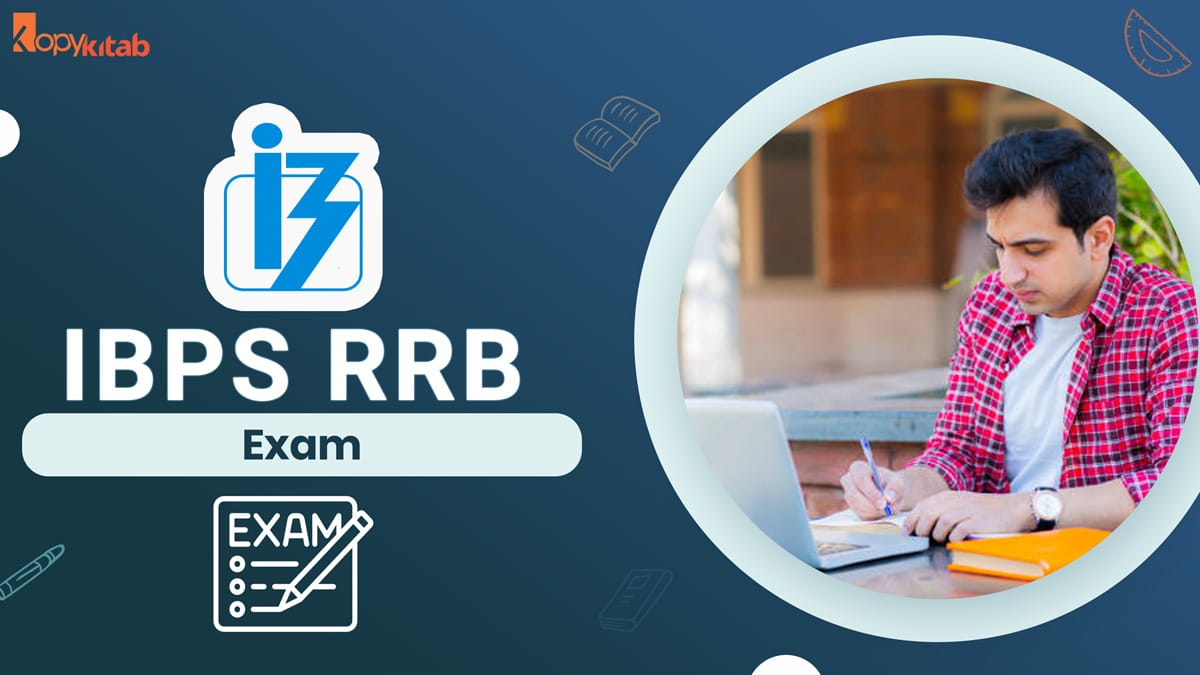 IBPS RRB Exam: Are you making all the necessary arrangements for the IBPS RRB Exam? Yes. An exam like the IBPS RRB Exam becomes easy to crack if you go through the essential areas. In this blog, we will be talking about the important aspects which are related to the IBPS Application form, eligibility, syllabus, pattern, and so on.
IBPS RRB Exam 2021: Overview
Cracking an exam like IBPS 2021 exam is not an easy task because there are different kinds of barriers and in this blog, we will try to concentrate on the hurdles. If you go through all the parts carefully then all your queries in connection with this particular exam will be cleared. Check all the sections with a focused mind.
Name of exam

Institute of Banking Personnel Selection
Regional Rural Banks (IBPS RRB)

Recruitment for the
Post

Officers Scale I, II & III

Office Assistant (Multipurpose)

Groups

Group A and B

Exam level

National

Exam Eligibility

Graduate

IBPS RRB Exam stage

Officers Scale I: Preliminary, Mains, and Interview

Office Assistant: Preliminary and Mains

Officers Scale II and III: Single level exam and Interview

Mode of exam

Online

IBPS RRB Exam Duration

Prelims: 45 minutes

Mains: 2 hours

Single level exam: 2 hours

Official website

www.ibps.in
IBPS RRB Exam Notification 2021
The IBPS RRB Notification 2021 Exam has not been updated on the IBPS official website yet. The official notification for the IBPS RRB 2021 is expected to release in June 2021 (tentatively).
For officer scale 1, the IBPS 2021 exam is conducted in two levels: Preliminary exam and Main exam. However, Officer Scale 2 and 3, conduct a single exam.
Score higher ranks & have better career opportunities

Download excellent study material to enhance exam preparation
Every year, IBPS conducts RRB (Regional Rural Bank) exam, and the vacancies for multiple posts which include Officer Scale 1, Officer Scale 2, and Officer Scale 3 are announced. It also announces vacancies for Law officer, I.T Officer, Marketing Officer, Chartered Accountant, and Agriculture officer.
Check out IBPS RRB Vacancy 2021
The following posts fall under Office Assistant (Multipurpose) and Officer Grade:
Office Assistant /Clerk
(Multipurpose)

Marketing Manager

Treasury Manager

Officers Scale I
(Probationary Officer, PO)

Banking Officer Scale-II

Agriculture Officer (Grade-II)

Law Officer (Grade-II)

Law Officer (Grade-II)

Chartered Accountant (Grade-II)

Officer (Grade III)

IT Officer (Grade-II)

 
IBPS RRB Exam Date 2021 | Key points related to IBPS  Exam Date
You cannot afford to miss dates and the best way to deal with this is by making a note of all the important IBPS RRB Exam dates. You will be in a better position in terms of preparation when you know all the tiny details of the forthcoming exam.
IBPS RRB Highlights

Dates

IBPS RRB 2021 Notification

The third week of June 2021

Last Date to Apply Online

First Week of June 2021

Last Date to Submit Fee

First Week of June 2021

Call Letters Preliminary Exam

July 2021

IBPS RRB Preliminary Examination
(Officer Scale-I & Office Assistant)

· August 01, 2021

· August 07, 2021

· August 08, 2021

· August 14, 2021

· August 21, 2021

Single Examination Officers Scale II & III

September 25, 2021

Officer Scale I Mains Exam

September 25, 2021

Office Assistant Mains Exam

October 03, 2021

IBPS RRB Interview for Officer Scale-I, II, and III

To be announced

Provisional Allotment (For Officers Scale I, II, and III
& Office Assistant)

To be announced
IBPS RRB Exam: Application Form 2021
There are various steps a candidate has to follow while applying for the IBPS RRB exam. We have thrown a light on those parts-
How To Apply For RRB IBPS 2021?
For better understanding, we have explained all the steps in connection with IBPS 2021 online Application Process. When you go through all the steps you will automatically be in a good position. You will have enough confidence before appearing for the final exam.
It is advised that the candidates keep a valid and active email id and contact no. throughout the IBPS RRB 2021 Recruitment Process to receive all the updates related to it.
The Steps to apply online for the IBPS RRB will comprise of two stages: || Registration | Login || The steps to apply online are given below.
Registration for IBPS RRB Exam
Click on the official link, provided below.
Click on the Apply link given on the page. A registration link will open up in the new window.
Click on New Registration in the application window.
Provide personal credentials like name, parents' name, date of birth, email id, mobile number, etc.
Click on the submit button to the completed online registration form of IBPS RRB.
After the Registration, a Registration ID and a password will be sent to your mobile no. and email id.
Login
Login with the provided Registration ID, date of birth, and password to complete registration for IBPS RRB 2021.
Upload your photograph and signature following the requisites mentioned below.
Upload scanned image of passport size photo (size-20 to 50 Kb) and signature (10 to 20 Kb) in jpeg /JPG format.
Size of Photograph: 200 x 230 pixels
Size of Signature: 140 x 60 pixels.
After uploading the photograph and signature the candidates will be required to verify the details. Preview and verify the application form carefully.
Lastly, pay the required application fee online.
Must-Know IBPS RRB Eligibility 2021
Every competitive exam has some criteria and the candidate who fulfills the basic requirements will be allowed to take the test.
If you apply without knowing the IBPS Eligibility then it will be a waste of time, money as well as effort. You need to be familiar with the essential factors before making the necessary arrangements for an exam like IBPS.
Exclusive IBPS RRB Syllabus 2021
You have already gathered some useful information regarding the pattern of the upcoming 2021 Intermediate Exam IBPS and now it is time for you to check all the interesting areas which come under the IBPS RRB New Syllabus 2021. Go through it to know more about the Important Subjects.  
Here, we will talk about the Syllabus for the IBPS RRB exam by highlighting the relevant topics.
The subjects covered in the syllabus are as follows:
Reasoning
Quantitative Aptitude
English Language
Hindi Language
Computer Knowledge
General Awareness
Financial Awareness
Final IBPS RRB Exam Pattern
Aspirants Must know IBPS RRB Exam Pattern before appearing for Exam 2021. 
IBPS conducts a two-stage written test for Officer Scale-I and Office Assistant posts while for Officer Scale-II and III, there is only one written test.
Candidates applying for Officer level posts have to appear for an interview round before the final selection. There is no interview for Office Assistant.
The exams are online-based having multiple-choice questions.
There is a negative marking of one-fourth marks for each wrong answer
IBPS RRB Selection Process
Every exam comprises various elements and it is absolutely necessary to know about the factors which are associated with a particular exam in order to secure a good position.
In the case of IBPS, there are different selection procedures that are followed for various posts. The 3 stages involved in IBPS RRB Selection Procedure for Office Assistant and Officer Scale I are:
IBPS RRB Preliminary Examination 2021
IBPS RRB Main Examination 2021
IBPS RRB Interview Round (Only for Officer Scale I)
IBPS RRB Preparation (Books, Study Material, and Previous Year Papers)
A solid IBPS RRB preparation is something you need to focus on in order to secure a good position in the coming exam. When you take care of the little things you will be confident enough to face new challenges.
The aspirant must be prepared from all angles like choosing the right books, following the relevant study materials, and referring to the previous year's papers.
Download IBPS RRB Admit card
The candidates are requested to check the details of the IBPS RRB Admit Card 2021, let's have a look at the important dates from the table below:
| | |
| --- | --- |
| Events | Important Dates |
| IBPS RRB Main Officer Scale 1 Call Letter | January 18, 2021 |
| IBPS RRB Mains Exam – Officer Scale 1 | January 30, 2021 |
| IBPS RRB Main Office Assistant Call Letter | February 03, 2021 |
| IBPS RRB Mains Exam – Office Assistant | February 20, 2021 |
Steps to download IBPS RRB Clerk Admit Card 2020-21
Click on the link provided below to download the IBPS RRB Admit Card.
A new page will appear on the screen of your device.
Here you will have to enter your "Registration ID" and "Date of Birth/Password".
Enter the Captcha.
Click the Login button.
The call letter will appear on the screen
Click the print/ download button to save the IBPS RRB Clerk Admit Card /Call Letter 2020-21 for your future reference.
NEW IBPS RRB cut-off
The cut-off marks for the IBPS exam change every year and the students need to be aware of the updated cut-off marks.
The officials will reveal the sectional and overall cut-off marks online on the website. The cut-off will be different for various category candidates. Be extra careful while checking the cut-offs for various posts.
IBPS RRB Result
After successful completion of the exams you will be waiting eagerly for your IBPS Result and that is quite normal considering the IBPS career opportunities.
Your hard work will have a new meaning if you focus on the key areas which we have mentioned here in this blog. Keep an eye on the website for any kind of announcement.
Updated IBPS RRB Salary and Job Profile
An IBPS RRB aspirant needs to make a note of all the tiny details regarding the RRB IBPS Salary as well as a Job Profile to shape his or her career.
The pay scale for IBPS RRB office assistants or clerks is in the range of Rs. 7200-400/3-8400-500/3-9900-600/4-12300-700/7-17200-1300/1-18500-800/1-19300.Rs. 19000- Rs. 22000 is the cash in hand for newly appointed candidates.
The detailed IBPS RRB Salary as per the post is given in the table below:
IBPS RRB Salary For Clerk & Officer Post

IBPS RRB Posts

IBPS RRB salary (In-hand Salary)

IBPS RRB Clerk

Rs. 15000 – Rs.20000

IBPS RRB Officer (PO)

Rs. 29,000 – Rs. 33,000

Officer Scale-II

Rs. 33,000 – Rs. 39,000

Officer Scale III

Rs. 38,000 – Rs. 44,000
Some of the important duties which a banker needs to perform are-
To manage the day-to-day banking operations.
Loan disbursement & credit portfolio rating.
To take care of single window operations or being a teller.
Focus on the agricultural schemes and policies for the rural market.
Preparing the audit reports and NPA recovery also forms a major job task.
Here, we have provided more details about IBPS RRB Exam and related Info. Feel free to post your queries in the comment section.
FAQ- IBPS RRB Exam
What is the IBPS RRB Syllabus?
Go through the above article for the details of the IBPS RRB Exam Syllabus.
Who conducts interviews for IBPS RRB exams?
The interview for various IBPS RRB exams is conducted by the participating organizations and coordinated by the nodal bank in each State/UT with the help of IBPS.
How many times IBPS RRB are conducted?
IBPS exams are conducted once a year by the Institute of Banking Personnel Selection (IBPS).
Is there any negative marking in IBPS RRB 2021 Exam?
Yes, there is a negative marking in the IBPS RRB 2021 Exam. For the wrong answer, 1/4 marks are deducted as a penalty.
Is there any capping in the number of attempts in various IBPS RRB?
No, there is no capping in the number of attempts in IBPS RRB. Candidates falling within the prescribed age limit can apply for the exam.
Is there objective-type questions in IBPS RRB?
In IBPS RRB only objective-type questions are asked.
How can I check my IBPS RRB result?
Here are the steps to check IBPS RRB result 2021 – 1)Visit the official IBPS website. 2)Click on IBPS RRB PO/Clerk result link. 3)Enter your roll number and password. 4)The result is displayed on the screen.
What is the difference between IBPS RRB and IBPS Clerk exams?
The IBPS RRB exam is conducted for the recruitment of Officers and Clerks in the Regional Rural Banks of the country.