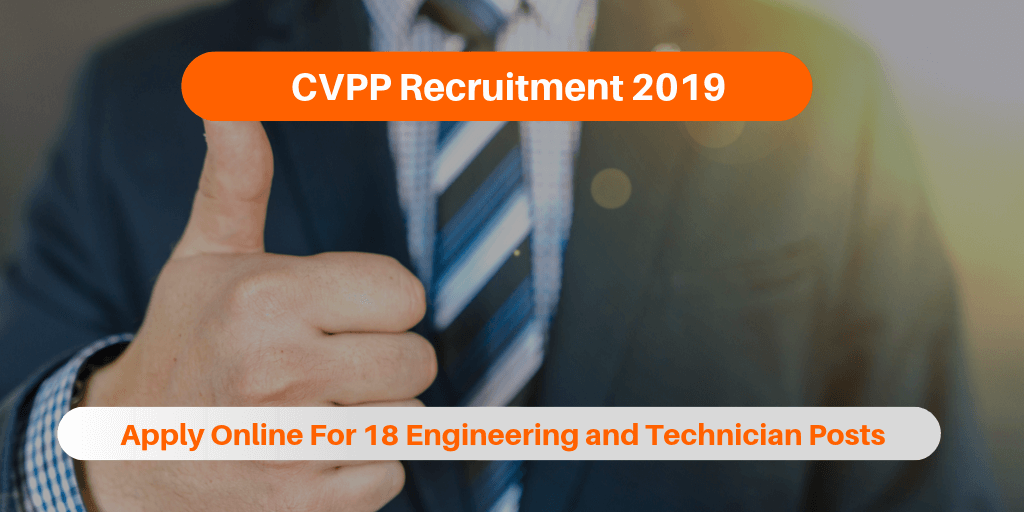 CVPP Recruitment 2019: If you are searching for a job in Jammu & Kashmir, we have good news for you. The Chenab Valley Power Projects [P] Limited (CVPPPL) has published CVPP recruitment notification 2019 for 18 various posts.
CVPP Recruitment 2019
CVPP has invited eligible candidates to apply for the recruitment of Engineering Graduates and Technicians under the Apprentices Act, 1961. You should apply for the post on or before 28 October 2019.
You will find the details of the post are given under the notification Number – CVPPPL/HR/APPR-2019/1, and you should refer accordingly. The last date to send the application is 28 October 2019. You should keep in mind that no claim shall be accepted after that. The official website is https://www.cvppindia.com/.
The vacancy is for a total of 18 posts for various positions.
Check the complete details according to various job positions.
Engineering Graduates (Degree)
Electrical and Allied Branches – 1 Post
Mechanical and Allied Branches – 1 Post
Civil and Allied Branches – 7 Posts
Technician Apprentices (Diploma):
Electrical and Allied Branches
Mechanical and Allied Branches
Civil and Allied Branches
Salary Structure:
The Salary will bel be provided as per the Apprenticeship Act i.e.
Engineering Graduates (Degree)shall be paid Rs. 12,000/- PM
Technician Apprentice (Diploma) shall be paid Rs. 10,500/- PM respectively
Educational Qualification:
Here you can check the educational qualification for CVPP Recruitment 2019.
Engineering Graduates (Degree) –
You should have four years of regular engineering degree approved by AICTE for Graduate apprentices.
Technician Apprentices (Diploma) –
You have to complete three years full-time diploma in engineering approved by AICTE for Technician apprentices
Age Limit:
Your age limit should be is 14 to 30 Years. Age relaxation is applicable as per government rule.
How to Apply For CVPP Job 2019
We are here providing step by step guide to apply for CVPP job 2019. Before applying online, you should check the eligibility criteria as above and make sure that you have met all the criteria.
Before filling online application, you should have —
A Scanned copy of your recent passport size photograph (not more than 03 months old) that the size should not exceed 50KB.
A scanned copy of your signature that the size should not exceed 20KB.
A scanned copy of Certificates.
A valid & active e-mail ID and Mobile number.
Note: Make sure that the scanned copies should be readable. Otherwise, your application will be rejected.
Follow the below guide to applying the CVPP job 2019.
You should register with a valid mobile number and e-mail ID for Apprenticeship online. It will help you for updates and registration.
You have to enroll yourself on mhrdnats.gov.inon or before 28 October 2019.
Also, you have to send the filled application with other essential documents to below address on or before 04 November 2019
Sr. Manager (HR), CVPP [P] Ltd, Chenab Jal Shakti Bhawan,
Opposite Saraswati Dham, Railhead Complex, Jammu (J&K) – 180012
General Instructions
You are required to appear in GATE-2020 to apply for the post. Final year appearing students in the academic session 2019-2020 are not eligible.
Before applying for the mentioned posts, you should ensure that you have fulfilled the eligibility and other norms mentioned in this advertisement.
Only the GATE-2020 score is valid for the recruitment exercise.
We have covered a detailed guide on CVPP Recruitment 2019. Feel free to ask any questions related to the job notification in the comment section below.