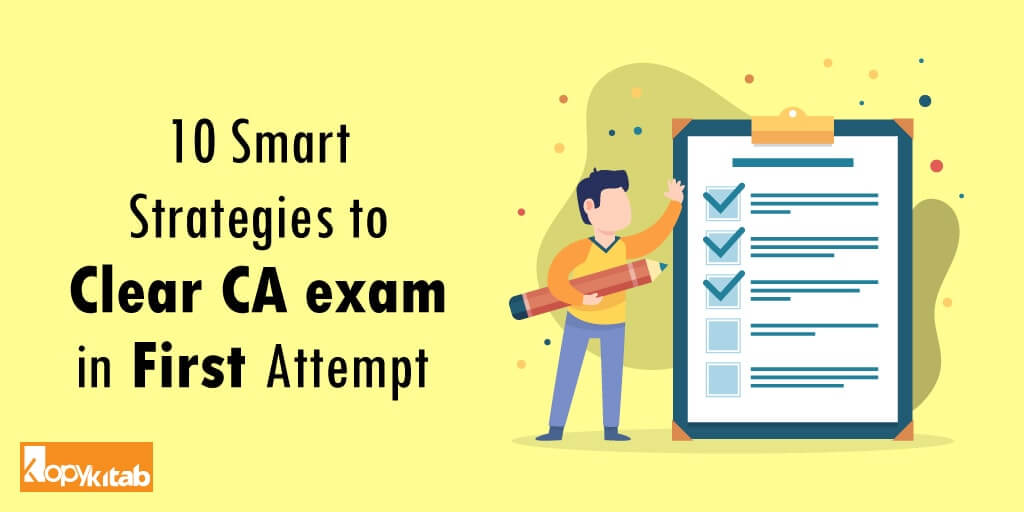 10 Smart Strategies to Clear CA Exam in First Attempt: The Chartered Accountancy (CA) course is considered one of the most sought-after professional courses in India that demands years of strenuous practice and training to obtain the certification. The Institute of Chartered Accountants in India (ICAI) offers a three-level CA programme that comprises of the Foundation, Intermediate and the Final training.
Becoming a CA in India is a promising yet challenging role. Studies reveal that about 45-50 per cent of the applicants clear the CA Exam in first attempt, making this among the most competitive exams to crack.
Ultimate 10 Smart Strategies to Clear CA Exam in First Attempt
The CA exams are conducted twice a year by the Institute of Chartered Accountant of India. Every year, lakhs of students appear for this prestigious exam, but only a fraction of them make it through. That's because to perform exceptionally and score meritoriously in the CA Foundation; you need the right blend of smart and hard work.
Surely, there is no substitute for diligent preparation, but knowing where to focus your efforts can make all the difference. There is no point in pouring over CA Foundation books if you can't master the critical parts of the syllabus that account for 80 percent of the exam weightage.
Here are some proven strategies that'll help you crack the CA Foundation exam in November 2020:
Prioritize the Important Topics
This is the first Smart Strategy to Clear CA Exam. If you carefully analyze the CA Foundation study materials and the detailed guidelines issued by the Institute of Chartered Accountants of India (ICAI), you will be able to identify which topics from each subject carry more weightage in the exams and which ones are relatively less relevant. Focus on these topics more than the rest and try to study them when you are at your mind works at the optimum.
Refer to Previous Years' Question Papers 
Knowing the syllabus and the important topics are one thing, and understanding how questions based on these topics will be presented in the exam quite another. Referring to previous years' question papers while studying from your CA Foundation books PDF and CA Foundation study notes can be immensely helpful here.
Once you have finished the entire syllabus, solve as many of these past years' question papers as you can to understand the exam pattern and difficulty level. This strategy will also help you hone your time management skills, which can be a decisive factor in cracking this all-important exam.
Know the Syllabus Inside Out To Clear CA Exam in First Attempt
So, you know that the CA Foundation exam comprises four papers –
Paper 1: Principles And Practice of Accounting,
Paper 2: Business Laws And Business Correspondence,
Paper 3: Business Mathematics, Logical Reasoning And Statistics,
Paper 4: Business Economics And Business & Commercial Knowledge.
You must also know the syllabus for each of these papers, like the back of your hand by now. It is an essential Smart Strategy to Clear CA Exam. It is a good idea to keep a copy of the syllabus handy at your study table at all times, so you can cross-reference the topics in your CA Foundation scanners PDFs and other study materials to make sure you are investing your time and energies in the right place.
Write and Learn
Learning by writing is a proven, years-old exam preparation technique that many swear by. Whether it is school exams, competitive or professional exams like the CA Foundation, writing down important points always promotes better retention. Besides, you get good practice for writing your answers concisely and in a timely manner every single day.
Be Smart About Revisions To Clear CA Exam in First Attempt
Studies have shown the revisions are an important aspect of any exam preparation process, and the right strategy for revising your syllabus is what makes all the difference. It is an important Smart Strategy to Clear Clear CA Exam In First Attempt.
Make it a habit to revise any topic that you study once within 24 hours and once again within a week to cement it in your memory. This helps in clear retention of concepts, allowing you to recall and implement them better during the exams. With the exam just a little over a month away, regular revisions and practice should be your focus.
Take Mock Tests To Clear CA Exam in First Attempt
As the age-old adage goes, practice makes perfect. Practice, practice, the practice should be at the core of your preparation strategy right now. Attempt at least one mock test for every paper a week – in addition to solving previous years' papers and revisions –and use this exercise to simulate the actual exam-like environment.
Finish your papers in one go within the stipulated time and then evaluate your answers objectively. This will give you a reality check on your preparation levels and also combat the anxiety associated with exams.
Ace the Time Management Game
The ability to manage your time well is not only a crucial part of the preparation process but also vital to optimize your performance in the exams. Even with just a month to go, you can improve your time management abilities vastly with these tips:
Set small goals every day and make sure you don't wrap up your study session until you have achieved them.
Divide the entire syllabus into small sections, and then divide these sections uniformly over the days you have left at hand. Focus on finishing off the allocated syllabus each day without panicking about how much needs to be done in little time.
Do not procrastinate. Otherwise, you'll keep putting off studying diligently until the very end, and by then, it'll already be too late.
Wrap up your day by making a detailed to-do list for the next. That way, you won't lose focus.
Mix Up Core Material with Elaborative Material
CA Foundation study materials can be divided into two categories – core and elaborative. Principles, formulae, theorems, diagrams, and graphs constitute the core material, whereas illustrations, quotes, and examples fall in the category of elaborative materials.
Learn to differentiate the content of your CA Books as per these two categories, mix it up during the course of your preparation. However, if you are too hard-pressed for time, focus on core material alone, as it amounts to nearly 80 percent of the paper.
Visual Techniques Improve Retention
Prepare charts, diagrams, or other illustrations can help you memorize different concepts and formulae better. It is one of the best Smart Strategy to Clear CA Exam In First Attempt.
Devote some time in preparing these charts and make it a habit to study them at least for a few minutes every day to internalize these in your memory. This strategy is proven to be more effective in improving retention than rote learning.
Manage Stress To Clear CA Exam in First Attempt
A little stress is essential to keep you focused on your goal and help you push the boundaries of your performance. However, if not reined it, stress can often become counter-productive.
As the exam draws closers, it becomes more imperative than ever to be mindful of the stress you are experiencing and take measures to manage it. Exercising, eating, and sleeping well, taking scheduled breaks, meditation, breathing techniques, and a few refreshing outings are a good idea.
As long as you stay focused and pursue your single-minded goal devotion, you can improve you preparation levels and your chances of clearing the CA exam in first attempt by leaps and bounds even within a month.