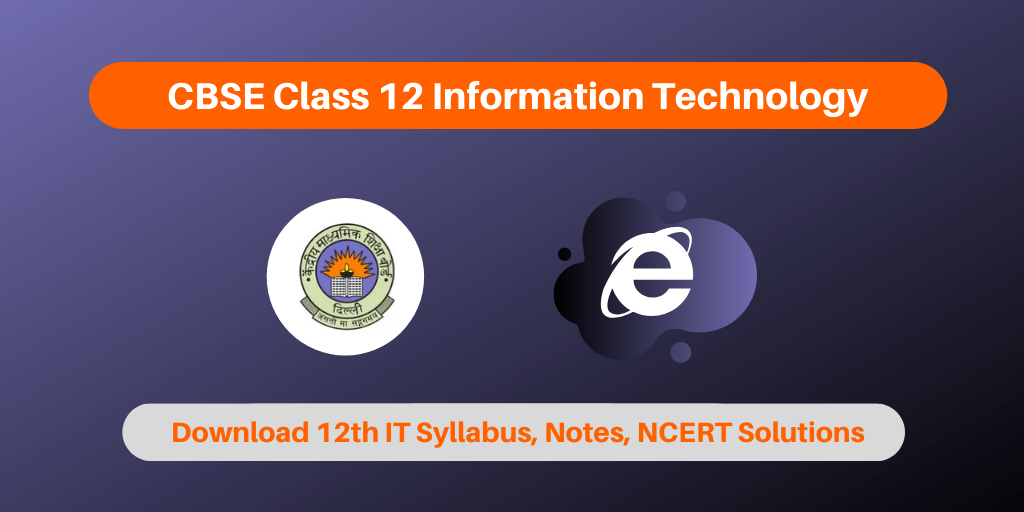 CBSE Class 12 Information Technology: Information technology refers to anything related to computing technology. The Internet, for example, comes under the umbrella term IT. So does computer hardware, software, and networking.
Information Technology is an important subject for CBSE Class 12. With the clear concepts on every topic of your 12th Information Technology syllabus, you can build the depth knowledge on the subject. This will also improve your performance in the 12th board exams.
In this article, you will find a complete guide on CBSE Class 12 Sociology. So that you can prepare correctly for the 12 Information Technology board exam.
CBSE Class 12 Information Technology
Information Technology is a scoring subject and by preparing well. You need to prepare correctly to score well in the 12th board Exam. 
To prepare for CBSE 12th Information Technology Exam, you should have a solid study plan and study materials. Without the right study materials and a proper study plan, you cannot score a better mark in any exam. 
BSE Class 12 Information Technology Book
To secure better grades in the 12th Hindi Exam, you should have the right books and other study materials. While selecting the book, you should not go for any random book. 
You should be assured that it has covered the latest CBSE Syllabus for Information Technology. For that, you must have the NCERT Information Technology Book.
12th Information Technology Syllabus
CBSE Syllabus for Class 12 Information Technology contains the course structure along with the chapter wise marks distribution. Knowing the syllabus will help you to get an idea about the topics they are going to study for the academic year 2020-2021.
After studying all the topics mentioned in the CBSE Class 12 syllabus you can easily perform better in Class 12 CBSE board.
Information Technology (802) CLASS XI (Session 2019-20)

 

Units

No. of Period for Theory and Practical 260

Max. Marks for Theory and Practical 100

Part A

Employability Skills

 

 

 

Unit 1 : Communication Skills-III

10

10

 

Unit 2 : Self-Management Skills-III

10

 

Unit 3 : Information and Communication Technology Skills-III

10

 

Unit 4 : Entrepreneurial Skills-III

15

 

Unit 5 : Green Skills-III

05

 

Total

50

10

Part B

 

Theory Periods

Practical Periods

Marks

 

Unit 1: Computer Organization & OS: User perspective.

 

10

 

10

 

7

 

Unit 2: Networking and Internet.

15

10

7

 

Unit 3: Office automation tools:

30

45

18

 

Unit 4: Multi Media Design: (Open Source Design Tools).

 

20

 

45

 

12

 

Unit 5: Troubleshooting: Hardware, Software and Networking.

 

10

 

15

 

6

 

Total

85

125

50

Part C

Practical Work

 

 

 

Practical Examination

 

15

 

Written Test

 

10

           

Viva Voce

 

05

 

Total

 

30

Part D

Project Work/Field Visit

 

 

 

Practical File/ Student Portfolio

 

5

 

Viva Voce

 

5

 

Total

 

10

 

Total Periods and Marks

50+85+125=260

100
12th Information Technology NCERT Solutions
After the textbook, you must refer to Class 12 Information Technology solutions to prepare the 12th Exam correctly. NCERT experts have created Class 12 Information Technology Solutions to provide you depth concepts on every chapter.
Experts have used simple and clear language while creating solutions so that any students can understand every problem without the help of any subject experts.
CBSE Class 12 Information Technology Sample Papers
CBSE releases 12th Information Technology Sample Papers every year for the benefit of the students. The CBSE 12th Hindi sample paper question paper gives clarity about the marking scheme.
You can also solve previous year papers. It gives you the exact idea about the exam pattern and way the question will be asked in the examination.
You should have the following materials to find the complete question papers related to the Class 12th Exam.
CBSE Class 12 Information Technology Revision Notes
Revision notes for 12th Information Technology play a key role in preparation for the examination as you can get a clear view of the topics that you have covered. The most important part is that you can easily clear the minor doubts in various chapters by referring to these notes. 
We have covered a detailed guide on CBSE 12th Information Technology. Feel free to ask any questions in the comment below.