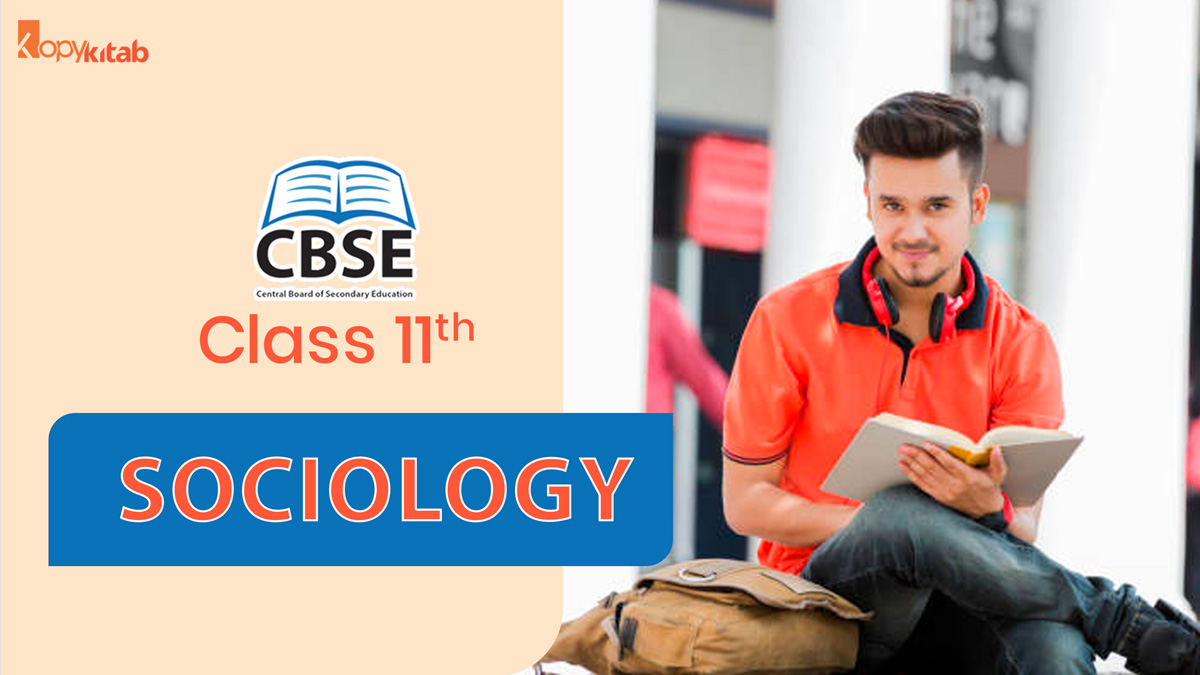 CBSE Class 11 Sociology 2021-22: Sociology in the 11th is an elective subject for those students. Sociology is the study of social life, social change, and the social causes and consequences of human behavior. The 11th students will have to appear for both theory and practical. The theory carries 80 Marks and Practical's carry 20 Marks. These books are prescribed by NCERT. 
In this article, we have provided the complete details CBSE Class 11 Sociology Exam.
CBSE Class 11 Sociology Books
NCERT books are considered to be the best choice for preparation but it is advisable to refer other books for a better understanding of the subject. Here the list of some Class 11 Sociology Books that are considered by the students while preparing for the Sociology examination.
CBSE Class 11 Sociology Syllabus
Here you will get the detailed CBSE Class 11 Syllabus for Sociology along with section-wise marks distribution. You can take a look at the units included in CBSE 11th Sociology Syllabus along with the marks distribution:
Exam Structure
| | | |
| --- | --- | --- |
| Unit | Topic | Marks |
| A  | Introducing Sociology | 40 |
| 1 | Society, Sociology and its relationship with other Social Sciences | 8 |
| 2  | Basic Concepts and their use in Sociology | 8  |
| 3  | Understanding Social Institutions | 10  |
| 4  | Culture and Socialization | 8  |
| 5  | Doing Sociology: Research Methods | 6  |
| B  | Understanding Society | 40 |
| 6  | Social Structure, Stratification and Social Processes in Society | 10 |
| 7  | Social Change and Social order in Rural and Urban Society | 10  |
| 8  | Environment and Society | 6  |
| 9  | Introducing Western Sociologists | 6  |
| 10 | Indian Sociologists | 8  |
|   | Total | 80 |
CBSE Class 11 Sociology Solutions
After the textbook, you must refer to Class 11 Sociology solutions to prepare the 11th Exam correctly. Sociology Solutions will help you to build depth concept by providing the exercise wise explanation of all the problems. You will also find various Additional Questions from every exercise.
CBSE Class 11 Sociology NCERT Solutions
NCERT experts have created Class 11 Sociology Solutions to provide you depth concepts on every chapter. Experts have used simple and clear language while creating solutions so that any students can understand every problem without the help of any subject experts.
You should know that NCERT solutions have followed the latest CBSE syllabus and refer them as soon as possible to start your Sociology preparation. It will not only help you to build the depth concept on the subject but also help you to crack various entrance and competitive exams.
CBSE Class 11 Sociology Question Paper
You should have a Class 11 Sociology Question Papers to bring your preparation to the next level. You should note that experts have created the materials by analyzing the 11th Sociology chapter-wise exercise and the previous exams. You will find multiple questions for every single topic. You can build the depth concept in class 11 Sociology by practicing more questions.
You should have the following materials to find the complete question papers related to CBSE Class 11th Sociology Exam,
Sample Question Papers
Previous Year Question Papers
Question Bank
CBSE Class 11 Sociology Sample Question Papers
After completion of a sample paper, you will have a preview of the board question paper. It will also enhance your problem-solving speed and understanding of the subject. You will become more aware of the current pattern of the question papers after solving Class 11 Sample papers.
CBSE Class 11 Sociology Previous year Papers
Previous year papers are the great exam materials to prepare any exams. You must solve the 11th previous year papers for Sociology before the board exam. You will recognize the changes in the previous exams throughout the time.
It will give you an idea about the repetitive sections and questions in class 11 Sociology. You can also know your current preparation status by solving the previous year's papers in the certain time as the real Exam and know preparation status and also help you to find your conceptual weaknesses. You can easily cover those before the board exam.
CBSE Class 11 Sociology Revision Notes
Without revision of the complete syllabus, you will lose your chance to score a better grade in the 11th Board exam. To make your revision easier, our experts have created Class 11 Sociology Revision Notes.
Here you will find all chapter wise theorems and concepts are summarized in the easier way so that any student can understand them quickly. They have also considered by analyzing previous years of question papers and Sociology chapters. With the help of these, you can easily do proper revision before the board exam. It will help you to revise all chapters in the easier way in less time.
We have covered a detailed guide on CBSE Class 11 Sociology. Feel Free to ask any questions in the comment section below.
FAQ: CBSE Class 11 Sociology – Syllabus, NCERT Solutions, Papers, Notes 2021-22
What is taught in sociology class 11?
Social Change: Types and Dimensions; Causes and Consequences. Social Order: Domination, Authority and Law; Contestation, Crime, and Violence. The village, Town, and City: Changes in Rural and Urban Society.
Why do we study sociology class 11?
Sociology is an abstract science because it studies the design and norms of society. It is a science of generalization. It provides understanding about groups, social actions, subject matter, and structure. Sociology presents general principles related to social interaction so it is general science.
Is sociology an easy subject?
As compared to other subjects, sociology is very easy to understand as it revolves around the various trends in society and relates to daily life.
What is sociology?
Sociology is the study of the social life of humans, their groups, and societies. The subject matter of sociology is our own behavior as social beings.