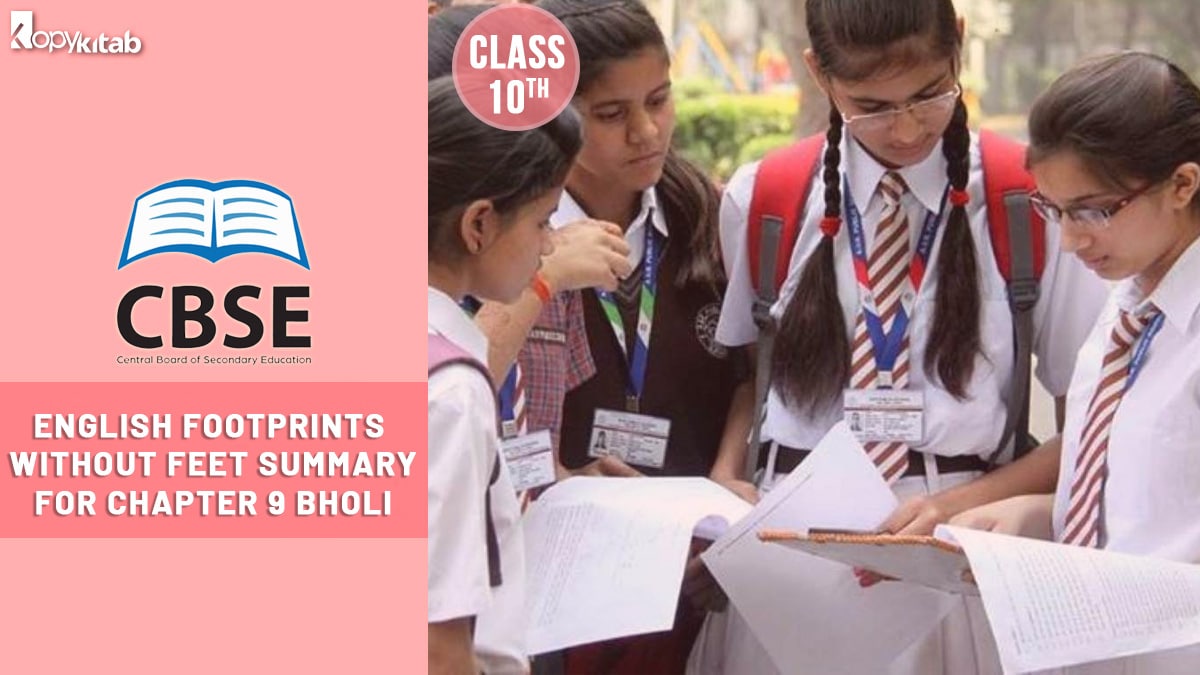 CBSE Class 10 English Footprints without Feet Summary for Chapter 9 Bholi: KA Abbas has authored the story Bholi prescribed for CBSE class 10 English. It is about a girl who has an accidental fall during her childhood. She also has a disease that not only makes her look ugly but also dull. However, a turn of events occurs when she goes to a nearby school where a teacher encourages her to face whatever comes her way confidently.
The girl is then about to be married off when she finds that the groom is demanding dowry. Thus, the story also shows an uprising of the girl against social evils such as dowry.
Download Summary of Bholi Class 10 PDF
Bholi Chapter Class 10 Summary Free PDF
CBSE Class 10 English Footprints Without Feet Summary For Chapter 9 Bholi | Bholi Chapter Class 10 Summary
Bholi Class 10 Short Summary:
The story begins with a girl named Sulekha. Abbas describes her as dull, and so, everyone refers to her as 'Bholi.' A part of the reason she is ugly is also due to an accidental fall during her childhood. She also contracts smallpox at the age of two, which is why she has pockmarks on her face and skin.
Bholi's father, Ramlal, has three other sons and daughters besides Bholi. He always worries that nobody would ever marry Bholi. But her mother insists that she go to school even though she is against the thought of educating a girl. One day, Bholi, who is afraid to leave the house, must go to school.
But when she arrives at school, she meets a teacher who is kind to her. The teacher encourages her to study and be bold and confident. As time passes, the village where Bholi lives has now become a town with amenities like a cinema hall and cotton mill. The primary school has now become a secondary one.
One day, Bholi's parents decide to marry her off to an older man. They think that the man would be the best fit for her daughter as he did not demand any dowry. But on the day of the wedding, when the man sees that Bholi has pockmarks, he instantly changes his mind and demands dowry from Ramlal. Seeing all this, Bholi refuses to marry such a greedy older man.
Grief-stricken, Bholi's parents, worry that no one would ever marry their daughter. But Bholi says that she would look after her parents by teaching in her school. Bholi's teacher, who watches all this from a distance, feels proud that she encouraged her to come up in life.
You can Download NCERT Books and solutions for CBSE Class 10 English Footprints Without Feet Summary For Chapter 9 Bholi.
Important Words from CBSE Class 10 English Footprints Without Feet Summary For Chapter 9 Bholi | Bholi Short Summary Class 10 Word Meanings
Here you can check the word meaning for CBSE Class 10 English Footprints Without Feet Summary For Chapter 9 Bholi
The story is a take on the various social evils that prevail even today. For instance, people in villages across India still believe that girls should not go to school. Similarly, another such crime that the story touches upon is dowry. It is sad to see that while some parts of the country are developing rapidly, other parts still believe in things like dowry.
Likewise, the author has made use of other such words to depict social evils and discrimination.
1. Pockmarks
In the story, Bholi has smallpox during her childhood, and so, she has pockmarks on her face. Due to this, no one wants to marry her. The disease also disables her speech until the age of five. It makes her dull, and although she finally learns to speak, she stammers. Her stammering also makes a mockery of her. As a result, she stops speaking and won't talk much.
2. Tehsildar
A Tehsildar is a ranked officer in a district or village. In the story, Bholi, the Tehsildar of the village where the girl lives, says to Ramlal that as a key representative of the town, he must set an example to the others by encouraging his daughters to go to school. Thus, the Tehsildar changes Ramlal's beliefs about sending a girl child to school.
3. Fear-Laden
In the beginning, Bholi, due to her illness, is afraid, even to step out of the house. Her eyes also show fear when her father leaves her with the principal. It is the first time that Bholi has been to a school, and so, she is scared.
4. Disgrace
In the story, 'Bholi,' the writer, KA Abbas, shows the discrimination of girl children in several parts of the country, especially the rural areas. When the other students ask Bholi her name, she begins to stammer. So, they start laughing at her. The incident in the story shows how people tend to put down other people with disabilities. People laugh at Bholi not only because of her stammering but also due to her appearance.
The story, 'Bholi,' talks about the discrimination of the weak. But it also tells us about their uprising. Although Bholi cannot speak clearly, she refuses to marry a man who demands dowry from her parents. By doing so, she fights against evils such as dowry that prevail in the society even today. Thus, the story shows us that there should be no discrimination, whether by caste, race, religion, or gender.
We have covered CBSE Class 10 English Footprints Without Feet Summary For Chapter 9 Bholi. Feel free to ask us any questions in the comment section below.
FAQs on Short Summary of Chapter Bholi Class 10
What is the summary of the story Bholi?
Bholi, whose real name was Sulekha, is the protagonist of this story. She has some brain damage and used to stammer as a result. In addition, she had smallpox, which left pockmarks on her cheeks.
What can you say about footprints without feet in a nutshell?
It's the story of a scientist named Griffin who was trying to figure out how to make a guy invisible in various ways. When he devised a strategy for being invisible, he became successful. The summary of Footprints Without Feet is about an invisible man who cannot be seen yet can feel physical sensations through touch.
What is the message of the chapter Bholi Class 10?
The impact of family on children is a major theme in the story Bholi.
How was Bholi?
Bholi is a little girl who lacks self-confidence because of her parents' attitude towards her.
Why did Bholi not marry bishamber?
Bholi was devoted to her parents. So she agreed to marry Bishamber for the sake of their respect and pleasure. To defend Ramlal's dignity, she refused to marry Bishamber when he demanded rupees 5,000 as dowry and insulted her father.
Who was the hack driver?
The hack driver was none other than Oliver Lutkins.