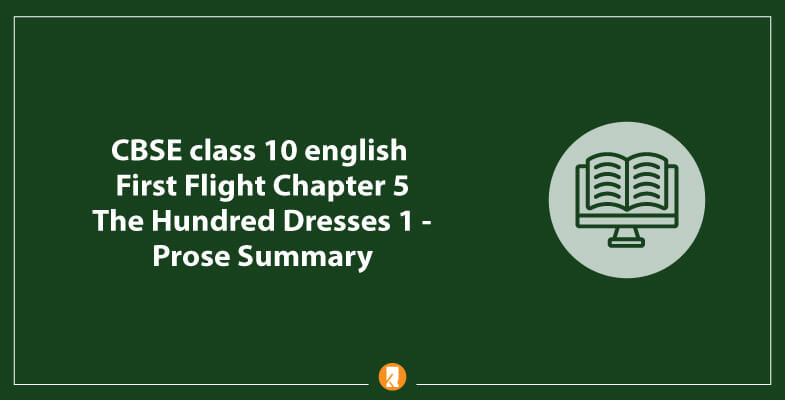 CBSE Class 10 English First Flight Chapter 5 The Hundred Dresses 1 – Prose Summary: Chapter 5 of First Flight for CBSE English Literature is titled "The Hundred Dresses-1". The story revolves around Wanda, a girl who claims to have one hundred dresses in her possession.
Wanda is subject to frequent humiliation by her Classmates for wearing the same dress despite the big claims that she has a hundred dresses.
Her Classmates also made fun of her because everyone else had "easier" names than 'Wanda Petronski'. Wanda lived in America but originally belonged to Poland. Hence, the peculiarity of her name.
Wanda was always left one because she was poor and did not have many friends. In the end, it is revealed that the one hundred dresses she talked about were actually one hundred paintings that she had drawn. Everyone finds those paintings strikingly beautiful. 
CBSE Class 10 English First Flight Chapter 5 The Hundred Dresses 1 – Prose Summary
The Hundred Dresses-1 is a story about a little Polish girl named Wanda Petronski who lives in America. In the story, it is seen that Wanda's Classmates make fun of her, especially Peggy, and Madeline are always making fun of her. Wanda is a Polish immigrant studying with American students.
Her American Classmates also make fun of her name because they find it strange and weird as compared to the easier and common American names. 
As Wanda belonged to a poor family, she always wore the same faded blue dress to school. She could be seen sitting alone and quiet in a corner of the Classroom. Wanda claimed that she had one hundred dresses and a pair of sixty shoes in her possession.
But everyone made fun stating that if she had so many dresses, why would she wear the same pair to school every day?
Wanda was always teased and taunted by two of her Classmates, Peggy and Maddie, who were best friends to each other. These two girls were also the most famous ones in the school. And Wanda was simply a stranger to everyone.
The story is seen from the viewpoint of Maddie who was the main character behind the daily teasing. 
Peggy and Maddie would wait for Wanda before coming to school, even if they were late they would still wait for her. Maddie was also poor, just like Wanda, and did not like it when Peggy made fun of Wanda.
But she did not dare do anything as she feared that she could become another target of teasing. Maddie could not do anything when Peggy made fun of Wanda because she was also afraid that she might lose her best friend.
Although Peggy did not want to hurt Wanda intentionally, yet she did tease her on purpose because she was very curious to find out why Wanda was lying about the hundred dresses. 
On the day of the drawing competition, the truth about Wanda's hundred dresses is revealed to everyone. In the room, there were one hundred paintings of one hundred beautiful dresses, each distinctly more attractive than the other.
It was now clear that Wanda truly had a hundred dresses and all of them lined up in the Classroom. Peggy and Maddie just could not believe their eyes and were much ashamed about treating Wanda badly. 
The story has a moral meaning to it-never mistreat anyone who appears to be different than others. Wanda's story also teaches us that we should not make fun of unique differences about fellow human beings. We must accept everyone as they are. 
You can Download NCERT Books and solutions for CBSE Class 10 English First Flight Chapter 5 The Hundred Dresses 1 – Prose.
Important Word Meanings from the CBSE Class 10 English First Flight Chapter 5 The Hundred Dresses 1- The Prose
Here you can check the word meaning for CBSE Class 10 English First Flight For Chapter 5 The Hundred Dresses 1 – Prose 
Scuffling of feet- noisy, forcible foot movements 
Didn't hang right- ill-fit
Hopscotch- a game where children hop into and over squares marked on the ground
Nudge- touch or push gently
Incredulously- not believing easily
Courteous- respectful or polite to others
Stolidly- calm, and showing little emotion
Shrieks- loud shouts
Exaggerated- focusing too much on something
Mistreated- not treated well
Absentmindedly- without paying attention
Shuddered- shook, trembled
Disguise- appearing different or concealing original identity
Scarcely- barely
Pretended- acted to be something else
We have covered CBSE Class 10 English First Flight Chapter 5 The Hundred Dresses 1 – Prose Summary. Feel free to ask us any questions in the comment section below.