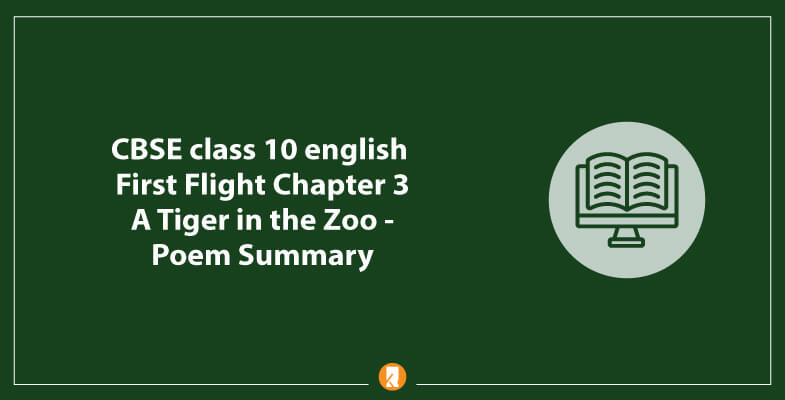 CBSE Class 10 English First Flight Chapter 3 A Tiger in the Zoo – Poem Summary: In this poem, the poet, Leslie Norris, talks about a helpless tiger in a cage. It ponders upon what it would have been like if that tiger were free to roam in the wilderness.
Thus, the poet tells us about those people who imprison animals in cages for amusement, when they should be letting them live in peace in their natural habitats.
CBSE Class 10 English First Flight Chapter 3 A Tiger in the Zoo – Poem Summary
The poet describes the tiger as beautiful. It is walking around in its cage. We can infer by reading the poem that the tiger is not happy in the cage and wants to be free. Norris says that if the tiger were free, it would be hiding amidst the grass in the forest, waiting to capture its prey. It would have also scared people in the nearby villages.
However, it cannot do all that while it is in a cage, far away from the forest, where it originally lives. The tiger cannot even get out as it is a steel cage, and so, it feels helpless. The poem describes the loneliness and agony that the animal is feeling. It is sad to see that it brings human joy to imprison animals in cages when they should be free, living in the lap of nature.
The tiger, which is a brave animal, has changed ever since it has put into a cage. So, here, we can see the helplessness of those animals that are inside cages in zoos. The poem also subtly tells us to imagine what it would be like if human beings were imprisoned.
Animals are also one of the living beings on this planet. And so, they too, have the right to be free. But by imprisoning them, human beings are exercising control over these animals, for no fault of theirs. So, animals should also have the same freedom as human beings. It is wrong to hurt or inflict damage upon them just as it is wrong to harm other human beings.
Although the tiger is angry, it knows that it is helpless and can't get out of the cage. So, it subdues its rage and stays quiet. It is not able to get any sleep as the visitors keep coming even during the night. But it hopes that one day it will get out of that cage and be free again.
You can Download NCERT Books and solutions for CBSE Class 10 English First Flight Chapter 3 A Tiger in the Zoo.
Important Word Meanings from the CBSE Class 10 English First Flight Chapter 3 A Tiger in the Zoo – Poem
Here you can check the word meaning for CBSE Class 10 English First Flight Chapter 3 A Tiger in the Zoo – Poem

The poet in 'A Tiger in the Zoo' shows us how much all beings love freedom. It also shows us that the cruel nature of human beings makes them steal that freedom. Thus, the poem says that freedom is an instinct of all living creatures, and nobody should be able to take that away from them.
The poet shows the importance of freedom by highlighting specific keywords such as the brilliant eyes of the tiger, its velvet paws, or even the rage and helplessness it is feeling.
Brilliant Eyes
The tiger is all alone at night and gazes at the stars. Although it is helpless, it still hopes that one day, it would get out of the cage and return to its natural habitat. Similarly, each one of us faces problems or challenges in life. But we should always not lose hope and be in disparity.
Velvet Paws
Unlike other animals, the tiger is a symbol of strength and courage. But the tiger in the poem is in a cage. So, it has no freedom and no hope for the future. Due to this, the tiger has also lost its natural being. It has transformed from the fearless animal it used to be to a soft-natured one. Here, the term 'velvet paws' signifies all that the tiger has lost just because it is in a cage rather than in its natural habitat.
Quiet Rage
The cage is not the tiger's natural place of dwelling. So, it is feeling immense rage. However, it is not able to show that anger as it is helpless. The tiger knows that it won't be getting out anytime soon. So, it is trying hard to control its rage. And even though it is angry, it must remain quiet, for there is nothing it can do about it.
So, the poem shows how powerful beings control the weak and helpless. Human beings can speak and think. However, the same is not the case with animals. But just because someone is more powerful than others, it doesn't mean that they can control them. Likewise, just because human beings are more powerful than animals, it does not give us the right to control their lives.
We have covered CBSE Class 10 English First Flight Chapter 3 A Tiger in the Zoo – Poem Summary. Feel free to ask us any questions in the comment section below.