CA vs CS: Everyone wishes to have the best career which has great career opportunities, a good salary, and a good job profile as well. If you are on your way to choose the best career in the commerce stream then here you go. There are a lot of career opportunities for commerce stream students. If you also think CA vs CS which is better, then go through the blog to know the brief comparison. We have listed out differences between the two i.e., Chartered Accountant orCompany Secretary to make your decision easier.
What is CA (Chartered Accountant)?
You might be knowing that CA is the most reputed course in the commerce stream. The Institute of Chartered Accountants of India (ICAI), which is the second largest accounting body throughout the world, is the only authority to give the CA degree and conduct the exam.
Chartered Accountant (CA) is well known for earning high incentives in the corporate world and also held responsible for handling the financial and legal matters of the company. The profession is challenging because a CA is always required to update himself with the amended laws and case studies. A person who is an expert in CA is aware of various domains such as accounting, auditing, taxation, finance, corporate laws. He/she is eligible to get appointed on various job profiles such as Internal Auditor, Portfolio Management, Finance Advisor, etc.
What is CS (Company Secretary)?
Company Secretary is another reputed course in the commerce stream. It is comparatively a less tougher examination as compared to CA. The CS course is conducted by the Institute of Company Secretaries of India (ICSI) and offers a CS degree.
The Company Secretary (CS) is also an equally good professional option for commerce and other graduates alike. There are immense opportunities and scope for CS professionals in the field of the private sector, public sector, banks, stock exchange, law firms, and other financial institutions.
A Brief Comparison between CA vs CS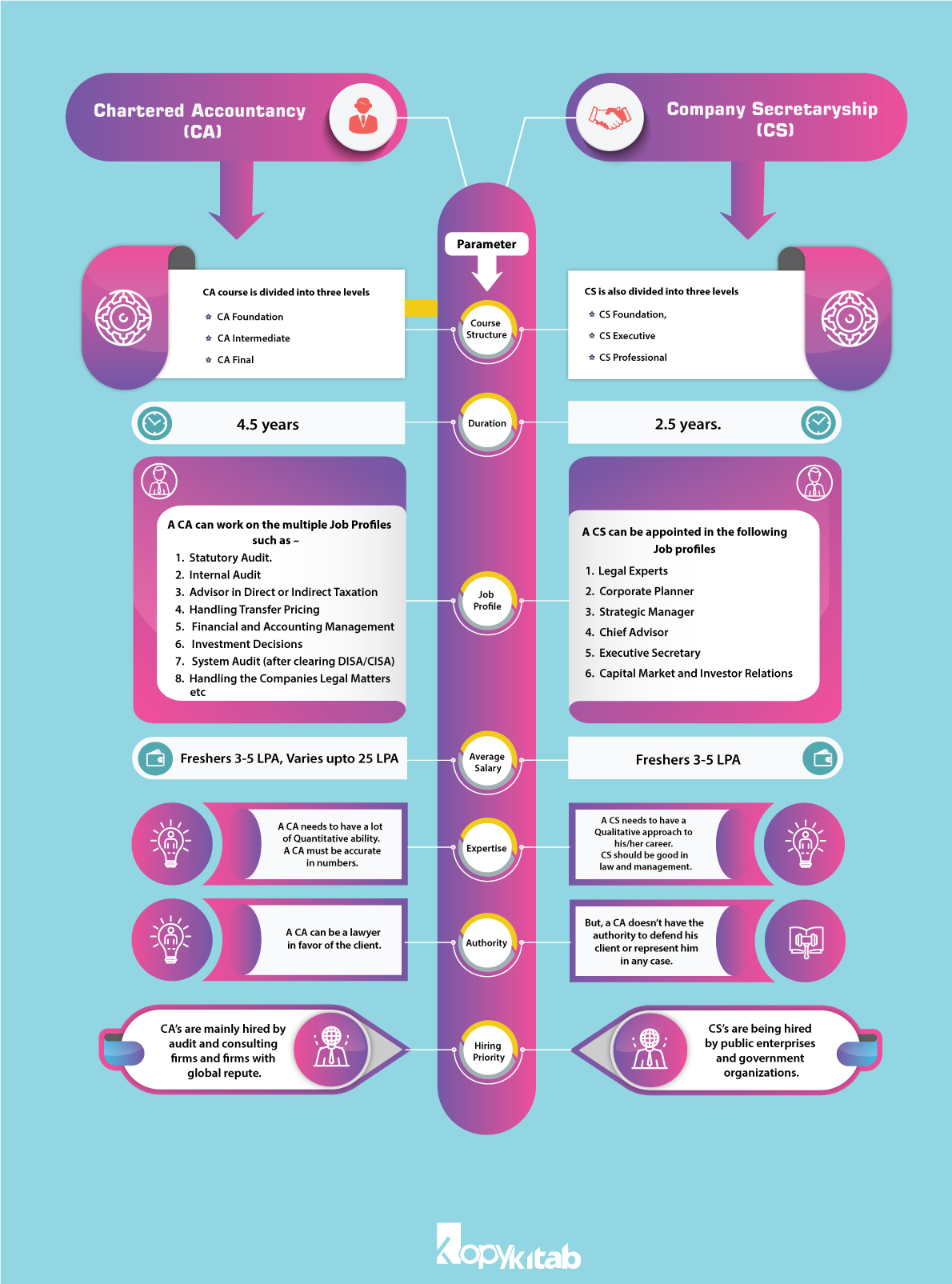 Below is the table consisting of a detailed comparison between CA vs CS. Go through the table to know in detail.
Parameter
CA
CS
Course Structure
CA course is divided into three levels

CA Foundation
CA Intermediate
CA Final

along with three years of practical training. One can enroll for the entrance examination of the CA Foundation after qualifying 12th standard.

CS is also divided into three levels

CS Foundation,
CS Executive
CS Professional

One can take up the CS Foundation programme after completion of 10+2 or equivalent.

Duration
The total duration in the CA Course is a minimum of 4.5 years including 3 years of articleship training.
The total duration of the CS course is a minimum of 2.5 years.
Job Profile
A CA can work on the multiple Job Profiles such as –

Statutory Audit.
Internal Audit
Advisor in Direct or Indirect Taxation
Handling Transfer Pricing
Financial and Accounting Management
Investment Decisions
System Audit (after clearing DISA/CISA)
Handling the Companies Legal Matters etc.

A CS can be appointed in the following job profiles

Legal Experts
Corporate Planner
Strategic Manager
Chief Advisor
Executive Secretary
Capital Market and Investor Relations

Average Salary
A fresher Chartered Accountant can be offered an average salary of 6-7 lakhs which increases with the experience and ability. However, the candidates who passed out in the first attempt are usually offered 10-12 lakhs and Rank Holders gets to offer up to 25 lakhs.
A fresher Company Secretary can earn up to 3-5 lakhs per annum. Based on the rank and marks, the salary might increase.
Expertise
A CA needs to have a lot of Quantitative ability. A CA must be accurate in numbers.
A CS needs to have a Qualitative approach to his/her career. CS should be good in law and management.
Authority
A CA can be a lawyer in favor of the client.
But, a CA doesn't have the authority to defend his client or represent him in any case.
Hiring Priority
CA's are mainly hired by audit and consulting firms and firms with global repute.
CS's are being hired by public enterprises and government organizations.
Pass Percentage

CA Foundation pass percentage: 30 – 40%
CA Intermediate pass percentage: 15% – 25%
CA Final pass percentage: 10 – 15%

CS Foundation pass percentage: 40 – 60%
CA Executive pass percentage: 10% – 15%
CA Professional pass percentage: 15 – 20%
Major Differences Between CA and CS
There are Some major Difference Between CA and CS
Expertise
Chartered Accountant needs more Quantitative Ability than Qualitative Ability whereas Company Secretary need more Qualitative Ability
CA Should be Good at Analytical Skills and Numbers
CA needs more Accuracy with Numbers and there is shouldn't be a Place for Errors and Also be able to handle Pressure
CS should have Very Excellent Communication and Knowledge of Law and Management is a must.
Authority
CA can Defend His/her Client and Act as a lawyer when Necessary, but CS Doesn't have such Authority.
Focus
The main focus for CA Course is Quantitative Aptitude, Accounting, where as CS Course focus will be on Qualitative ability, Corporate Law, and Communication
CA Comprises of Various Subjects of Accounting whereas CS is more of Soft Skills and Technical Skills
Hiring Priority
CA's are hired by Audit and Consulting firms, whereas Public Organizations and Government bodies will Hire Company Secretary
CA and CS will be hired by other Industries as Well
CA vs CS Salary in India
CA Gets more Salary than CS, most of the Companies Prefer CA's and It has more Career Opportunities
CA Freshers will get a salary of 6-7 LPA but CS Freshers will get 3-5 LPA
Salary Percentage of Both CS and CA Increases as with Experience, talent, and Work
Thus, it depends upon the interest of the candidate. You can opt for any one of the both between CA vs CS. Remember to choose the best career out of both based on your interests. You can excel in CS Exams with a wide range of CS Preparation Books available for all three levels. Choose the best career among CA vs CS.
[related_books catid="84″ product_type="ebook" algo="Latest"]