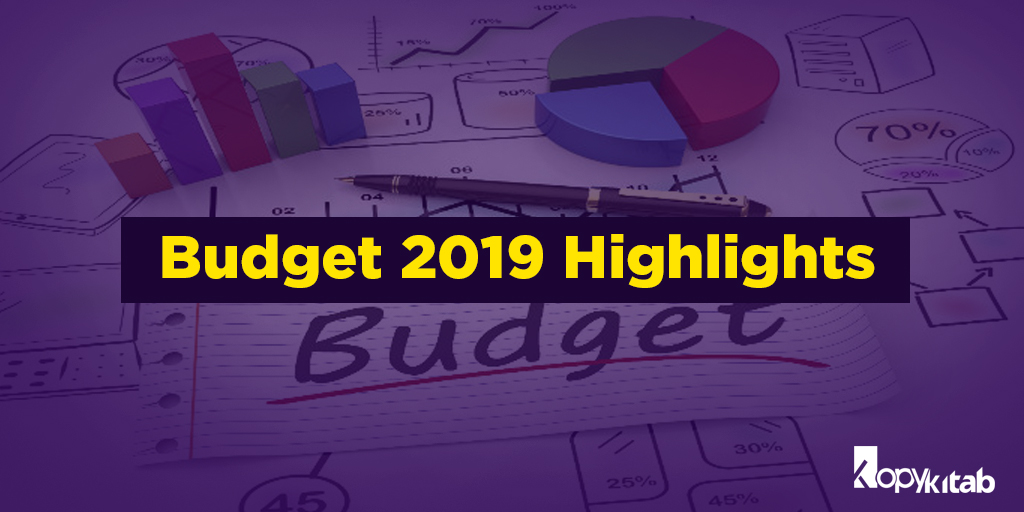 Finance Minister Piyush Goyal presented the most awaited Union Budget in Lok Sabha on February 1, 2019. As a citizen of India, it is important to know the Budget 2019 highlights list. knowing this information would help in cracking many competitive exams. Current affairs are asked in most of the competitive exams and hence it is essential to keep yourself updated with latest and current news. Well, here is the Budget 2019 Highlights…
No income tax for earnings up to ₹5 lakh
Individuals with gross income of up to ₹6.5 lakh need not pay any tax if they make investments in provident funds and prescribed equities
Standard tax deduction for salaried persons raised from ₹40,000 to ₹50,000
TDS threshold on interest on bank and post office deposits raised from ₹10,000 to ₹40,000
TDS threshold on rental income increased from ₹1.8 lakh to ₹2.4 lakh
IT processing of returns to be done in 24 hours
Within the next 2 years, all verification of tax returns to be done electronically without any interface with the taxpayer
Package of ₹6000 per annum for farmers with less than 2 hectares of land. Scheme to be called Pradhan Mantri Kisan Samman Nidhi.
Vande Bharat Express, an indigenously developed semi high-speed train, to be launched
One lakh digital villages planned in the next five years
Fund allocation for the Northeast region increased to ₹ 58,166 crore, a 21% rise over last year for infrastructure development
Anti-cam cord regulations to be introduced in the Indian Cinematography Act to prevent piracy and contact theft of Bollywood films.
Single window clearance for Indian filmmakers.
25 per cent of sourcing for government projects will be from the MSMEs, of which three per cent will be from women entrepreneurs.
National Artificial Intelligence portal to be developed soon
ESI cover limit increased to ₹ 21,000. Minimum pension also increased to ₹ 1000.
Mega pension scheme for workers in the organised sector with an income of less than ₹15,000. They will be able to earn ₹ 3000 after the age of 60. The scheme will be called Pradhan Mantri Shramyogi Maan Dhan Yojana.
2% interest subvention for farmers pursuing animal husbandry.
All farmers affected by severe natural calamities to get 2% interest subvention and additional 3% interest subvention upon timely repayment
Decision taken to increase MSP (minimum support price) by 1.5 times the production cost for all 22 crops
The 22nd AIIMS to come up in Haryana.
Hope you have received the Budget 2019 highlights. Keep yourself updated with all latest information happening across the globe by studying Current Affairs Books.
[related_books catid="452″ product_type="ebook" algo="Latest"]