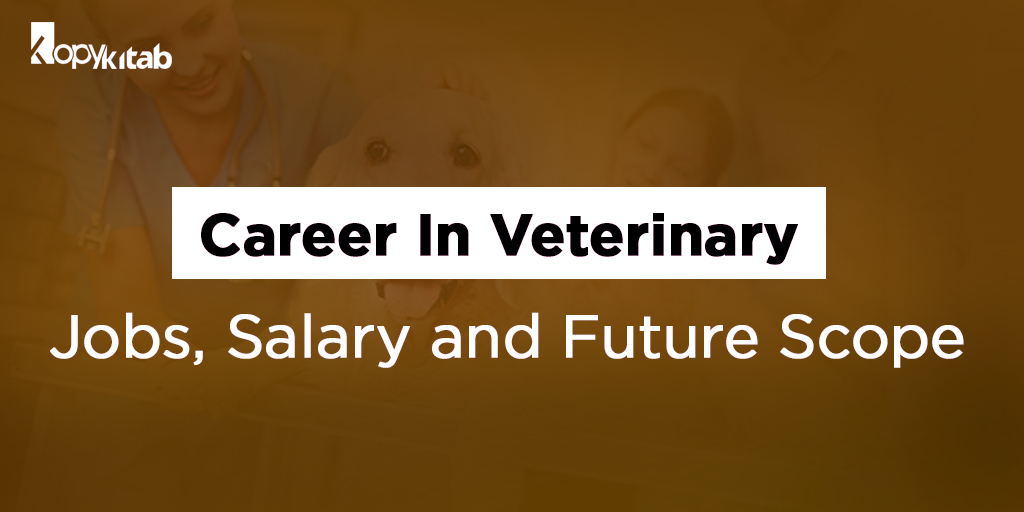 Who are Veterinarians? What exactly does a veterinary doctor do? What educational qualification do you need to have to become a veterinary doctor? How much does a Veterinary Doctor earn? How is the career of a veterinary doctor?
Well, you might have all these questions running in your mind as soon as you hear about the veterinary. Veterinary is a great job and has a great career. We have compiled all information on the Veterinary field regarding the educational qualifications, salary, job profile, and future scope. Go through the blog completely to know more.
Who is a Veterinary Doctor? What does he/she do?
Veterinarians are basically animal doctors who diagnose and prescribe treatment for animals. Veterinarians care for the health of animals and work to improve public health. They diagnose, treat, and research medical conditions and diseases of pets, livestock, and other animals.
Educational Qualifications for becoming a Veterinary Doctor
If you are interested in this field of medicine and have a passion for animals then you can continue your career as a veterinarian. Below is the list of courses offered under veterinary science:
Bachelor of Veterinary Science & Animal Husbandry (B.V.Sc & AH) – 5 years
BV. Sc. in Animal Production & Management
BV. Sc. in Veterinary Medicine, Public Health & Hygiene
BV. Sc. in Animal Genetics and Breeding
BV. Sc. in Veterinary Surgery & Radiology
Master of Veterinary Science (M.V.Sc) – 3 years
MV. Sc in Veterinary Medicine
MV. Sc in Veterinary Pharmacology & Toxicology
MV. Sc in Veterinary Surgery & Radiology
Doctor of Philosophy (Ph.D.) in Veterinary Medicine
Doctor of Philosophy (Ph.D.) in Veterinary Pathology
Doctor of Philosophy (Ph.D.) in Veterinary Pharmacology & Toxicology
For admission to UG Courses, you must have passed 10+2 with biology, chemistry, and physics.
For admission to PG courses, you should have a bachelor's degree in veterinary science.
Jobs for Veterinarians:
In the next ten years, employment for veterinary doctors is expected to grow faster than other sectors by 18%. Due to the increase in pet-related issues, employment for veterinary will increase gradually. The veterinary field has developed very much that they offer advanced services compared to human healthcare. Below is the table consisting of veterinary employment details.
Occupational Title
Employment, 2018
Project Employment, 2026
Change, 2018-2026
Percent
Numeric
Veterinarians
79,600
94,000
18
14,400
Here are different Job Profiles under the Veterinarian field:
Companion animal veterinarians – They usually work in private hospitals and provides treatment to pet animals like dogs, cats, birds, etc.
Equine veterinarian – They generally work with horses and provides medical treatment to them.
Food animal veterinarians – Here, veterinarians treat the illness and injuries of farm animals like pig, cattle, ships and literate the farm owners about food and other health practices.
Food safety & Inspection Veterinarians – This type of veterinarians is generally involved in the research of finding and preventing diseases that is transmissible among animals and between animals and humans.
Research Veterinarians – They work in laboratories and involved in the research of finding new technical surgical techniques.
Veterinarians Duties
Duties of Veterinarians differs among their job profile and seniority levels
In addition to healing the illness o animals, Veterinarians involved in Research work as well
Research is about the Spread of Diseases and their Vaccinations
They should educate the owners of the Animals about the routine Checkup and General Medicine
The main job is to heal the wounds of pet animals
Salary Structure for Veterinarians:
The median annual pay scale for the veterinary doctors is $88,770. The median wage is the wage at which half the workers in an occupation earned more than that amount and half earned less. The lowest 10 percent earned less than $52,470, and the highest 10 percent earned more than $161,070.
The annual salary for veterinarians in the top industries is as follows:
| | |
| --- | --- |
| Social Advocacy Organizations | $90,610 |
| Veterinary Services | $88,750 |
| Educational Services; State, local, and private | $88,000 |
| Government | $86,860 |
Careers Pertaining to Veterinarians:
Veterinarians are highly demanded in countries like Canada, the US and many more. The career scope of veterinary science is large and is growing faster in this era of the modern world. Here are the careers listed below for veterinarians to grow in their careers.
Agricultural and Food Scientists
Animal Care and Service Workers
Dentists
Medical Scientists
Microbiologists
Optometrists
Physicians and Surgeons
Veterinary Assistants and Laboratory Animal Caretakers
Veterinary Technologists and Technicians
Zoologists and Wildlife Biologists
Interested candidates can start studying for the All India Entrance exam conducted for the Veterinary stream. You can boost your score with a wide range of Veterinary Preparation Books available online. Stay tuned to our blog for more news on Veterinary Exams.
[related_books catid="18″ product_type="ebook" algo="TopSold"]