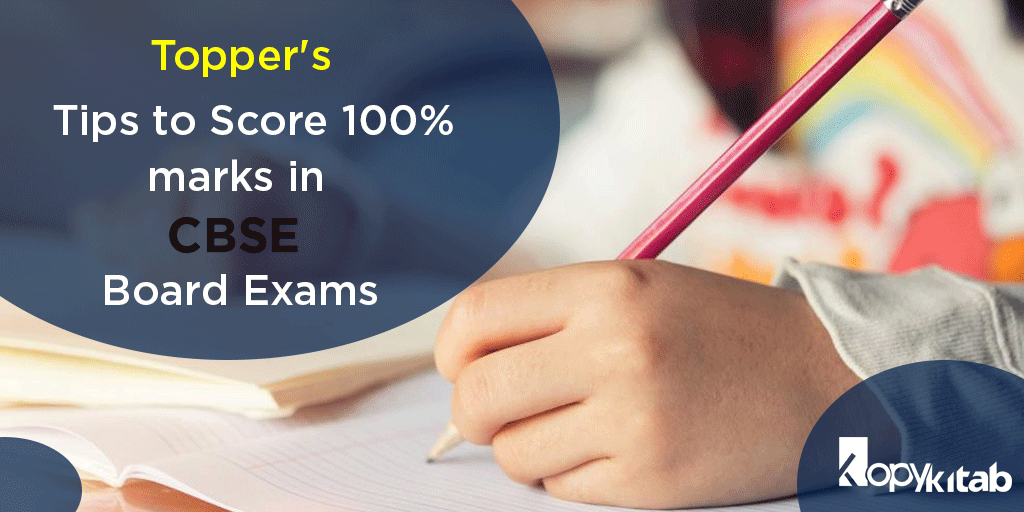 Tips from CBSE Toppers to score 100% marks in CBSE Board Exams: It is time for all class 10 and 12 CBSE students to move towards their goal by scoring more in their upcoming board exams. It is common that students get nervous as the exam is nearing. Both classes 10 and 12 are crucial stages as students step into a new phase of their education.
Toppers Tips to score 100% marks in CBSE Board Exams 2020-21
Scoring 100 in all subjects is not so tough unless you have well prepared for exams. One cannot score 100 by studying overnight before the exam. With proper preparation plan, strategy, dedication, smart work you can definitely ace in your board exams. Well, here are few tips from CBSE toppers on how to skyrocket their board exam scores.
Self Study completely using NCERT Books
Read books like a novel. Yeah, this may sound weird but it will help you remember all concepts properly. As you concentrate on the story while reading a novel, similarly concentrate on the subject books.
Going through the diagrams, graphs carefully does help in remembering them during the examination.
Study each and every topic carefully with complete concentration. Buy different publications of CBSE class 10 NCERT Books and online with great offers.
Solve all Exercises from NCERT Books
Every subject has exercises at the end of each chapter. Solve each of them in a separate notebook.
Irrespective of what is happening in school, you go on as per your study plan.
After solving, check them, and access your capability. In case if you have doubts or queries, then seek help from your tutor or teachers in schools. Buy Class 12 NCERT Books from online with great offers and deals.
Solve all Examples from NCERT Books
It is quite common that students generally skip the examples and move to exercises. But, you must be aware that around 40% of the question paper will include questions from solved NCERT examples.
Make sure you solve examples on your own and later you can check yourself on how much capable you are solving the problems.
If not Understood, Repeat again
For students having high grasping power maybe one-time solving problems would workout. But it may not be the same for all. Try solving exercises and examples again if you are not confident.
If you finish the entire syllabus before 4-5 months of exams, then start solving again.
This will improve your confidence in solving the problems better and faster.
List out your queries or doubts and take guidance from your teachers
During solving problems you might get lots of doubts. List them separately and ask your teachers for help.
If you need more problems to solve from any particular topic then seek help from your teachers so that they can give you more problems to solve.
Solve CBSE Sample Question Papers
As said by the CBSE toppers, this is definitely a major part that will lead to success. Solving sample papers will improve your confidence level and you can judge your knowledge on the subject.
You can download Class 10 sample question papers and Class 12 Sample question papers online.
You can get exposure to various types of questions in any subject
Go through and CBSE solve Previous year papers
This is also a great help for your success. Apart from solving sample question papers, you can download previous year Class 10 CBSE Board questions papers and increase your score.
It is said that solving around 8-10 previous year question papers can boost your score in board exams. There would be so many repeated questions from the previous year's question paper. You can be prepared for any type of question. There are sites offering PDF format Class 12 Previous year question papers.
Last 20 days of practice is the most crucial period
After a year of solving all exercises, examples, previous year papers, keep the last 20 days for practicing.
Apart from practicing, it will be your self-assessment period. It is time to check how long you need to attend each section in the question paper.
Also, plan yourself on how to answer tough questions in the exam. Do not panic. Just be relaxed and calm.
Try attempting high marks questions first i.e., start with 6 marks questions so that it will increase your confidence level.
If you have prepared completely using NCERT, then there is no need for any other books.
Also just glance formulas, theorems, key points, important notes during last minute preparation.
I hope this blog given you a complete idea of how to score more in CBSE Board exams by CBSE Toppers. Keep preparing well and do well in exams.
All the Best!!!