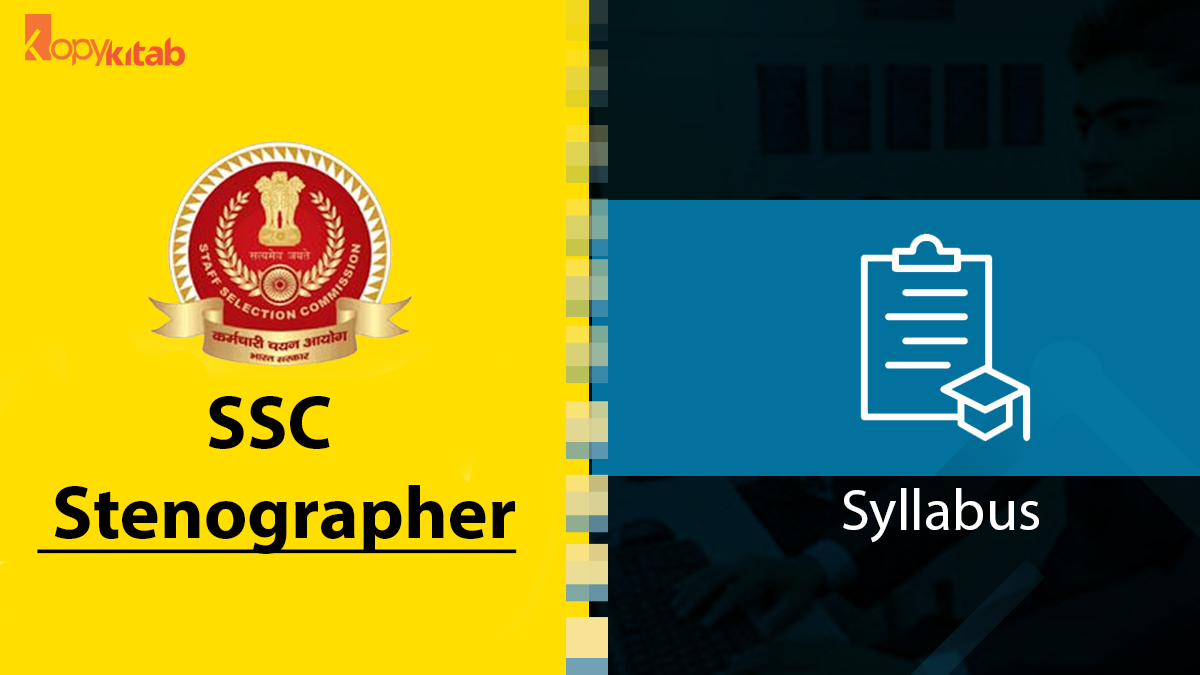 SSC Stenographer Syllabus And Exam Pattern 2021: The Staff Selection Commission administers the SSC Stenographer exam on an annual basis. SSC has released the official notification for SSC Stenographer 2021, as well as the syllabus and exam pattern. The SSC Stenographer exam has two parts: a computer-based test (CBT) and a shorthand skill test. Read further to know SSC Stenographer Syllabus And Exam Pattern 2021.
SSC Stenographer Syllabus and Exam Pattern 2021: SSC Stenographer Syllabus
The Tier I consists of questions based on:
General Intelligence & Reasoning
General Awareness
English Language and Comprehension
General Intelligence & Reasoning

General Awareness

English Language

– Figure Classification

– Analogy

– Coding Decoding

– Puzzle

– Matrix

– Word Formation

– Arranging words 

– Venn Diagram

– Direction & Distance

– Blood Relation

– Order & Ranking

– Number Series

– Verbal Reasoning

– Non-Verbal Reasoning

– Static Awareness

– Current Affairs

– Science & Technology

– History

-Culture

– Geography

– Economic scene

– General polity

– Scientific research

– Indian constitution

– Reading Comprehension

– synonyms & antonyms

– Fill in the Blanks

– Spellings

– Phrases & Idiom Meaning

– Active & Passive Voice

– Direct & Indirect Speech

– Para Jumble & Sentence Jumble

– Phrase Replacement/Sentence Correction

– Error Spotting
SSC Stenographer 2021 Syllabus: Tier II (Skill test)
Tier II is a shorthand skill test of Qualifying nature where the candidates are dictated a passage which they have to note down on paper and then transcribe it on a computer. The language of the dictation can either be Hindi or English as chosen by the candidate.
 For the Skill test the candidates will be given:
A dictation of 10 mins in English/Hindi with a speed of 100 w.p.m (Words per minute) for Grade 'C' and 80 w.p.m for Grade 'D'.
The Candidates will then have to transcribe the dictation on the computer in the stipulated time. The given time will be:

For Grade D : 50 min for (English), 65 min for (Hindi)
For Grade C : 40 min for (English), 55 min for (Hindi)
The passage can be of types and on topics mentioned below:
President's Speech
Topics on Natural Calamities
Speech given in the Parliament
Topics given in the Editorial Columns of Newspapers
Railway Speech
Employment/Unemployment in India
Topics of National interest
Budget Speech
Topics on Science and Technology
SSC Stenographer Syllabus and Exam Pattern 2021: Exam Pattern
The question paper of SSC Stenographer examination is of 200 marks. The exam pattern can be understood from the following table:
| | |
| --- | --- |
| Mode of examination | Online (Computer-based test) |
| Type of questions | Multiple-choice Objective type questions |
| Number of sections | 3 |
| Total Marks | 200 |
| Number of Questions | 200 |
| Time Duration | 2 hours  |
| Negative Marking | Yes. 0.25 marks are deducted for every wrong answer |
The total of 200 marks of the question paper is divided as below into different subjects.
| | | |
| --- | --- | --- |
| Subject | Question | Marks |
| General Intelligence & Reasoning | 50 | 50 |
| General Awareness | 50 | 50 |
| English Language & Comprehension | 100 | 100 |
In this blog we have covered all the details about SSC Stenographer Syllabus and exam pattern 2021. Feel free to ask any questions below in the comment section.
Frequently Answered Questions on SSC Stenographer Syllabus and Exam Pattern 2021
Is a certificate required for the SSC Stenographer 2021 Skill Test?
No, a certificate is not required. Candidates must only pass the CBT and then the skill test within the time frame specified above.
Is there a negative marking system in place?
Yes, there is a minus sign. Incorrect answers will result in a 0.25 point deduction.
Is there going to be an interview for the position of Stenographer?
There will be no interview. The selection procedure includes an online CBT and a skill test.
Is the SSC Stenographer Skill Test a qualification test?
Yes, the skill test is qualifying, and the final merit list is based on the CBT scores.
In how many stages is the recruitment for stenographer is conducted in?
The SSC Stenographer recruitment is conducted in two Tiers. A computer based online test followed by a shorthand skill test.