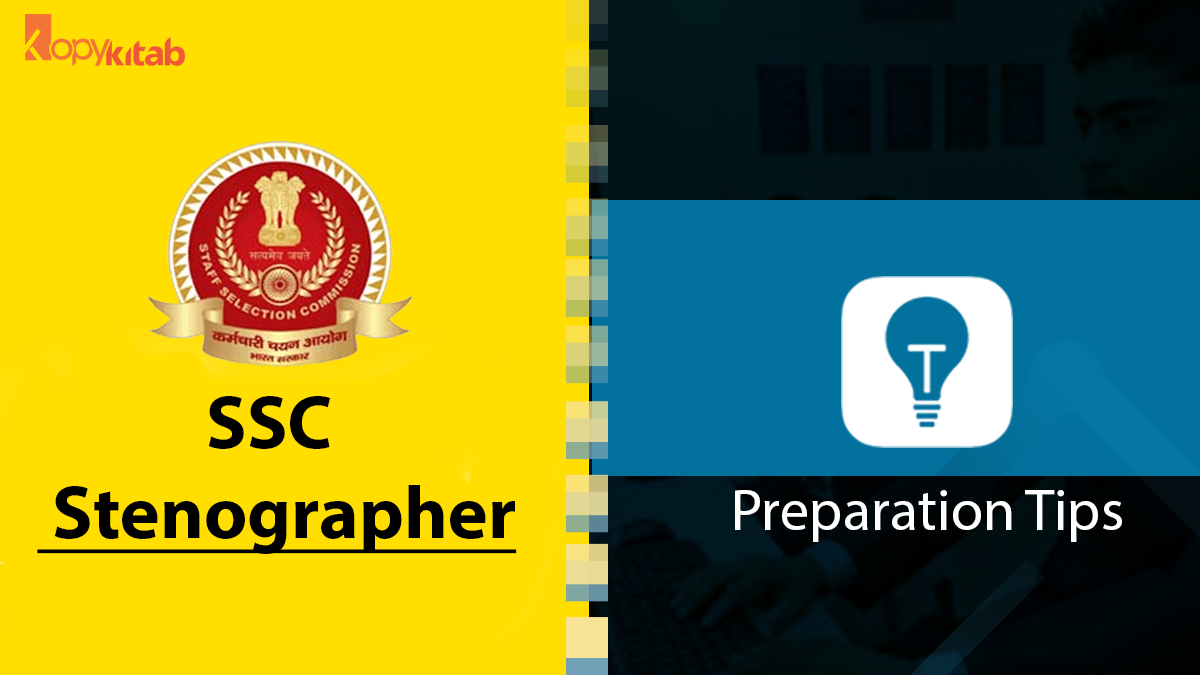 SSC Stenographer Preparation Tips 2021: The SSC Stenographer 2021 exam will be divided into two parts: a written test and a skill test. As a result, candidates must prepare not only for the theoretical portion but also for the SSC Stenographer Skill Test. A well-planned and structured approach to preparation tips will lead you to passing the SSC Stenographer exam in one sitting. In this article, we discussed some SSC Stenographer Exam 2021 preparation tips.
SSC Stenographer Preparation Tips 2021
Candidates must read the detailed tips for SSC Stenographer Exam 2021 and begin their preparation strategy as soon as possible in order to ace the exam with high marks. The following are detailed tips for the SSC Stenographer Preparation Tips 2021:
SSC Stenographer Preparation Tips:

Exam Pattern

The first and the foremost important tip for SSC Stenographer Exam 2021 is to understand the exam pattern properly. It is important to understand which section holds more weightage than the other so that the candidates can plan accordingly. 
Subject

No. of Qs

Max Marks

Duration

General Intelligence & Reasoning

50

50

2 hrs

General Awareness

50

50

English Language & Comprehension

100

100

Total

200

200
SSC Stenographer Preparation Tips 2021:

General Preparation Tips 
Improve your understanding of the SSC Stenographer Syllabus and exam pattern, and try to complete the syllabus on time. Instead of devoting months to a single topic, create a comprehensive study plan that covers all of the topics evenly.
For any competitive exam, a compact booklist is always recommended. Candidates must research the SSC Stenographer books exam before beginning their preparation and stick with them throughout the process. 
You should make daily newspaper reading a habit. It will not only assist you with current affairs, events, and happenings in the surrounding area, but it will also assist you in improving your English Grammar and Vocabulary, which will undoubtedly assist you in writing descriptive type answers.
Making a study plan and seeing it through to completion are two entirely different things. As a result, you should stick to the study plan, be consistent, and try not to skip your study routines because only then will you be able to finish the syllabus.
SSC Stenographer Preparation Tips 2021: Subject Wise
Preparation Tips
1. General Intelligence Tips:
This section is very important and can earn you a lot of points on the exam. As a result, before answering these questions, concentrate more on preparation and understanding the fundamental concept or idea.
Learn about all of the topics covered in this section, such as coding and decoding, blood relations, differences and similarities, arithmetic reasoning and number series, analogies, and so on.
Because this subject requires less time, prepare all of the topics in this section.
Make an effort to practise more in order to excel in this subject.
Always make sure to go over all of the topics after you've finished.
To solve this section with accuracy and speed, use smart tricks, short and quick methods.
2. English Language Tips:
You will not be able to master this subject in a single day. To do well in this section, you must practise on a regular basis. If you prepare well, you will be able to score higher marks in Quant, Reasoning, and English. Read to know SSC Stenographer Preparation Tips.
Read newspapers and magazines on a regular basis to learn new words and improve your reading skills.
You must learn at least ten new words per day, including their meanings and applications.
Learn all of the fundamental grammar rules and improve your comprehension abilities.
Use flashcards to help you learn and remember new words.
In addition, try to solve as many previous year papers as you can.
Give yourself a mock test to self-assess your preparations.
3. Quantitative Aptitude Tips:
If you are good at math, this could be your topic to get more points. However, those who are not as skilled in this area will need to put in a lot of practise time.
This section is time-consuming; therefore, do not waste time on sections that you will not be able to complete during the exam.
Understand the questions carefully, and don't rush through the problem-solving process.
Ration and Proportion, Averages, SI and CI, Speed, time and distance, time work,
Mensuration, and Discount are the main topics to study.
4. General Awareness Tips:
Read Newspapers, Books if possible regularly. Try to read the newspaper daily for an hour to gather all the latest information.
You can also refer to magazines, school books, and journals.
Try to focus on topics like Culture, History, Indian Constitution, Geography, General Polity, etc
Watch news channels, this will help in improving your knowledge of international events, and important activities.
Keep yourself updated on the recent current affairs that took place in recent six months. You can also read current affairs magazines published for government jobs.
Solve GK quizzes, previous year papers, and mock tests.
We have covered complete details on the SSC Stenographer Preparation Tips 2021. If you have any queries related to the SSC Stenographer Exam, feel free to comment below.
Frequently Answered Questions on SSC Stenographer Preparation Tips 2021
What should you study for the SSC Stenographer Exam 2021?
Candidates planning to take the SSC Stenographer exam in 2021 should keep the following basic guidelines in mind: Examine the questions from previous years. Examine the subject-by-subject preparation advice and take a full-length practise exam.
Which is the best English book?
Objective The best English book is General English by S.P Bakshi.
What should be used in the general knowledge section?
For the general awareness section, candidates should read daily newspapers and magazines.
Which language should you study for the SSC Stenographer Exam 2021?
In order to become stenographers, candidates must first learn shorthand (the method of typing fast, compared to the normal writing pace, usually the symbols are used).
What is the most effective method for preparing for the SSC Stenographer Exam 2021?
The best way to prepare for the SSC Stenographer Exam 2021 is to have a solid preparation strategy and the determination to pass the exam.
Suggest some good SSC Stenographer Preparation Tips.
Read the above post to know the best SSC Stenographer Preparation Tips 2021.