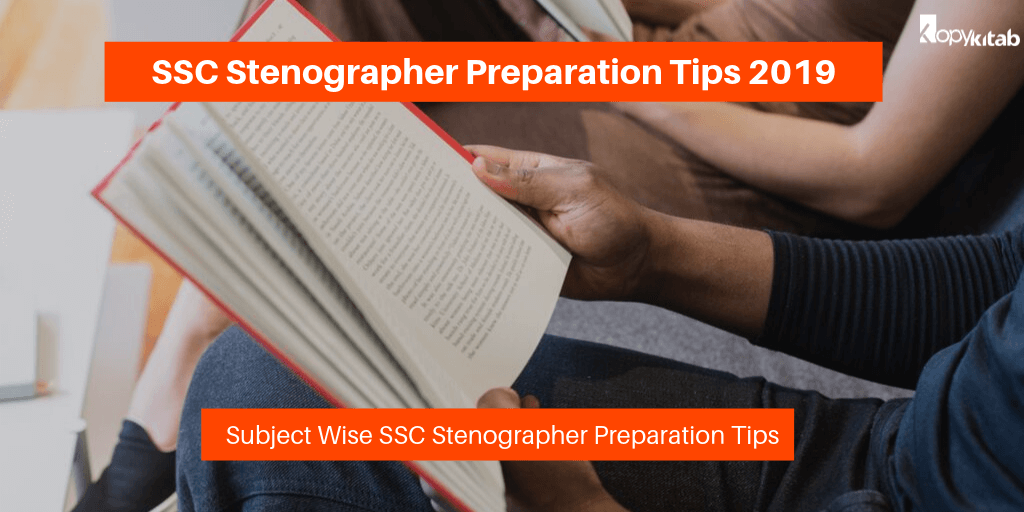 SSC Stenographer Preparation Tips: Are you preparing for SSC Stenographer Exam? Have you created a study plan? Are you preparing correctly?
Don't worry! Here we are covering a detailed article on SSC Stenographer Preparation Tips.
SSC Stenographer Study Materials
SSC Stenographer Preparation Tips 2019
SSC is going to organize the Exam in November 2019 tentatively. You have to follow these tips to crack the online exam. Before starting preparation, you should be aware of the SSC Stenographer Syllabus and Exam Pattern. After analyzing the syllabus, you should identify the tough and more manageable topic for you and prepare according to it.
Subject Wise SSC Stenographer Preparation Tips
You should know the subjects for SSC Stenographer exam first. The subjects are as given below,
General Intelligence & Reasoning
General Awareness
English language & Comprehension.
Check the Syllabus of SSC Stenographer. Then you should create a study plan according to it. You can easily cover all topics on time by using a solid study plan.
SSC General Intelligence & Reasoning Preparation Tips
Here you can check the important topics for Stenographer Exam for reasoning section.
Check out the below SSC Stenographer Preparation Tips and prepare for the Reasoning Ability Section.
You should have logical thinking than bookish knowledge to understand Reasoning Section.
You should try to analyze the question and then answer it.
You should make a study plan and complete the topics one by one.
You should solve SSC Stenographer Previous Year Question Papers as much as possible to get an idea of different types of questions.
You should learn better time management to cover all three sections in two hours.
SSC Stenographer General Awareness Preparation Tips
You should look at the important topics of the General Awareness section before beginning with preparation.
Follow below tips to the SSC Stenographer General Awareness Preparation.
General Awareness covers 50 questions for 50 marks.
You should update daily with latest current affairs.
You should make a habit of reading daily newspapers to know about the events that happen across the world.
You have to take SSC Stenographer Quiz on GK as possible as you can to improve your knowledge.
You should solve more question from the previous year papers to understand the question types better.
Make a habit of studying regularly and completing each topic one by one.
SSC English Language Preparation Tips for Stenographer Exam
The English language is the last subject of SSC Stenographer exam. You should provide enough time to build depth concept on grammar and vocabulary.
Here get tips to prepare for the English Language section.
You should have good command on the English language. It covers 100 questions for 100 marks.
You should practice regularly for English language section and score more.
By practicing more questions from previous year papers, you can easily develop better knowledge of the subject.
Improve your vocabulary by using at least five new words daily and know their meanings. Reading newspapers will help you to learn many new words.
General SSC Stenographer Preparation Tips 2019
You should know the killer tips as below to crack the SSC Exam 2019. Follow Step as below.
Analysis The SSC Stenographer Latest Syllabus: You should know the latest syllabus for SSC exam. You should analysis the syllabus and find your area of weakness and strength.
Make a Study Plan: You should make a solid study plan according to the latest SSC syllabus. Make sure that you have provided more priority to your weaker sections you have found above.
Study Regularly: Study regularly with best study materials and make your concept more depth.
Attempt Mock Tests: You should attempt more Mock Tests to understand the exam better and improve time management.
Build Reading Habits: Start reading the newspaper daily. Make a habit of learning new words every day to improve vocabulary.
Solve Previous Year Question papers: You should solve previous year question papers to know about exam type and question pattern better.
Eat Healthy Food: Eat hygienic and healthy foods. Avoid junk foods as much as possible to avoid unnecessary health issues.
Daily Exercise: Do regular basis exercise to stay healthy and happy. Try to mediate minimum 15-20minitues a day.
Here we have covered a detailed guide on SSC Stenographer Preparation Tips 2019. Feel free to ask any questions below in the comment section.