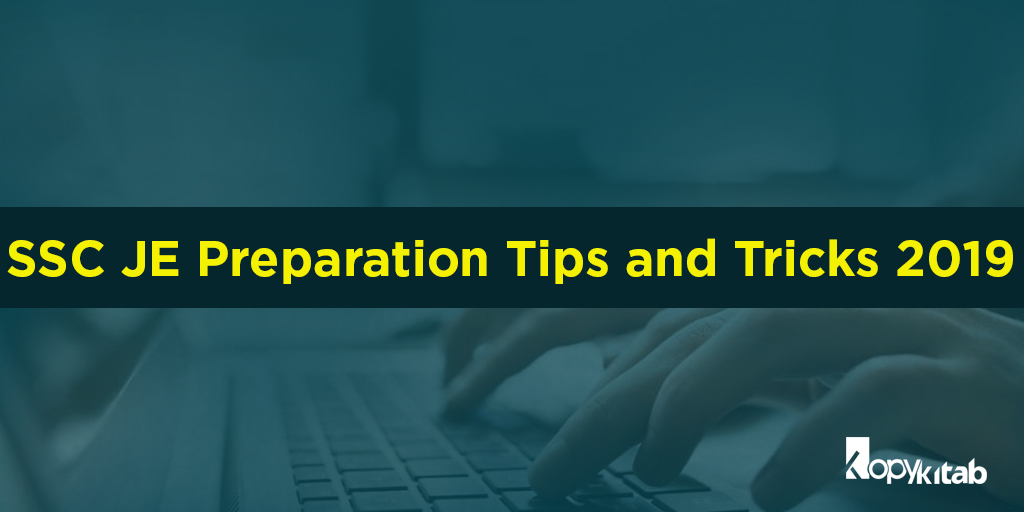 The Staff Selection Commission (SSC) conducts recruitment drive every year to fill in vacancies in various government offices. SSC recruits a huge number of candidates for various posts like Junior Engineer, Combined Graduate Level (CGL), Combined Higher Secondary Level (CHSL), constable, and many more. Currently, the SSC JE recruitment has begun and candidates have already finished filling their application form 2019. The SSC JE exam is scheduled to be held in the month of September 2019. As there is an ample amount of time left for the exam, here are SSC JE Preparation Tips and Tricks to crack SSC JE 2019. Go through the blog completely to know more in detail about the SSC JE Preparation Tips.
SSC JE Preparation Tips and Tricks
Know The Syllabus: Go through the detailed SSC JE Syllabus and Exam Pattern thoroughly. Segregate the topics according to the difficulty level.
Create a Time Table: Prepare a study timetable and follow it strictly. But also be open towards modifying the timetable when required. Allocate more time to difficult topics. Make sure to complete the portion as per the table.
Develop Reading Habits: Allocate some time daily to read newspapers, current affairs magazines, and various books for engineering subjects. Keep yourself updated with all the latest important events and issues.
Clear Your Basics: Read the theory behind every concept and have your basics clear for each topic.
Necessary Books: Make sure you have the best SSC JE Books for preparation which cover all the topics and concepts of the exam. As there are separate sections in the SSC exam, we have listed out SSC JE preparation Books section-wise in the below table.
Make Notes: Try to make your own notes which will help you to revise quickly. If not possible try to highlight the key points. This can help to read important points during the last minute preparation.
Memorize Formulas: All the formulas should be at your fingertips. Practice them regularly so that you do not forget them.
Go Through Example Problems: Going through example problems will help you understand the steps to solve problems.
Go Through Previous Year Papers: Go through the SSC JE previous year question papers and check the weightage of different topics, type of questions asked and their difficulty level. Be well versed with the topics having higher weightage. Take at least past 5-10 years of question papers and solve them.
Solve Sufficient Practice Questions: You must practice diligently and be in a position to answer any type of questions asked from any topic.
Take Mock Tests: Taking SSC JE Mock Tests will help you analyze your preparation and areas you need to improve. You will also get used to the pressure of taking the exam.
Improve Your Test-Taking Skills: Scoring well also depends upon how wisely you select the questions to answer and how efficiently you use your time. Make sure to improve your overall test-taking skills and develop a smart strategy to take the exam.
Thus, using these SSC JE Preparation Tips, there is no doubt in scoring more marks. You can study through SSC JE Study materials which are prepared by experts to ease your preparation and make you understand concepts easily. Prepare well and score more in the upcoming SSC JE Exam.
[related_books catid="448″ product_type="ebook" algo="Latest"]