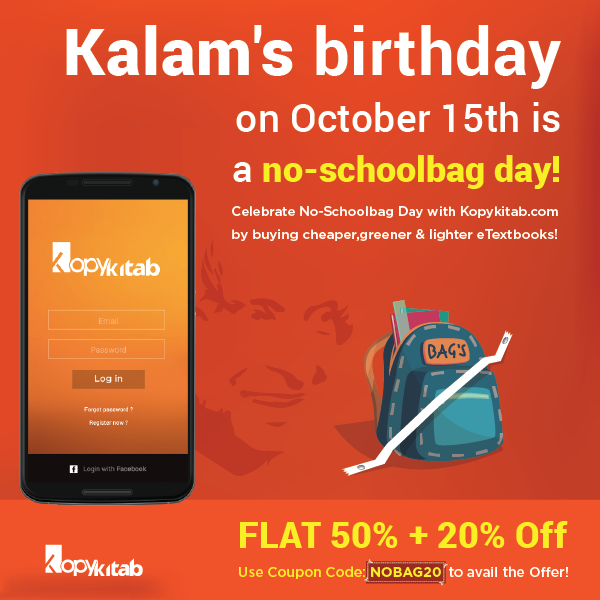 School kids in Mumbai have been allowed to come to school without their school bags on former President APJ Abdul Kalam's birthday, October 15. As per the government's order the city schools will carry out a Vaachan Prerna Diwas or Reading Day.
Download CBSE App for free : Class 9  Class 10  Class 11  Class 12

Also, the students will get to read books apart from their course books. The school Education Minister, Vinod Tawde had taken the decision to observe the birth anniversary of APJ Abdul Kalam, as Vaachan Prerna Diwas in schools across the state soon after the former President's demise on July 27.
The government released a resolution on October 7, asking the students of Classes 3 to 8 across all schools in Maharashtra to not carry school bags on October 15. It has instructed the schools to let students read non-academic books, host book exhibitions, conduct discussions on books, teach students about well-known authors from around the world and initiate gift-a-book programmes.
The state government has set aside a fund of Rs 6 lakh for the programme.
The Deputy Director of Mumbai region, B.B. Chavan said that, "Kalam's writings are an inspiration to students and youth. These activities will help students develop an interest for reading, which is sorely lacking. So we created the 'school without bags' plan for that day."
The authorities have also asked the schools to dedicate time on a specific day every month for reading, organize meets for teachers, host book fairs and keep the school library updated. They should also award students and teachers who read the maximum number of books.