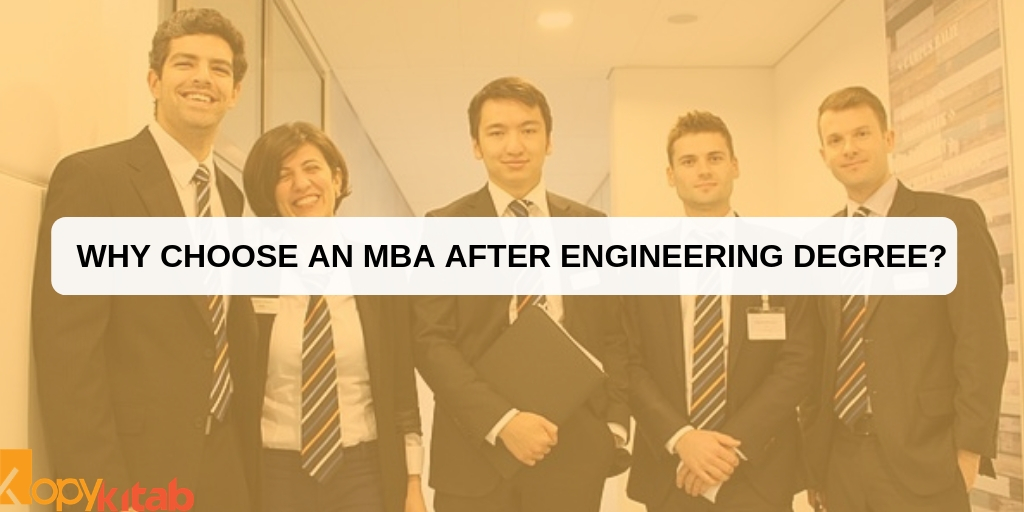 Graduate as an Engineer? Confused which career to choose after Engineering? Well, this is the most common question in all Engineers. Even after completion of engineering from their desired stream, candidates still think about what to do next?. Stop worrying about this question. We are providing an easier career to be chosen that has a lot of career opportunities. If you are interested in business, becoming an Entrepreneur, Managing people, and related career then the right career to be chosen in an MBA degree. Yes, Masters in Business Administration has a lot of careers scope and growth. Wondering why to choose an MBA after Engineering? What would be the benefits? Well, we have provided a brief description for you all to know in detail about reasons to choose an MBA after Engineering. Go through the blog completely to know more.
Benefits of Choosing an MBA after Engineering Degree
For engineers with a good technical background, a job in their own technical specialization seems like the perfect fit. For instance, a computer engineer would most probably be happy to work in top IT companies such as Google, Facebook, or Infosys. But, in any career, having management skills is essential. To break from the technical mold, and blend seamlessly into mainstream management roles, it makes good sense for engineers to upskill by studying in an MBA program.
Here are 5 Reasons Why You Should Consider an MBA After an Engineering Degree:
1. Climb the Corporate Ladder
The corporate world also agrees with a theory that an engineering education with an MBA for post-graduation is the best combination of skill and knowledge required to get a grip for your career. With a managerial background, engineers can hope to fast-track their career to higher supervisory roles and even visionary roles. It would be slow growth for an engineer without management knowledge.
2. Develop Managerial Skills
As an engineer, candidates have developed a deep understanding of the technical side of work. Engineering course syllabus strengthens your scientific bend of mind. However, an MBA prepares a person for real-world problems. You will understand the role of human elements in business. You pick up concepts on communication, human resource management, enterprise management, time management, and other such. These skills are critical for anyone who aspires to take on managerial roles in their career.
3. Understand Business as a Whole
Develop a holistic perspective to work and work-related issues. All kind of Businesses requires to observe the macro-level problems. Problem-solving is far more complex and dynamic in a business environment. Learn how to solve problems carefully.
4. Fast-Track Your Career
The average starting salary of an engineer with an MBA is significantly higher than engineering without an MBA which is one of the main reason people choose an MBA after Engineering Degree. This clearly points to the fact that the corporate world also favors engineers with a management specialization. You can have higher pay and faster career growth with an Engineering along with MBA combination.
5. Experience Personality Development
Many students who opt for an MBA after engineering develop their personality as well. The MBA curriculum focuses a lot on group discussions, projects, presentations, and industry visits. As a result, students develop confidence, sharpen their personality, and learn to communicate well. These skills are important for any future manager. In addition to personal development, students who choose to study MBA in abroad will gain a new perspective about businesses, and experience living abroad. This exposure helps to stretch your cultural and intellectual boundaries.
So thinking to choose MBA after Engineering Degree? As you have read about the benefits of choosing an MBA, it is a good career any Engineers can have. You can get a lot of opportunities around the globe and excel in this career. So start preparing for it well in advance. Check out which are the Top MBA Entrance Exams so that you can start applying and become an MBA.
  [related_books catid="647″ product_type="ebook" algo="Latest"]