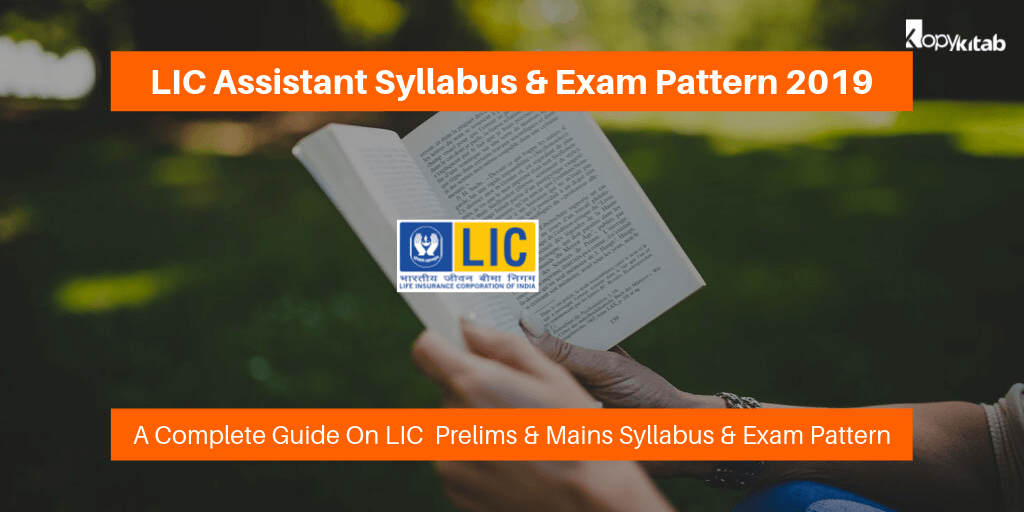 LIC Assistant Syllabus and Exam Pattern: Are you looking for LIC Assistant Syllabus and Exam Pattern 2019?
Download Best Books For LIC Exam
If yes, then you are in the perfect place. Here we are providing a complete guide on LIC Assistant Syllabus and Exam Pattern 2019.
LIC Assistant Syllabus and Exam Pattern
LIC has published new LIC job notifications 2019 for 8000+ Assistant vacancies. After selection, you have to work as any of one position from below
Clerical Staff including Cashier,
Single Window operator,
Customer Service Executive.
You should always go through the syllabus and exam pattern before preparation of LIC Assistant Examination. By analyzing complete LIC syllabus, you can create a proper study plan.
It will help you to know the tough and easy topics for you. By covering tough topics properly, you can convert your weakness into strength and score a better mark in the LIC Assistant exam.
Here you can check section wise LIC Assistant syllabus for Preliminary and Mains exam.
LIC Assistant Exam Pattern 2019
LIC Assistant 2019 will be conducted in two phases: Preliminary and Mains Exam
Know About LIC Assistant Prelims Exam:
The LIC Exam will have three sections i.e.

Reasoning,
English Language / Hindi Language,
Quantitative Aptitude

LIC Prelims exam duration of the written exam – 1 hour
For every wrong answer, 0.25 marks will be deducted.
LIC Preliminary Examination is online-based.
| | | | | |
| --- | --- | --- | --- | --- |
| S.No. | Topics | No. of Questions | Total Marks | Duration |
| 1. | Reasoning | 35 | 35 | 20 minutes |
| 2. | Quantitative Aptitude | 35 | 35 | 20 minutes |
| 3. | English Language / Hindi Language | 30 | 30 | 20 minutes |
| Total | 100 | 100 | 60 minutes |   |
Note: English/Hindi Language test is a qualifying exam and marks in the Language section will not be considered for the ranking.
LIC Assistant Mains Exam
After successfully qualifying for the Prelims Exam, you will able to appear for the Mains exam. The Pattern for Mains Exam of LIC Assistant is as given below :
The total marks for the main examination are for 200 marks, and it is object type.
The objective test will be in online mode. You will get separate timing for every section for the objective test.
The Final selection will be based on the marks obtained by a candidate in the Main Examination (Phase II)
There will be negative marks of ¼ marks for wrong answers in the Objective tests for the main examination
LIC Assistant Syllabus 2019
Check the LIC Syllabus and prepare correctly.  
LIC Reasoning Syllabus For Assistant
Data Interpretation.
Analytical Reasoning.
Puzzles.
Data Sufficiency.
Non-Verbal Reasoning.
Verbal Reasoning.
Logical Reasoning
Number Series.
Letter and Symbol Series.
Verbal Classification.
Essential Part
Analogies
Cause and Effect
Statement and Argument
Logical Deduction
Artificial Language
Matching Definitions
Making Judgments
Logical Problems
Statement and Conclusion
Theme Detection
LIC Quantitative Aptitude Syllabus For Assistant Exam
Probability.
Problems on Trains.
Averages.
Percentages.
Volume and Surface Area,
Races and Games.
Quadratic Equations.
Ratio and Proportion.
Odd Man Out.
Mixture and allegation Stocks and shares,
Computation of Whole Numbers.
Square Roots.
Mixture and Allegations.
Pipes and Cisterns.
Partnership.
Problems on L.C.M and H.C.F.
Compound Interest.
Numbers and Ages.
Partnership Business.
Time and Distance.
Boats and Streams.
Profit and Loss.
Indices and Surds.
Boats and Streams.
Problems on Numbers.
Decimals and Fractions.
Relationships between Numbers.
Percentages.
Interest.
Discount.
Simple Equations.
Odd Man Out.
Compound Interest.
Mixtures and Allegations.
Numbers and Ages.
Problems on L.C.M and H.C.F.
Problems on Trains
Averages.
Mensuration.
Permutations and Combinations.
Bar & Graphs,
Line charts, Tables
Simple Interest.
Time and Work Partnership.
Simplification and Approximation
Areas.
Volumes.
Races and Games
LIC English Language Syllabus For Assistant Vacancy
Prepositions
Antonyms
Homonyms
Synonyms
Sentence Improvement.
Spotting Errors.
Spelling Test.
Sentence Arrangement.
Error Correction (Underlined Part).
Transformation
Passage Completion.
Word Formation
Direct and Indirect speech
Active and Passive Voice.
Para Completion.
Idioms and Phrases.
Substitution
Joining Sentences.
Theme Detection
Fill in the blanks.
Data Interpretation.
Spelling Test.
Sentence Completion.
Sentence Arrangement
Topic rearrangement of passage
Error Correction (Phrase in Bold)
LIC General Awareness Syllabus For Assistant Job
Recent credit and monetary policies
Indian History.
Indian Culture.
Sports.
Current affairs related to national and international issues of the last six months,
Overview of Indian Financial System,
Famous Books & Authors
Famous Days & Dates.
Botany.
Indian Politics.
History of the Indian banking system,
Zoology.
Inventions in the World.
Chemistry.
Geography.
Environment.
Indian Economy.
Basic Computer.
Physics.
Indian Parliament.
Now you have a detailed guide on LIC Assistant Syllabus and Exam Pattern 2019. Feel free to ask us any questions related to LIC Syllabus in the comment below.