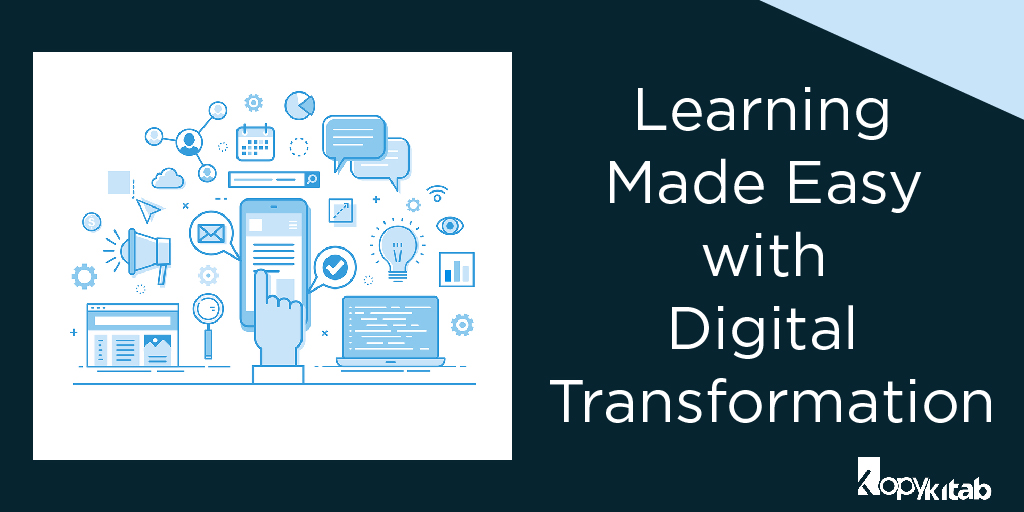 Digital transformation has impacted every walk of human life and the education sector is no exception. As digital trends in education indicate, adoption of technological tools for imparting and receiving education may have started right at the top of the pyramid but has, over the years, trickled right down to the elementary level. With technology and gadgets becoming a part of the children's everyday life, the education system is being tweaked to incorporate these as effective teaching tools. In fact, digital transformation can be credited with shaking things up within the realm of classroom learning and force an otherwise resistant sector to embrace change. Today, schools and colleges have begun introducing drastic changes in teaching methodologies, ranging from reliance on online education to digital books, PDFs and even online examinations. This overhaul is expected to continue unabated and completely transform the education sector as we know it. Here is how learning has been made easy with digital transformation so far:
Boosts Quality of Learning
One of the biggest advantages of digital learning has been improved access to learning resources for a wider cross-section of students in a far less expensive way as compared to traditional means. It is thanks to digital transformations that students today can access a vast selection of ebooks from online book library as well as study material in the audio-visual format using a laptop, tablet or smartphone, anywhere, anytime. With most ebooks modestly priced and various other sources available for free, students no longer have to limit their selection of study materials based on budgetary constraints. The ease of sharing materials is the digital format also makes exchanges between teachers and students convenient and hassle-free.
Customized Learning
Embracing digital transformation allows educational institutes to leverage the benefits of offering customized learning programs, and thus, create curriculum fuelled by big-data insights that nurture a generation of future-ready young minds. Several schools and colleges today are using specially designed programs to ascertain which course matter a student should pursue using factors such as aptitude, past scores, and education history. This means digital transformation will revolutionize our approach toward formal education, going from a one-size-fits-all to customized learning solutions.
Learning beyond Classrooms
With the advent of online platforms, education is no longer confined to classroom learning. Tech tools and solutions are breaking cultural and geographical boundaries by allowing students to absorb knowledge from global sources. Students can attend online classes, contribute to lessons, create global discourses and share varied points of view from anywhere in the world, paving way for an enriching educational experience. The concept of asynchronous classrooms facilitated by online platforms allows students to attend school anywhere in the world, at a time of their choosing. This flexibility breaks the barriers of financial constraints and geographical limitations in access to quality education.
[related_books catid="228″ product_type="ebook" algo="Latest"]
Transforming the Learning Modules
Another positive impact of digital transformation on the education system has been the ability to build more effective learning modules in a time-efficient manner. Until recently, teachers had to rely on the curriculum textbooks, existing lesson plans, their own notes and study materials available locally to create their course programmes. The disruption brought about by digital abstraction of educational content has changed that forever. Today, a teacher can access endless knowledge resource, right from journals in PDF to ebooks, published papers and complete online books libraries to create in-depth learning materials. In addition, digital tools at the educators' disposal today can help measure students' learning abilities and tweak the learning modules to suit their intellect.
Empowering Educators
Any education system can only be as good as its teachers. That's why skill upgrading training has been an integral part of this profession. Digital transformation in the field of education has offered a facelift to this aspect of education as well, changing the concept of teachers' training from periodic seminars and crash courses to a continual process that can be executed with a tap on a smartphone. With any new updates in course curriculum or teaching methodologies delivered to the teachers via an app, software or email, educators today have a better grasp of the changing paradigms of their field of expertise. Besides, there are dedicated professional learning communities online where teachers from across the world can connect to share tips, ask questions and upgrade skill sets. Digital tools can, thus, prove instrumental in empowering educators and driving them to work toward the goal of establishing high-quality, evolved standards of education.
[related_books catid="237″ product_type="ebook" algo="Latest"]
Digital transformation has brought about a paradigm shift in the field of education. The trends of online education have made knowledge more accessible and easily comprehensible.