Importance of Keeping Calm Ahead of a Crucial Exam and How to achieve it?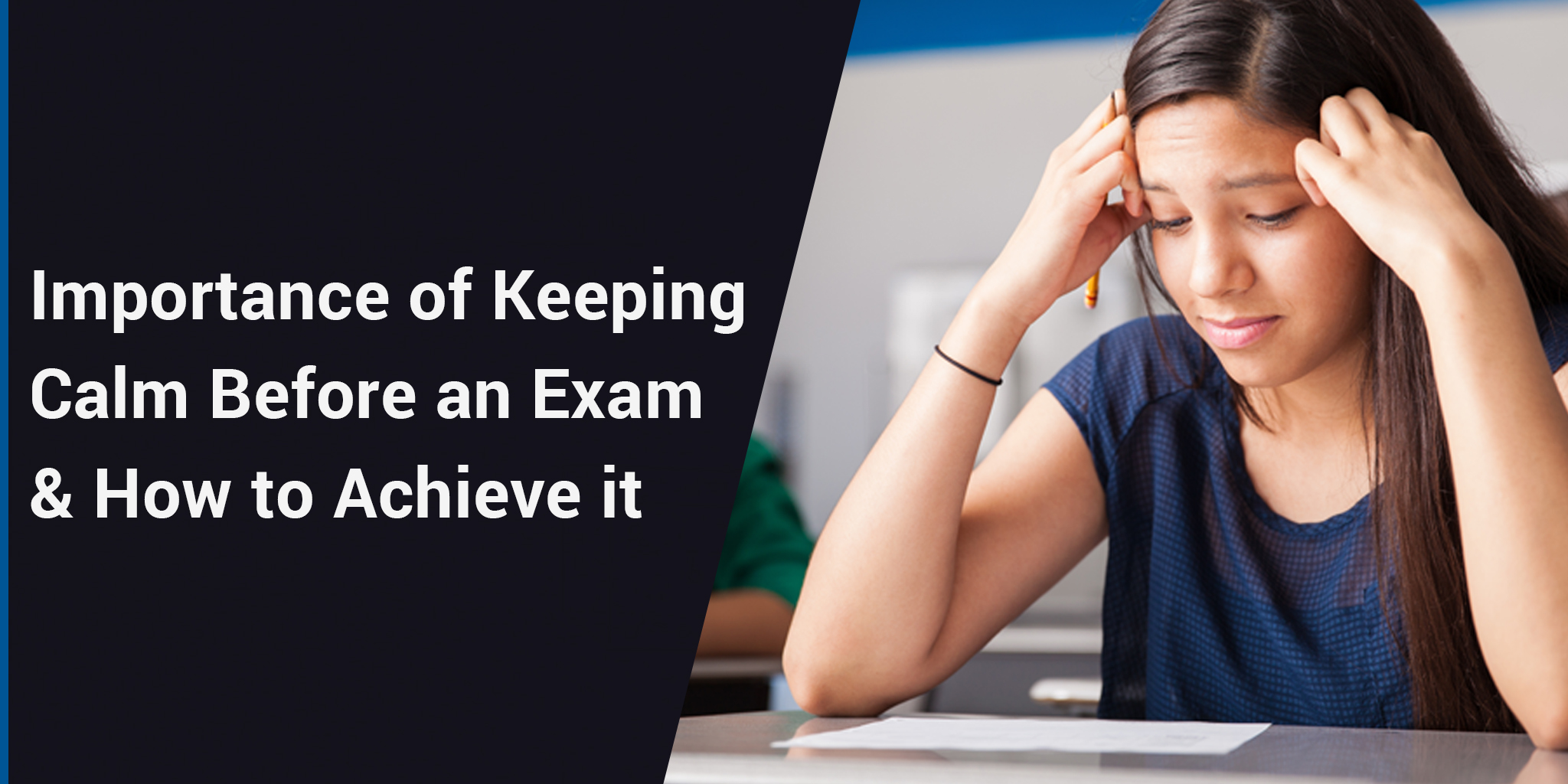 Crucial, potentially life-altering milestones can turn out to be major stress triggers, and examinations certainly fit that bill. With the course of your future riding on the outcome of an exam, it can be hard not to play out worst-case scenarios in your head as the day of the exam inches closer. However, this negative thinking and self-doubt can aggravate the stress build-up and adversely impact your performance.
There is no denying that constantly intensifying fierce competition limiting your odds of success can put aspirants in high-pressure, stressful situations, especially in case of decisive examinations such as Class 10 and 12 board exams, entrance tests and competitive exams. However, there is scientific evidence to prove that maintaining a healthy mindset can go a long way in helping you achieve your goals and that's why you must learn to train your mind to rise to the challenge instead of being intimidated by it.
Why You Must Keep Calm Ahead of an Exam
It is a scientifically proven fact that being in a nervous or excited state can hamper our ability to think rationally and act wisely. The human brain equates the feeling of nervousness to a threat and instinctively slips into preservation or defensive mode. This brings out what is typically referred to as a fight or flight response. While a fight or flight response can come to your aid when you are in the middle of a dangerous or life-threatening situation, unfortunately, it does not help matters in an examination hall.
On the other hand, when your mind is calm, it is more capable of making more analytical decisions based on thorough processing of all the information available at hand. This is just the kind of approach needed for acing an examination that has been designed to test your knowledge, logical capabilities, critical thinking and familiarity with the subject matter.
A recent research study has shown that the visual cortex is capable of absorbing more information in a peak state of mind. In contrast, stress or negativity can result in tunnel vision.
Research into exam-related anxiety has conclusively linked high levels of stress or anxiety to decline in performance. People who presented with symptoms of stress and anxiety during or before an exam reacted to the examination with intense emotional responses, based on their gut feeling, thus, losing focus of the task at hand. Worried responses triggered by stress have also been identified as deterrents for effective performance on intellectual and cognitive tasks.
All the research data and scientific studies point toward one thing – high-stress levels can have a negative impact on your exam performance as well as your overall cognitive capabilities. Therefore, staying positive and focused is just as important for success as being well-prepared.
How to Beat Stress and Stay Calm
A lot of students or aspirants preparing for high-pressure competitive exams like UPSC, CAT, IIT JEE or NEET may argue that staying calm in the face of such cut-throat competition is easier said than done. While this may seem like the truth when you are consumed by books, studies and a single-minded focus of clearing an exam, it isn't necessarily so. So, the first step toward the process of de-stressing is to take a step back and evaluate your situation an objective point of view. This will give you a reality check on the gaping holes that need to be fixed to incorporate a certain Zen-like energy.
Here are a few tips to help you beat the stress and calm your mind:
71% Off

Ebook

10% Off

Ebook

40% Off

Ebook

70% Off

Ebook

40% Off

Ebook

25% Off

Ebook