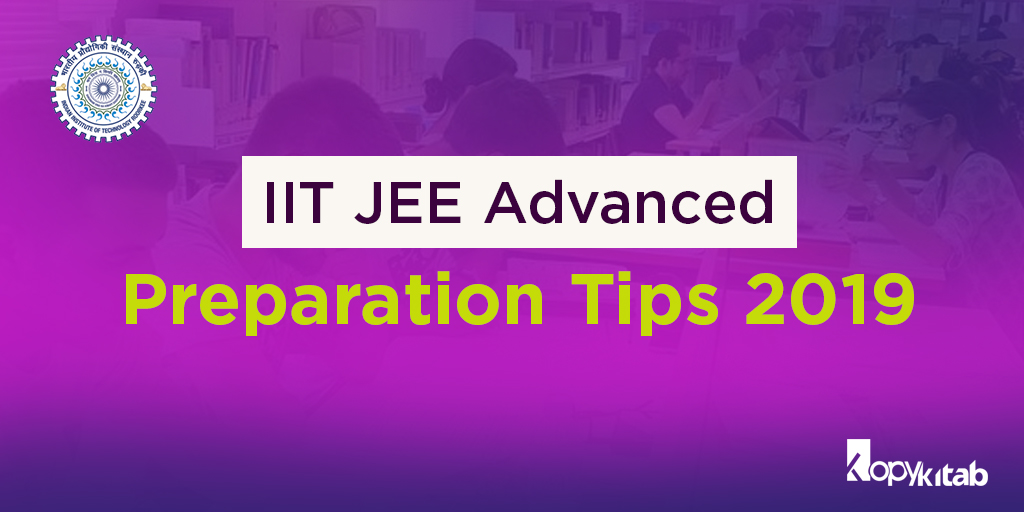 Indian Institute of Technology (IIT) Roorkee will be conducting the JEE Advanced 2019. The examination will be conducted in online mode in two sessions on May 19, 2019. Candidates willing to get admission into IITs and various top engineering colleges need to take up and qualify JEE Advanced 2019. Candidates who have qualified in JEE Main 2019, can fill and submit their applications for JEE Advanced 2019. For getting admission in IIT colleges it is compulsory for candidates to qualify in both JEE main and JEE Advanced. Currently, JEE Main 2019 Paper 1 is successfully completed. Hence, it is time for candidates to start their preparation for IIT JEE Advanced 2019. You can go through the blog to know IIT JEE Advanced preparation tips and how to crack IIT JEE with high score. You can also check out top IIT JEE Advanced books.
IIT JEE Advanced Preparation Tips for 2019
For anyone to score more in any examination, the major success key point required is hard work, dedication, learning from failure. If your preparation is strong and you have given your cent percent concentration and dedication then you will definitely reach your desired goal. We have listed out important IIT JEE Advanced preparation tips and strategy to score more in JEE Advanced 2019.
Take IIT JEE Advanced Mock Test Series 2019
Begin Your Preparation ASAP– Yes, you need to start your preparation soon. Do not wait till the end. Start as soon as possible. Start planning and practicing accordingly.
Prepare a study time table– Before you are starting to study, it is essential to prepare a study time table. Make sure you give more time to topics which you are weak. Also, make sure to give yourself time for revision.
Study In depth– As just now you have started, you will have lot of time to prepare. So, study each topic in depth and in detail. Make sure you understand each concept and if you come across any queries do note them out separately. It is also very important to buy top IIT JEE books forAdvanced exam preparation. For your convenience, we have listed out the top publication books of each subject in the table below.
Make Notes– While studying note down important key points or key words. This can help you during revision in the last minute preparation.
Solve Previous year Question Paper– This is a major part of preparation for exam. Once you have completed studying all topics and solving problems, start solving IIT JEE Advanced previous year question papers. You can get complete idea of different types of questions. You will even know in how many ways questions can be framed.
Take up mock tests– After you have completed your preparation, start taking up mock tests on IIT JEE. During your revision period, you can take up IIT JEE mock tests to check your ability, knowledge on the subject.
Stay positive- Take the right amount of pressure. We know that JEE Advanced 2019 is big and pressure of performing is bigger. Still, don't take unnecessary pressure. Stay positive. Don't allow negative vibes effect you. Be positive and take right pressure.
Take small break- Don't just keep on studying. Take small breaks, go for walks, movies or chit chat with your friends. However, ensure that everything you are doing is to rejuvenate yourself, don't forget studying is your priority right now.
Take IIT JEE Advanced Revision Notes
Important Books for IIT JEE Advanced Section Wise
Referring best books for exams plays an important role during preparation. We have listed out top publication IIT JEE Advanced Preparation books which are available at Kopykitab. You can check out the table for various preparation books and choose among them.
Subject
Top Publication IIT JEE Advanced Preparation Books
Physical Chemistry
Comprehensive Physical Chemistry Vol – I by Dr. N. K. Verma, S. K. Khanna, Dr. B. Kapila

Comprehensive Physical Chemistry Vol -II by Dr. N. K. Verma, S. K. Khanna, Dr. B. Kapila

Organic Chemistry
Comprehensive Organic Chemistry Vol – I by Dr. N. K. Verma, S. K. Khanna, Dr. B. Kapila

Comprehensive Organic Chemistry Vol – II by Dr. N. K. Verma, S. K. Khanna, Dr. B. Kapila

Problems in Organic Chemistry for JEE Main & Advanced 3rd edition by Disha Publication

Inorganic Chemistry
Comprehensive Inorganic Chemistry Vol – I by Dr. N. K. Verma, S. K. Khanna, Dr. B. Kapila

Comprehensive Inorganic Chemistry Vol – II by Dr. N. K. Verma, S. K. Khanna, Dr. B. Kapila

Physics
39 Years IIT-JEE Advanced + 15 yrs JEE Main Topic-wise Solved Paper Physics 12th Edition by Disha Publication
Mathematics
 Mathematics For IIT-JEE Mains And Advanced Calculus by Sandeep Tiwaril

39 Years IIT-JEE Advanced + 15 Yrs JEE Main Topic-Wise Solved Paper Mathematics 12th Edition
Hope we have provided you complete information on how to prepare for IIT JEE Advanced, which books to refer. For all latest information on IIT JEE Advanced 2019 stay tuned to our blog.
[related_books catid="243″ product_type="ebook" algo="Latest"]