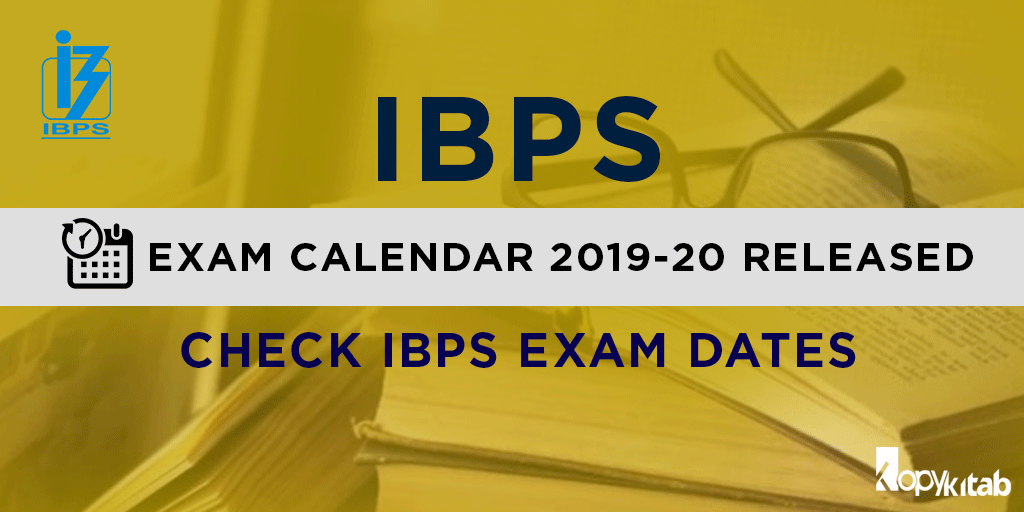 Attention Banking Aspirants!!! All candidates keen in taking up banking as a career here is the news for you. The Institute of Banking Personnel Selection has released the IBPS Exam Calendar for 2019-2020 IBPS PO, Clerk, SO, RRB examinations. According to IBPS, the Preliminary exam will be starting in the month of August 2019. Candidates can check this blog for the exam calendar. Candidates can check out the official IBPS website for exam notification.
IBPS will be conducting preliminary, single, and main exams for the posts of officer scale I and Officer assistants. The preliminary exam is scheduled in the month of August, while there is a single exam conducted for Officer scale I and III in the month of September. The below table IBPS Exam Calendar consists of detailed dates mentioned for each examination which includes IBPS clerk exam date, IBPS SO exam date, IBPS probationary officers exam dates. Candidates can check out the exam dates in the below table.
Tentative IBPS Exam Calendar of Online CRP for RRBs and PSBs
1. RRBs- CRP RRB VIII (officers) and CRP RRB-VIII (Office Assistants)
Preliminary Examination
Officer Scale I and Officer Assistants:

03.08.2019, 04.08.2019, 11.08.2019, 17.08.2019, 18.08.2019, 25.08.2019

Single Examination
Officer Scale II & III: 22.09.2019
Main Examination
 Officer Scale I: 22.09.2019

Officer Assistants: 29.09.2019
2. PSBs – CRP PO/MT -IX, CRP Clerk -IX & CRP SPL-IX
Probationary Officers
Clerks 
Specialist Officers
Preliminary Examination
12.10.2019

13.10.2019

19.10.2019

20.10.2019

07.12.2019

08.12.2019

14.12.2019

15.12.2019

28.12.2019

29.12.2019

Main Examination
30.11.2019
19.01.2020
25.01.2020
Registration Process
The registration process will be through online mode only and there will be a single registration for both preliminary and main examination.
Candidates need to upload certain scanned documents listed below:
1. Photograph of the applicant- 20kb to 50kb in JPEG file.
2. Signature of the Applicant- 10kb to 20kb in JPEG file.
3. Thumb impression of the Applicant- 20kb to 50kb in JPEG file.
4. Scanned copy of handwritten declaration- 50kb to 100kb in JPEG file.
 Download Official IBPS Exam Calendar in PDF
IBPS is one of the prestigious recruitment body conducting examinations for various positions across India in banking sector. It is a golden opportunity for all banking aspirant candidates to set up a career in banking field as it is the largest growing economy with highly paid salaries. It is time for candidates to make note of important dates of IBPS and start preparing for IBPS with a wide range of IBPS preparation books collection available online.
[related_books catid="239″ product_type="ebook" algo="Latest"]