Hotel Management Course Career Scope: Salary and Growth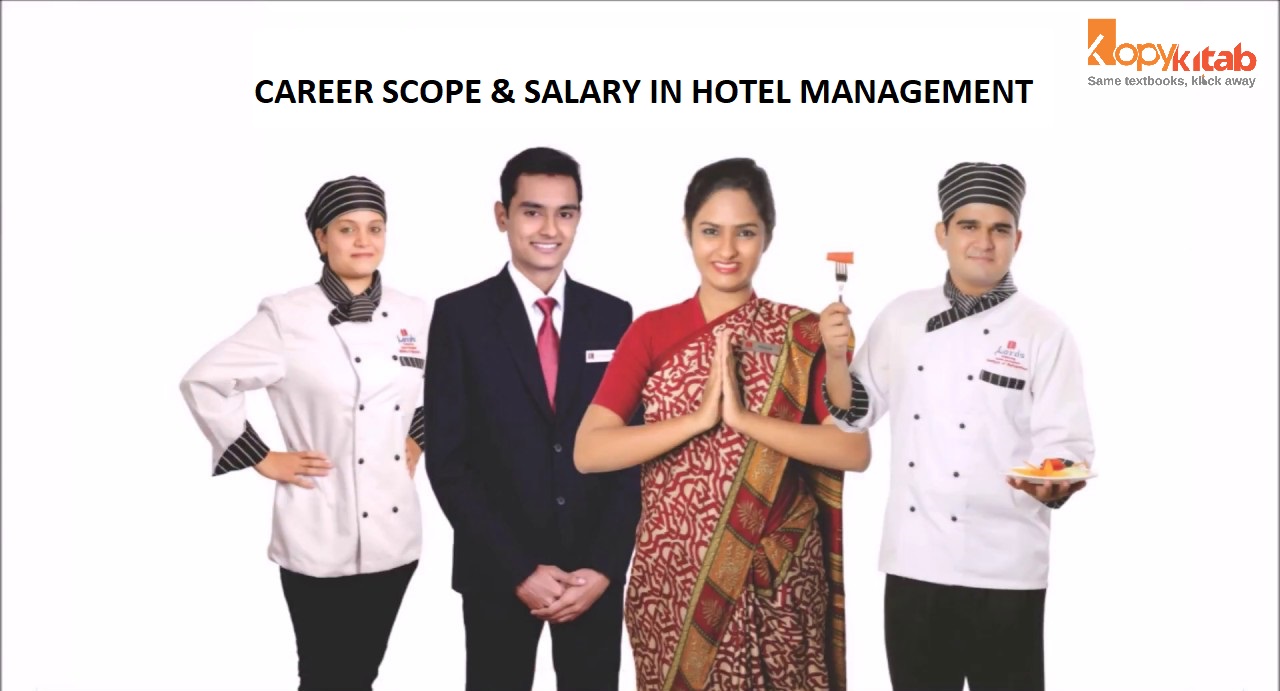 With the trend of travel catching on among Indians and the country's exotic appeal holding strong among foreigners, hospitality industry is experiencing a new unparalleled boom. As new hotels, restaurants and cafes spring up in big cities and small towns alike, the requirement for trained professionals to run these facilities is growing too. Besides being a profession with a certain glamour quotient, this career choice attracts the youth for its lucrative job profiles too. And it is one of the few professional courses where academic excellence is not a primary criterion for selection.
To pursue the hotel management career path, you need a minimum of 50 per cent marks in Class 12 to be eligible for an undergraduate degree. Those with less than 50 per cent marks also have a shot at making a career in this field with diploma or certificate courses. That said, it does not mean that course and the hotel management job profiles are a cakewalk. You need the right temperament and aptitude to survive and thrive in these high-pressure jobs where you have to deliver on loftypa expectations without ever losing your cool. The perks and rewards of the job, however, make these challenges truly worthwhile. Here's what the hotel management career path holds for you in terms of scope and growth:
Hotel Management Career Scope 
Hotel management is a blanket term that includes different job profiles across the verticals of the hospitality industry. Within a hotel, candidates can be absorbed in different departments such as front office, operations, accounting, maintenance, security, sales and marketing, and kitchen, and can specialise in the field of their preference to pursue a successful career path. 
In addition to hotels and restaurants, hotel management job profile also includes the following: 
Airline catering 
Airline cabin services
Club management
Cruise hotel management
Hospital administration 
Hospital catering
Employment with state tourism boards 
Employment with tourism and hotel associations 
Hospitality services in merchant navy 
Hospitality services in guest houses, resorts and forest lodges 
Hospitality services in MNCs
Kitchen management for schools, colleges, hostels, factories
Catering for government departments such as railways, shipping companies, armed forces and banks 
Entrepreneurship 
Hotel Management Pay Scale 
The hotel management pay scale varies from one chain or group to another. On an average, the starting salary is in the range of Rs 2.4 lakh annually or Rs 20,000 per month. In addition, professionals employed in five-star or luxury hotels also earn a handsome sum in tips and bonuses. 
The most lucrative aspect of this career is the stupendous growth in hotel management salary. As per latest hotel management industry career trends, you can expect a 45 per cent hike in your remuneration within two years, which is unheard of in any other field. Mid-level professionals in different departments earn anywhere between Rs 5 to 10 lakh annually, and at the senior level, salaries are in the range of Rs 12 to 82 lakh per year. 
Hotel Management Career Growth
As per the recent statistics released by the Institute of Hotel Management (IHM), there is expected to be a 25 per cent growth in the hospitality industry in India. This naturally means more jobs not only in teir-1 cities like Delhi, Mumbai, Kolkata and Bangalore but also small towns and semi-urban areas that are coming up as tourist centres. In this scenario, hotel management professionals will certainly have ample employment avenues. 
As far as hotel management career growth goes, the climb up the hierarchical ladder depends entirely on personal capabilities and performance. There are young, dynamic professionals who reach managerial levels within the industry in less than five years. These are the people who go on to hold top positions in different departments in this sector. Apart from the professional training and expertise, it is the grit and determination to survive the grind and still deliver your best that determines how far you will go in this field. 
Eligibility and Best Institutes 
The minimum qualification for pursuing a hotel management course is Class 12. Candidates need a minimum of 50 per cent marks to qualify for an undergraduate program. Those who do not meet this criterion can apply for diploma or certificate courses. 
The duration of a degree course is three years, diploma two year and certificates courses are of varying durations, ranging from six months to a year. The selection for all government-recognises institutes is held through a common entrance exam held in April. The test comprises multiple choice questions based on English, general science, general knowledge and reasoning. 
Successful candidates are then called for a round of group discussion and personal interview aimed at assessing their aptitude and personality, to understand their suitability for the hotel management career path. 
The selection process for private colleges is also on similar lines. 
Some of the top institutes for pursing hotel management in India are: 
Dr Ambedkar Institute of Hotel Management, Chandigarh
Institute of Hotel Management, New Delhi
Delhi Institute of Hotel Management, New Delhi 
Institute of Hotel Management, Kolkata 
Institute of Hotel Management, Bangalore
Institute of Hotel Management, Chennai
Institute of Hotel Management, Jodhpur
Institute of Hotel Management, Lucknow
Institute of Hotel Management, Catering & Applied Nutrition, Dehradun
Institute of Hotel Management, Bhopal
Institute of Hotel Management, Bhubaneswar
Institute of Hotel Management, Gandhinagar
Institute of Hotel Management, Gangtok 
Institute of Hotel Management, Goa
Institute of Hotel Management, Gurdaspur 
Institute of Hotel Management, Guwahati
If a career in the hospitality industry interests you, take the plunge without any reservations or doubts. You can check some hotel management books online.