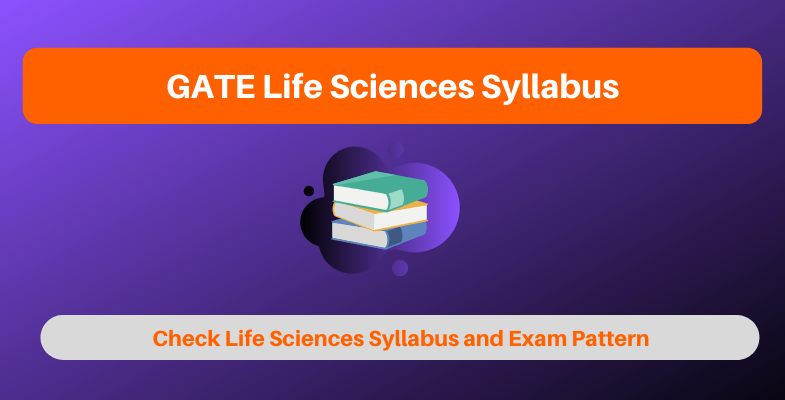 GATE Life Sciences Syllabus: GATE 2021 Life Sciences (XL) syllabus will consist of 3 sections. The first section will be General Aptitude and the second section will be Chemistry. Chemistry is tagged as section P and will be compulsory for candidates. The third part comprises sections Q to U and candidates have to choose any two sections to appear for the exam.
You must aware of the latest syllabus and marking scheme to prepare for the Life Sciences exam. To prepare for the GATE Life Sciences exam, you should know the latest ECE Syllabus and marking scheme.
Here we are providing you the complete guide on GATE Life Sciences Syllabus 2021 and Marking Scheme.
GATE Life Sciences Syllabus 2021
In the latest GATE Syllabus for Life Sciences, you will find the important chapters and concepts to be covered in all subjects. The weightage of General Aptitude will be 15% and the remaining 85% will be reserved for chemistry & sections (two) selected by the candidates. The question paper will consist of 65 questions which will be divided into three sections worth 100 marks and the duration of the exam is three hours
You can start your exam preparation by creating a solid study plan and score a better mark in the exam with the latest Life Sciences Syllabus. Based on the score in GATE Life Sciences, you can shape your career in the proper way.
You must have Life Sciences books & study materials, Previous years questions paper along with the latest Life Sciences Syllabus to enhance your semester exam preparation.
GATE 2021 Life sciences XL section comprises the following subjects/codes:
XL-P – Chemistry
XL-Q – Biochemistry
XL-R – Botany
XL-S – Microbiology
XL-T – Zoology
XL-U – Food Technology
Check the complete GATE Life Sciences syllabus below.
GATE 2021 XL-P Chemistry Syllabus (compulsory)
Atomic Structure and Periodicity
Structure and Bonding
s, p & d Block Elements
Chemical Equilibria
Electrochemistry
Reaction Kinetics
Thermodynamics
Structure Reactivity Correlations and Organic Reaction Mechanisms
Direct Link to Download GATE XL-P Chemistry Syllabus PDF
GATE 2021 XL-Q Biochemistry Syllabus
Section 1 – Organization of life; Importance of water; Structure and function of biomolecules: Amino acids, Carbohydrates, Lipids, Proteins and Nucleic acids; Protein structure, folding and function: Myoglobin, Hemoglobin, Lysozyme, Ribonuclease A, Carboxypeptidase and Chymotrypsin.
Section 2 – Enzyme kinetics including its regulation and inhibition, Vitamins and Coenzymes; Metabolism and bioenergetics; Generation and utilization of ATP; Metabolic pathways and their regulation: glycolysis, TCA cycle, pentose phosphate pathway, oxidative phosphorylation, gluconeogenesis, glycogen and fatty acid metabolism; Metabolism of Nitrogen containing compounds: nitrogen fixation, amino acids and nucleotides. Photosynthesis: Calvin cycle.
Section 3 – Biochemical separation techniques: ion exchange, size exclusion and affinity chromatography, Characterization of biomolecules by electrophoresis, UV-visible and fluorescence spectroscopy and Mass spectrometry.
Section 4 – Cell structure and organelles; Biological membranes; Transport across membranes; Signal transduction; Hormones and neurotransmitters.
Section 5 – DNA replication, transcription and translation; Biochemical regulation of gene expression; Recombinant DNA technology and applications: PCR, site directed mutagenesis and DNA-microarray.
Section 6 – Immune system: Active and passive immunity; Complement system; Antibody structure, function and diversity; Cells of the immune system: T, B and macrophages; T and B cell activation; Major histocompatibilty complex; T cell receptor; Immunological techniques: Immunodiffusion, immune electrophoresis, RIA and ELISA.
Direct Link to Download GATE XL-Q Biochemistry Syllabus PDF
GATE 2021 XL-R Botany Syllabus
Plant Systematics
Plant Anatomy
Morphogenesis & Development
Physiology and Biochemistry
Genetics
Plant Breeding and Genetic Modification
Economic Botany
Plant Pathology
Ecology and Environment
Direct Link to Download GATE XL-R Botany Syllabus PDF
GATE 2021 XL-S Microbiology Syllabus
Historical Perspective
Methods in Microbiology
Microbial Taxonomy and Diversity
Prokaryotic and Eukaryotic Cells
Microbial Growth
Control of Micro-organisms
Microbial Metabolism
Microbial Diseases and Host-Pathogen Interaction
Antibiotics
Microbial Genetics
Microbial Ecology
Direct Link to Download GATE XL-S Microbiology Syllabus PDF
GATE 2021 XL-T Zoology Syllabus
Animal World
Evolution
Genetics
Biochemistry & Molecular Biology
Cell Biology
Gene Expression in Eukaryotes
Animal Anatomy and Physiology
Parasitology and Immunology
Development Biology
Ecology
Animal Behaviour
Direct Link to Download GATE XL-T Zoology Syllabus PDF
GATE 2021 XL-U Food Technology Syllabus
Food Chemistry and Nutrition 
Food Microbiology
Food Products Technology
Food Engineering
Direct Link to Download GATE XL-U Food Technology Syllabus PDF
GATE 2021 Life Sciences Exam Pattern 
Exam Mode: Online
Duration: 3 hours
Types of questions: MCQs and NAT
Sections: 3 sections – General Aptitude, Mathematics and Subject-based
Total questions: 65 questions
Section 
Distribution of Marks
Total Marks
Types of questions
GA
5 questions of 1-mark each
5 questions of 2-marks each

15 marks 

MCQs
Section P – Chemistry (compulsory)
5 questions of 1-mark each
10 questions of 2-marks each

25 marks 

MCQs and NATs
Sections Q to U (Any two)
10 questions of 1-mark each 
10 questions of 2-marks each

30 marks 

MCQs and NATs
Marking scheme
Total marks: 100 marks
Negative Marking: For MCQs only
Type of question
Negative marking for wrong answers.
MCQ

1/3for 1 mark questions

2/3 for 2 marks questions

NAT
No negative marking 
Now you have a detailed guide on GATE Life Sciences Syllabus 2021. If you have any questions related to GATE Life Sciences Syllabus, please let us know in the comment section.