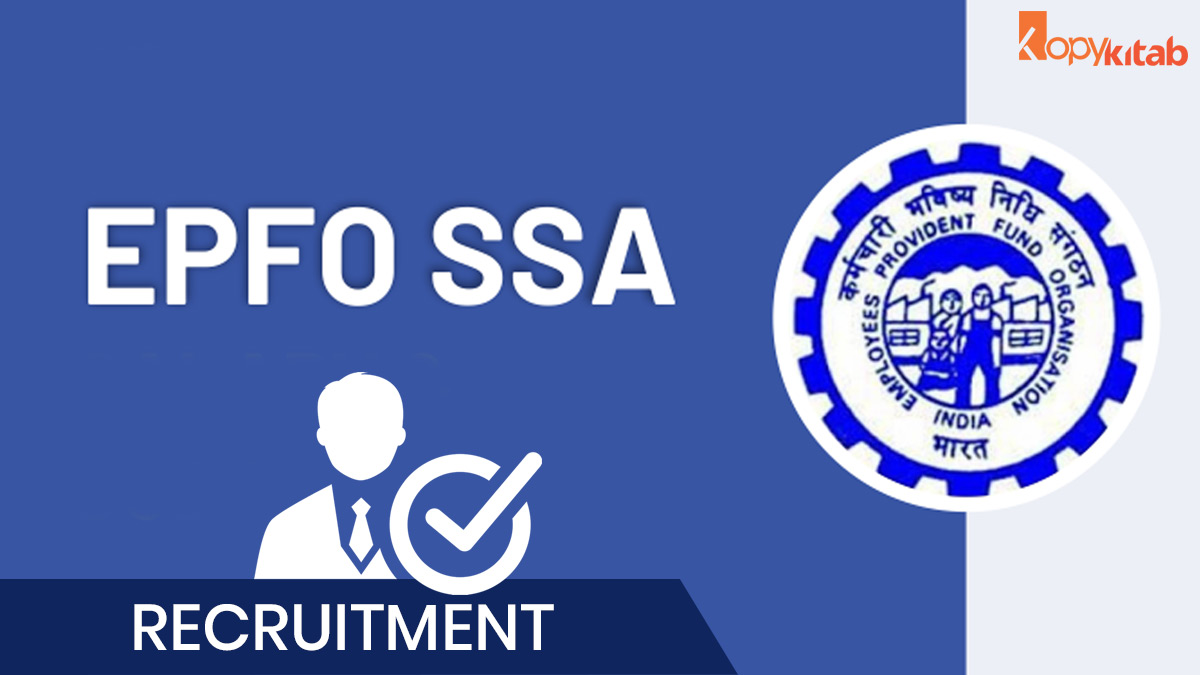 EPFO SSA Recruitment 2022: EPFO SSA Recrutiment will start in January 2022. You can have the complete details for EPFO SSA Exam dates, Vacancy, Eligibility & More. It is estimated that 421 vacancies has been released for 2022. 
EPFO SSA Recruitment 2022: Important Exam Dates
Here is the table comprising of EPFO Exam dates for SSA post. 
| UPSC EPFO 2022 Exam Events | Important Dates |
| --- | --- |
| Release of Application Form UPSC EPFO | January 2022 |
| Closing Date of Application | January 2022 |
| Last Date of Fee Submission | January 2022 |
| Release of UPSC EPFO Admit Card 2022 | April 2022 |
| UPSC EPFO Examination Date 2022 | May 2022  |
| Release of UPSC EPFO Result 2022 | To be announced soon |
EPFO SSA Recruitment 2022: Vacancies
A total of 421 vacancy list is released through EPFO SSA Recruitment Notification. Check out the notification on the same page to know the detailed vacancy list.
| Category | Vacancies |
| --- | --- |
| General (UR) | 168 |
| SC | 62 |
| ST | 33 |
| OBC | 116 |
| EWS | 42 |
| Total | 421 |
Note: Physically challenged human beings are eligible for eleven of the 421 vacancies. Out of those eleven, eight vacancies are reserved for Deaf and Hard of Hearing with disabilities, i.e. Deaf (D) or Hard of Hearing (HH), and the closing three vacancies are reserved for Locomotor Disability, along with Cerebral Palsy, Leprosy Cured, Dwarfism, Acid Attack Victims, and Muscular Dystrophy with disabilities, i.e. Both legs affected however now no longer arms (BL), One leg affected (R or L) (OA).
EPFO SSA Recruitment 2022: Eligibility Criteria
Candidates who are willing to apply for the EPFO SSA Recruitment 2022 post must fulfill the eligibility criteria as provided below.
Nationality
The EPFO eligibility criteria state the following about nationality eligibility. One of the following criteria must be met by the applicant:
a citizen of India
a subject of Nepal
a subject of Bhutan
a Tibetan refugee who arrived in India before the 1st of January 1962 with the intention of settling permanently in India
a person of Indian origin who has moved to India permanently from Pakistan, Burma, Sri Lanka, or the East African countries of Kenya, Uganda, the United Republic of Tanzania (formerly Tanganyika and Zanzibar), Zambia, Malawi, Zaire, Ethiopia, or Vietnam.
Age Limit
Minimum Age- 18 years
Maximum Age- 27 years
| | |
| --- | --- |
| SC/ST | Upto 5 years |
| OBC | Upto 3 years |
| Employees of the Employees' Provident Fund Organisation (EPFO) | Upto 5 years |
| Ex-Servicemen | Ex-Servicemen and Commissioned Officers, including ECOs/SSCOs, will have their service time reduced by five years if they have served continuously in the Armed Forces for at least six months after attestation on the closing date for applications. |
| Central Government employees | Up to 5 years as per instructions issued by the Govt. of India from time to time. (10 years – SC/ST and 8 years for OBC) |
| Persons who had ordinarily been domiciled in the State of J&K during the period from 1st January, 1980 to 31st December, 1989 | 5 years |
| Physically Handicapped (PH) persons | Persons suffering from (a) blindness or low vision, (b) hearing impairment, and (c) locomotor disability or cerebral palsy will be granted a 10-year upper age limit relaxation in case of direct recruitment to all civil posts/services under the Central Government identified as suitable for persons with such disabilities. Persons with a minimum of 40% disability would be eligible for a relaxation of the age limit. |
Educational Qualifications
Candidates need to have a graduation degree from a recognized university or any equivalent qualification recognized by the central government. Bachelor's degree in Law/Integrated Five years Degree in Law/Masters in Business Administration/Post Graduate Diploma in Management/Company Secretary/Chartered Accountants/Cost and Management Accountant.
Possessing a speed of at least 5000 key depressions per hour for data entry work.
How to Apply for EPFO SSA Notification 2022?
Candidates can follow these simple steps listed below to apply correctly.
1st Step: Click on the direct link given above or visit the official website of EPFO: epfindia.gov.in
2nd Step: Click on the Miscellaneous tab.
3rd Step: Under Miscellaneous click on the Recruitment section
4th Step: Click on Apply Now for SSA Post
5th Step: You will be redirected to a new page
6th Step: Complete the registration process by clicking on new registration
7th Step: You will receive a user ID and password
8th Step: Login to your account and start filling all the details
9th Step: Pay the prescribed fee for the application and submit your form
| | |
| --- | --- |
| Category | Application Fee |
| SC/ST/Female/PwD Candidates/Ex-Servicemen | Rs 250/- |
| All other categories | Rs 500/- |
EPFO SSA Recruitment 2022: Salary 
The promotional hierarchy of EPFO has been provided below:
Additional Central PF Commissioner- II
PB-4; 37,400- 67,000 plus GP 8700 [Level 13]
⇑
Regional PF Commissioner-I
PB-3; 15,600- 39,100 plus GP 7600 [Level 12]
⇑
Regional PF Commissioner-II
PB-3; 15,600- 39,100 plus GP 6600 [Level 11]
⇑
Assistant PF Commissioner
PB-3; 15,600- 39,100 plus GP 5400/ [Level 10]
⇑
Enforcement Officer/Accounts Officer
PB-2; 9300-34800 plus GP 4800 [Level 8]
We have included complete information regarding EPFO SSA Recruitment 2022. If you have any query feel free to ask in the comment section. 
FAQ: EPFO SSA Recruitment 2022
For which post is the UPSC EPFO exam conducted?
The test is for the position of Enforcement Officers/Accounts Officers.
What is the last date to apply for the UPSC EPFO exam 2022?
The deadline will be estimated to be around in January 2022 for UPSC EPFO 2022.
What is the UPSC EPFO selection process?
A Recruitment Test and an Interview are both part of the selection process.
What is the age limit criterion to apply for the UPSC EPFO exam?
The maximum age is 30 years.