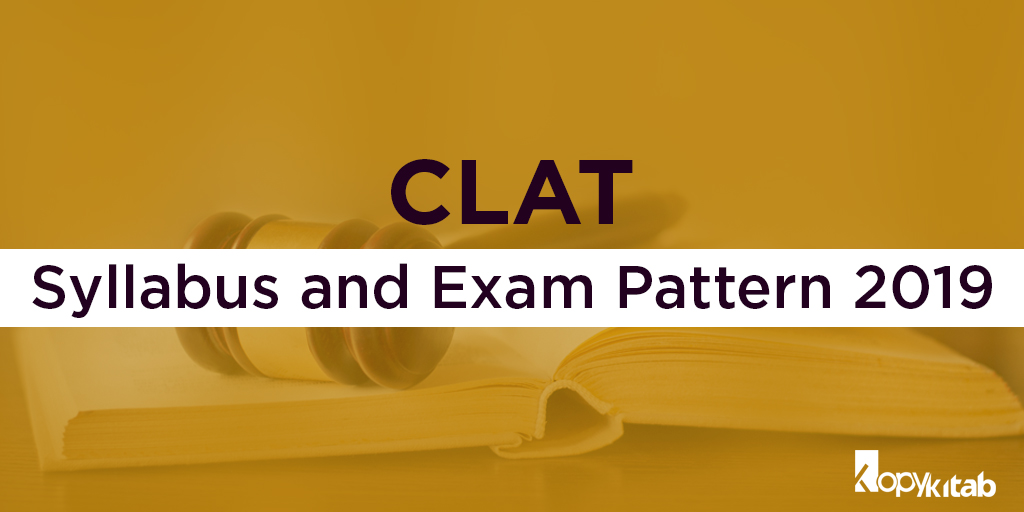 Common Law Admission Test (CLAT) 2019 is conducted for law aspirants who wish to get admission into 19 NLU's and other universities. CLAT 2019 has released the application forms for registering to the exam which will be conducted on May 12, 2019. As the filling up of  CLAT online application has already started, candidates are advised fill the applications before the last date. Here, we have provided candidates with detailed CLAT Syllabus and Exam Pattern for the 2019 examination. Candidates can go through the blog to know more details.
CLAT Exam Pattern 2019
CLAT Exam is an online mode of exam conducted for 2 hours. The total number of questions for UG paper is 200 and for PG paper is 150 questions. For every wrong answer, there is a negative marking of 0.25. Candidates can go through the below table to know the detailed exam pattern for CLAT 2019.
Courses
Subjects
Marks
Duration
UG Course
English including comprehension
40
2 Hours
General Knowledge and Current Affairs
50
Elementary Mathematics (Numerical Ability)
20
Legal Aptitude
50
Logical Reasoning
40
PG Course
Constitutional Law
50
2 Hours
Jurisprudence
50
Other Law Subjects such as Contract, Torts, Criminal Law, International Law, IPR etc.
50
CLAT Syllabus 2019
Subject
Topics
English including comprehension
English Vocabulary: Antonyms, Synonyms and Analogies

English Proficiency: Idioms and Phrases, One Word Substitution, Sentence Improvement, Rearrangement of Sentence in Paragraph, Rearrangement of Words in Sentence, Fill in the blanks and Cloze Tests

English Usage Errors: Common Errors, Spotting Errors, Inappropriate Usage of Words and Spelling Mistakes (English Usage), Use of Correct Word

English Comprehension: Paragraph will be given. Questions will be asked from that paragraph. Understand the para and answer the questions accordingly

General Knowledge and Current Affairs
Events of National and International importance also covering current events in area of Economics, Science, Technology, Sports, Persons and Places, Static GK & Latest Happening, Books and Authors.
Elementary Mathematics (Numerical Ability)
Arithmetic (Number Theory): Number Systems, Surds and Indices, Square Roots, Fractions and Decimals, HCF and LCM, Simplification, Approximations, Ratio and Proportion, Average and Logarithms.

Commercial Maths: Interest, Percentage, Profit and Loss, Partnership and Discounts

Mensuration: Areas and Volumes

Legal Aptitude
This section will judge your interest towards study of law, research aptitude and problem solving ability.

These questions will be related to legal propositions and set of facts satisfying the propositions

Such propositions may or may not be true, you have to assume them and answer the questions accordingly

Some major topics are International Law, Criminal Law, Indian Constitution, Legal Terms, Legal Maxims, Family Law, Contracts and Torts

Logical Reasoning
Reasoning Tests: Direction and Distance Test, Analogy Test, Classification (Odd Man Out) Test, Coding Decoding Test, Number Test, Series Test, Relationships Test, Alphabet Test, Ranking Tests and Time Sequence Test

Logic Tests: Statements Assumptions, Statements Arguments, Statements Conclusions and Statements Action
This CLAT syllabus is only for UG candidates. Candidates applied for PG can refer to their section: Constitutional Law, Jurisprudence & Other Law Subjects.
Thus, it is time for candidates to enhace their preparation level with CLAT mock test. You can also buy latest CLAT books that covers all topics of current syllabus and exam pattern. Stay tuned to our blog for more information on CLAT 2019.