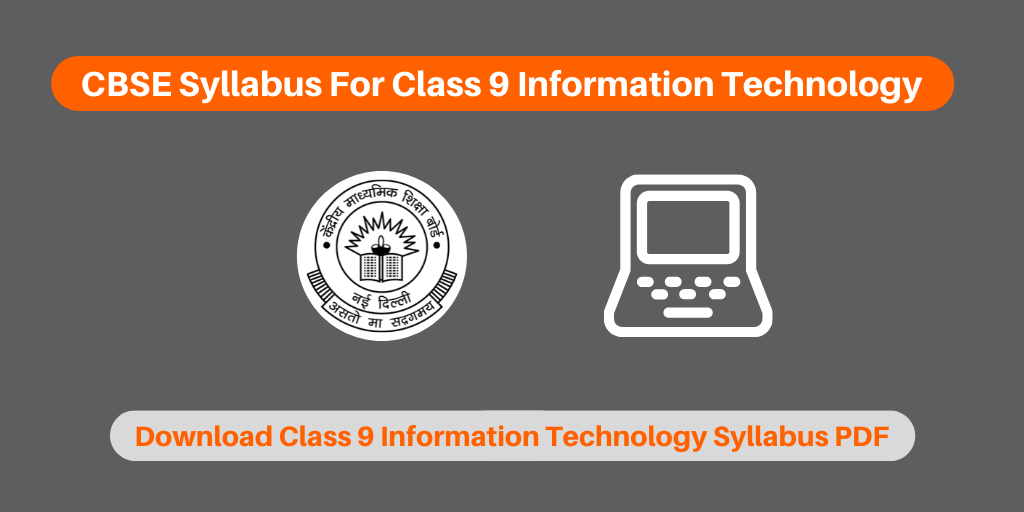 CBSE Syllabus For Class 09 Information Technology 2019-20: Are you studying CBSE Class 9? Do you have the latest syllabus of class 9 IT?
Don't worry! Here we are providing you with a detailed article on CBSE Syllabus For Class 09 Information Technology 2019-20.
[subscription_packs catid="452″ product_type="goUnlimited" algo="Latest"]
You can check and easily download PDF related to latest syllabus.
CBSE Syllabus For Class 09 Information Technology 2019-20
Class 09 Information Technology is one of the important subject related to employability skills. If you have a dream to work in IT industries in future, you should study this subject.
Here you will learn the various skills and detailed overview of Information Technology. Some of these are,
Word Processing,
Spreadsheet applications,
Presentation
CBSE Marking Scheme For Class 09 Information Technology 2019
Units

Marks

Part A

Employability Skills

Unit 1: Communication Skills

10

Unit 2: Self-management Skills

Unit 3: Basic ICT Skills

Unit 4: Entrepreneurial Skills

Unit 5: Green Skills

Part B

Vocational Skills

Fundamental of Computer

8

Mastering Typing

8

Word Processing (Basic)

4

Spreadsheet (Basic)

8

Digital Presentation

8

Email Messaging (Basic)

4

Part C

Practical Work

Practical Examination

15

Written Test

10

Viva Voce

10

Part D

Project Work/Field Visit

Practical File/ Student Portfolio

10

Viva Voce

5
Unit 1: Word Processing: CBSE Syllabus For Class 09 Information Technology
Start the word processing application
Introduction to word processing.
Word processing applications.
Parts of the main window.
Document views.
Creating a new document.
Opening an existing document.
Saving a document.
Closing a document.
Navigator options.
Set up options in Writer
Various options for setting up the Writer.
General, View, Formatting Aids, Grid options etc.
Enter and edit the text
Text editing – cut, copy, paste, and move text.
Find and replace option.
Inserting special characters.
Format the paragraph and text
Formatting characters.
Formatting paragraphs.
Numbered or bullet lists.
Spelling and grammar, thesaurus, hyphenation options.
AutoCorrect, AutoText and word completion.
Format pages
Inserting page break.
Changing page margins.
Page layout – columns and frames for page layout.
Headers and footers.
Page numbering in various formats.
Borders and background.
Create and use table
Table menu options.
Creating table in Writer.
Inserting row and column in a table.
Merging and splitting the rows and column.
Changing the appearance of table using AutoFormat styles.
Changing the properties of table.
Formatting a table layout and table text.
Print the document
Printing options in Writer.
Previewing pages before printing.
Printing brochure.
Printing envelops and labels.
Export the document to PDF.
Unit 2: Spreadsheet Applications: CBSE Syllabus For Class 09 Information Technology
1. Create a Spreadsheet
Introduction to spreadsheet application.
Creating, opening and saving spreadsheets.
Spreadsheet navigation.
Spreadsheet items.
Columns and rows operation.
Operations performed on sheet.
Freezing, unfreezing rows and columns.
Splitting the screen horizontally or vertically.
Using navigator.
Document properties.
2. Enter and edit the text in the spreadsheet
Different ways to enter data in spreadsheet.
AutoInput, Fill tool, and selection lists to speed up data entry.
Merging and spiting cells.
Editing data in cell – delete, replace, paste and inser
3. Format data in the Spreadsheet
Formatting data in the spreadsheet.
Conditional formatting
Hide and show data in the sheet.
Sorting records.
Using Find and replace option.
4. Create charts and Graphs
Creating charts and graphs using the wizard.
Editing charts and graphs.
Formatting charts and graphs.
Resizing and moving charts.
Exporting charts.
Different types of charts.
5. Add graphs
Different ways to add graphics in a spreadsheet.
Options to modify, position, resize and arrange images
6. Use formulas and Functions
Formulas and functions in the spreadsheet.
Formula bar.
Entering formula.
Using functions.
Using operators in functions.
Concept of absolute and relative reference.
Order of calculations.
The regular expression in functions.
7. Print the spreadsheet
Printing the entire spreadsheet.
Print options for selected – pages, ranges of the spreadsheet.
Unit 3: Presentation: CBSE Syllabus For Class 09 Information Technology
1. Create a presentation
Introduction to presentation software.
Starting Impress.
Components of main Impress window.
Different workspace views.
Creating a new presentation using a wizard.
Formatting the presentation.
Running the presentation.
2. Slide Master
Slide masters.
Creating the slide masters.
Applying the slide masters to all slide.
Modifying the slide masters.
Creating own templates.
Default template.
Editing and organizing templates.
3. Add and Format Text
Text boxes.
Entering text into text boxes.
Moving and resizing the text boxes.
Formatting the text in text boxes.
Bulleted and numbered lists in the presentation.
Creating and using tables in the presentation.
4. Add and Format Images
Inserting images into the presentation from various Sources
Options to move, resize and rotate the image.
Image toolbar.
Formatting image.
Deleting an image.
5. Manage Graphics Objects
Tools on the Drawing toolbar.
Creating lines and basic shapes using the tool.
Grouping and ungrouping the graphics objects.
Editing and formating the groups.
Positioning and resizing the graphics objects.
Special effects to graphics objects.
6. Format Graphics Object
Graphics objects.
Formatting lines.
Formatting area fills.
Creating a new area fills.
Formatting text in objects.
Formatting connectors.
Image styles.
7. Create Slide Shows Transitions, and Animations
Creating a slide show using basic settings.
Creating a customised slides show.
Editing, deleting or copying a custom slide show.
Adding, removing transitions.
Setting timing to change slide automatically.
Applying, changing and removing animation effects.
Running slide show.
8. Print, Export and Save the presentation
Printing the presentation using various options.
Creating PDF of the presentation.
Creating web page and flash file of the presentation.
Saving the presentation into Microsoft PowerPoint.
We have covered the detailed guide on CBSE Syllabus For Class 09 Information Technology 2019-20. Feel free to ask any questions in the comment section below.