RD Sharma Class 9 Solutions Maths | Free Download PDF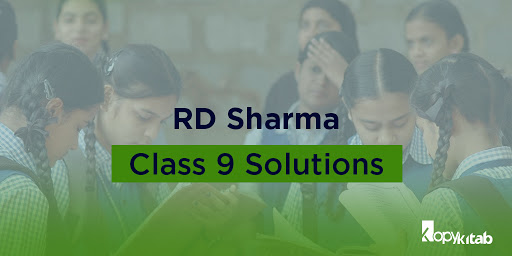 RD Sharma Class 9 Solutions: RD Sharma Class 9 Solutions are the most recommended companion for students studying in CBSE class 9 across the country. RD Sharma publication offers detailed topics which are self-explanatory. Students can understand the concepts easily step by step. There are various books available by RD Sharma publications which include- Mathematics, Science, English, Social Science, Hindi. Apart from regular textbooks, RD Sharma publication provides solutions for NCERT exercises. This helps students to tackle any kind of questions.
RD Sharma Solutions for Class 9 Maths provides step by step solutions for example problems. This helps students to know each step and helps in remembering how to solve them. For Science as well, RD Sharma class 9 books provide a detailed explanation of each topic so that students do not have to waste their time in referring more books. There is no doubt that students who refer to RD Sharma maths Solutions for class 9 will definitely excel in their studies.
RD Sharma Class 9 Solutions – Maths
Here is the one-stop solution for all Class 9 Maths problems. Below are links of RD Sharma Maths solutions for Class 9 PDF chapter wise for Free. If you are looking out for any solution of a particular chapter you can find them below. This is the best platform for you to prepare well for the Class 9 Maths with all the RD Sharma Solutions for Class 9 Maths available for free. Start your preparation now for the CBSE Class 9 Board exams. – http://cbse.nic.in/
Chapter 2 – Exponents Of Real Numbers
Chapter 4 – Algebraic Identities
Chapter 5 – Factorization Of Algebraic Expressions
Chapter 6 – Factorization Of Polynomials
Chapter 7 – Introduction To Euclid'S Geometry
Chapter 9 – Triangle And Its Angles
Chapter 10 – Congruent Triangles
Chapter 11 – Co-ORDinate Geometry
Chapter 12 – Heron'S Formula Exercise
Chapter 13 – Linear Equation In Two Variables
Chapter 15 – Parallelogram And Triangles
Chapter 18 – Surface Area And Volume Of A Cuboid And Cube
Chapter 19 – Volume Of Right Circular Cylinder
Chapter 20 – Volume Of Right Circular Cone
Chapter 21 – Surface Area & Volume Of Sphere
Chapter 22 – Pesentation Of Statistical Data
Chapter 23 – Measures Of Central Tendency
Why are RD Sharma Solutions important?
Dr Ravi Dutt Sharma, popularly recognised as RD Sharma, is an author, mathematics teacher who has written many reference books on mathematics.
RD Sharma is considered one of the best Mathematics professors, and schools recommend his textbooks for CBSE Mathematics.
Students studying in class 9 are advised to refer the RD Sharma solutions regularly to develop their mathematics skills and score well in their examination.
Some key benefits of preparing with the help of RD Sharma solutions are given in the points below.
class 9 solutions by RD Sharma are easy to understand and clear all doubts.
The solutions of class 9 RD Sharma are created by subject experts efficiently and comprehensively. So that a student can get more benefits from it.
The answers are prepared by following the latest syllabus of CBSE class 9 so that students are updated with the latest curriculum.
The experts have considered the learning level of the students while preparing the solutions.
These maths solutions are sure to help the students to establish a strong foundation and score their final exams better.
Why Choose Kopykitab for RD Sharma Solutions?
Mathematics is the best subject to score in the exam. You should have a strong base in class 9 mathematics. Especially for those students who want to score better in 10th exam and wish to study in the science stream.
If you choose Kopykitab for RD Sharma Solutions, you will get tremendous benefits from it. You will have a strong base on the subject and also an easily accessible, cost-effective solution.
Benefits of choosing Kopykitab for RD Sharma Solutions
Flexible Learning
No need to visit many unique places to learns new skills. One can learn anytime and at any locality. It is easily accessible. One will quickly learn new skills by using their smartphones. The remote areas will get better benefit from it. Without relocating to a new place, one will soon learn from home.
Personalized Learning
Everyone has a different way of understating for the same topic. One can learn a new thing within a few minutes, whether others take hours. So no need to wait for others to accomplish learning new skills. One can easily personalize the time of learning because of the flexibility of platforms.
More References
Everyone has different learning methodology. To understand better and learn quickly, they have to find the best sources according to their perception. One will get more references and methods to learn a new thing in KopyKitab. One can easily find the best suitable one. In this way, they will have better command on the topic or skill.
Time-Saving
The present education system is too time taking process. One has to visit the source of education. To learn a new thing, one has to spend ample time to attend the classes and all.
Less Costly Learning
One can reuse those KopyKitab resources without spending a huge amount of money. KopyKitab quickly provides them at less price. Because they have to create those contents just once, but they can resell them again and again. So no need to hire more people.
Easily To understandable
One can learn better with exemplar & Video Lectures. The learner can easily understand the topic. Visual formats are always better to understand any topics. Expert has designed the solutions and video lectures such a way that any student can understand easily.
Hope you have received complete information on RD Sharma Solutions for Class 9 maths and its importance. Buy your desired books from the wide range of collection available now. Stay tuned and we will keep you updated with all the latest books.