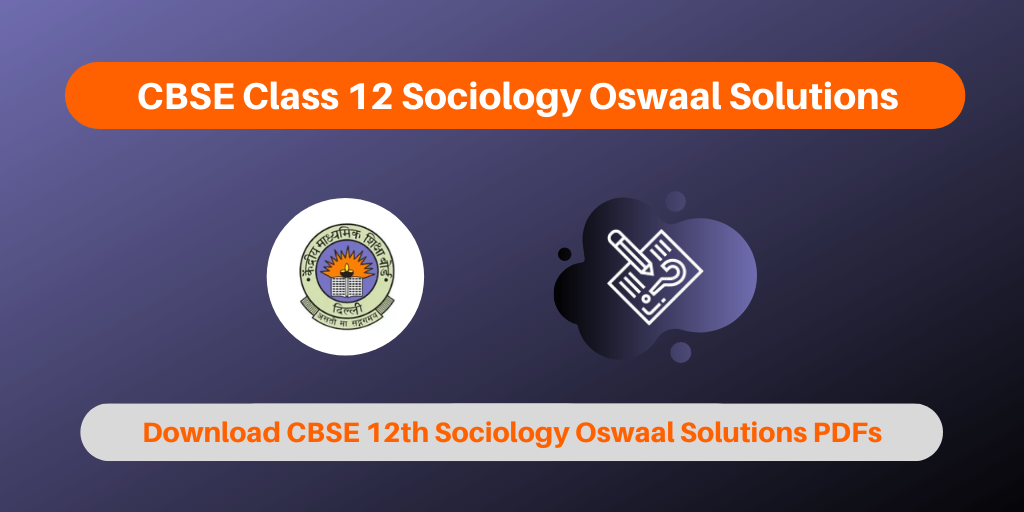 CBSE Class 12 Sociology Oswaal Solutions: Oswaal Solutions helps you to develop the depth concept of CBSE 12th Sociology. It has well-explained solutions to clear the concepts of Sociology. These solutions are intended to help the students of class 12 in the preparation of CBSE Sociology exams.
Sociology is the scoring subject of the CBSE Class 12 Exam. But for that, you should have a strong command of every topic. You should also have enough study material to prepare for CBSE 12th Sociology Exam.
In this article, you will get the detailed CBSE Class 12 Sociology Oswaal Solutions for all the individual chapters to help you in clearing the doubts that you might encounter while solving the questions given in class 12 Sociology textbooks.
CBSE Class 12 Sociology Oswaal Solutions
Oswaal solutions for class 12 Sociology are prepared by the subject experts to help you to develop understanding while solving conceptual and numerical problems mentioned in Class 12 Sociology textbooks. You can easily clear your doubts about any questions from the 12th Sociology textbooks by using the solutions. These CBSE Sociology Solutions for Class 12 will also help you to revise the complete CBSE 12th Sociology Syllabus.
It will also help you to develop a depth concept on the subject and get a better score in the exam. Apart from CBSE board exams, these solutions can be extremely helpful for the preparation of entrance exams as well.
Here is the link to download CBSE 12th Sociology Oswaal Solutions for your Reference.
You will find the following chapters in 12th Sociology Oswaal Solutions,
Indian Society
Chapter 1 Introducing Indian Society
Chapter 2 The Demographic Structure of the Indian Society
Chapter 3 Social Institutions: Continuity and Change
Chapter 4 The Market as a Social Institution
Chapter 5 Patterns of Social Inequality and Exclusion
Chapter 6 The Challenges of Cultural Diversity
Social Change and Development in India
Chapter 1 Structural Change
Chapter 2 Cultural Change
Chapter 3 The Story of Indian Democracy
Chapter 4 Change and Development in Rural Society
Chapter 5 Change and Development in Industrial Society
Chapter 6 Globalisation and Social Change
Chapter 7 Mass Media and Communications
Chapter 8 Social Movements
Other Important Links For CBSE Class 12 Sociology
You should have the following study materials to boost your exam preparation for the Class 12 Sociology exam. Click on the link to access the study materials.
Benefits Of CBSE Class 12 Sociology Oswaal Solutions
You will get tremendous benefits from using CBSE Class 12 Sociology Oswaal Solutions.
Some Notable benefits are:
12th Sociology Oswaal solutions provide a step-by-step explanation of every question.
Solving these 12th Sociology Oswaal solutions will help you to clear all the doubts with the help of solved questions, shortcut tips, brief summary, notes, etc.
You should practice these 12th Sociology Oswaal solutions on a regular basis to score better marks in their exam.
These solutions are prepared as per the syllabus of the respective subject and provide proper guidance and thorough learning process.
12th Sociology Oswaal solutions help in clearing the tough concepts by explaining it in a simple way.
In order to score optimum marks in the board papers, it is very important to you to practice these 12th Sociology Oswaal solutions as it contains a variety of questions to practice. This will help you to have an easy hand at the twisted questions as well.
We have covered a detailed guide on CBSE Class 12 Sociology Oswaal Solutions 2020. Feel free to ask any questions related to 12th Sociology Oswaal Solutions in the comment section below.