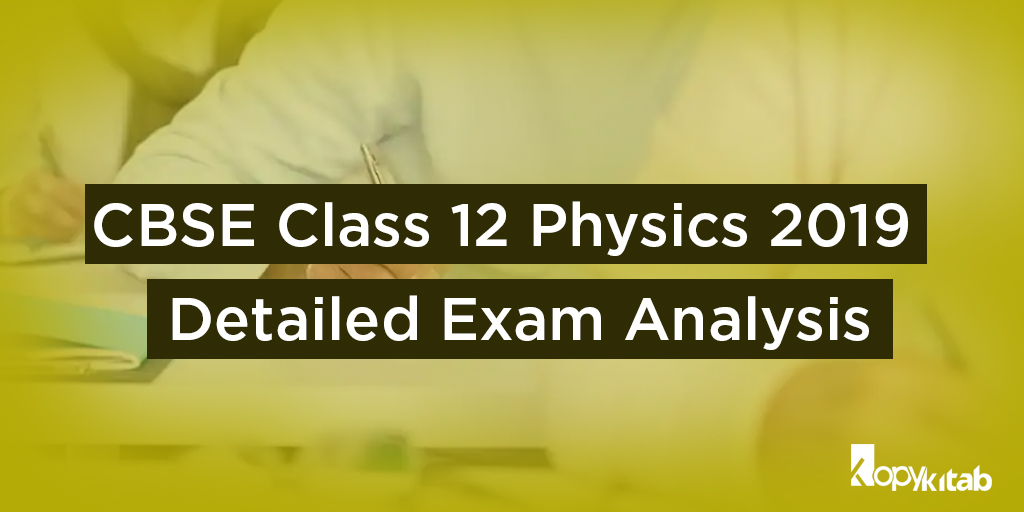 The Central Board of Secondary Education conducted the Class 12 Physics Exam today i.e., March 5, 2019. There were lakhs of students appeared for the CBSE Class 12 Physics examination. The examination was conducted between 10:30 AM – 1:30 PM. As usual, the paper was distributed at 10:15 AM and there was 15 minutes time to read the question paper. According to the reviews given by students, the paper was moderately difficult. Most of the students among the total students said the CBSE Class 12 Physics paper was difficult compared to CBSE 2018 Physics paper.
The CBSE Class 12 Physics Question Paper was moderately difficult compared to 2018 Physics Paper. Students said that most of the questions were from the textbook. The only change in this year paper was there were extra numerical and graph questions. For those students who did not practice well, found the paper too lengthy.
CBSE Class 12 Physics Exam Analysis 2019
Moderate difficulty level
Highly conceptual and not theoretical
Numerical Questions weightage was 21 marks out of 70
Majority questions were from NCERT
Paper was lengthy
Few questions in Section C & D were tricky and not direct
Get CBSE Class 12 Sample Papers
CBSE Class 12 Marking Scheme
Section
Question Type
No. of Questions
Marks for each question
Total Marks
A
Very Short Answer Question
5
1
5
B
Short Answer I Question
7
2
14
C
Short Answer II Question
12
3
36
D
Long Answer Type Question
3
5
15
Total
27
70
According to the experts, the paper was moderately difficult. Those who have prepared well with NCERT Physics Books and practiced well found the paper to be fine. There were numerical questions this time which were not tricky. The questions based on semiconductors were too difficult. Compared to previous year, theorems were less asked this time. There were some easy questions like Explain how galvanometer can be converted into ammeter. Also, the graph questions were in abundance compared to direct theory questions.
Some students found the paper lengthy but many others completed on time. Some said the three mark questions were tricky which consumed a lot of time. Few students complained about the difficulty of the paper and said they left a few questions unread. An average student can easily score 45+ marks out of 70.
Hence, students are suggested to concentrate more on the topics which they are weaker. We wish all the best to students for their next paper i.e., Chemistry which is scheduled on March 12, 2019. Check out the best CBSE Class 12 Chemistry Books to score 100% marks.
[related_books catid="235″ product_type="ebook" algo="Latest"]