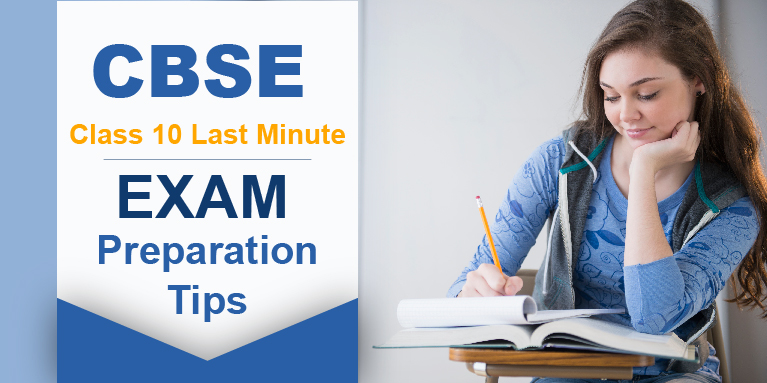 Central Board of Secondary Education (CBSE) class 10 or All India Secondary School Examination will begin from 21st February 2019. Class 10th is one of the major milestones that will shape up their entire career. With just a few weeks left for CBSE Class 10 Board Examination, for Class 10 Exam Preparation the students are advised to analyze each and every concept included in class 10 science syllabus and formulate an effective study plan accordingly along with class 10 books PDF.
The students preparing for the board examination usually end up getting nervous and stressed due to which they might get confused while learning complex concepts and formulas due to the peer pressure of covering the entire syllabus and securing good marks in the exam. Here are some important tips that can help students in securing a meritorious position in the examination.
  [related_books catid="233″ product_type="ebook" algo="Latest"]  
Selective Revision– Well, this is not the time to sit and study the entire subject. Instead, you need to focus on the main topics of each chapter. This will help in remembering the key points of each chapter for a long time. Make a note of important key points in bullet points so that you can revise easily. You can go through previous year question paper to get an idea of weightage of each chapter in the exam.
Eat healthy food- In these last crucial hours of Class 10 exam preparation, students often tend to forget about their health, which is the worst possible thing that they can do to themselves at this point. Try to follow a healthy diet in these last crucial hours and it will you in various ways.
No study time- Spare some time at regular intervals to rest, have nutritious food and play or listen to music as per your likings. It will not only, freshen you up but will restore your energy and efficiency to hit to the perfect scores. Now, is the time to relax and enjoy some time away from exam stress. Meditate or go for a walk or play some sport … to provide your brain with the necessary respite. Also, go to bed early. Do not indulge in late night studying.
Have positivity- Positivity means the tendency to be positive or optimistic in attitude. Having positivity in your mind is the key to success, so wear it along with the zeal to leave your best imprint on the wall of your success and remember…hard work never fails!
Mock Test– Taking up the mock test during the end of Class 10 Exam preparation does help in making you know how much you are aware of the subject. It will increase your confidence to attend the main exam without any fear.
Using these tips will definitely help you to score more in the board exam.