CBSE Class 10 Exam Study Plan
Securing a good score in CBSE Class 10 Exam is very important as your next academics- science, commerce or arts will depend upon it. Each student should prepare well to score more in the CBSE Board exams. But, preparation is not so easy as CBSE Class 10 Exam syllabus is very vast. The stress and anxiety level of students increase gradually as the exam approaches. Hence, we have prepared a study plan for all class 10 students as there is 25 days more for the exam. Students can go through the blog completely to know about the study plan and how to prepare in the nick of time.
CBSE Class 10 Exam Study Plan
1. Know your Strength and Weakness
Students must be well aware of their Class 10 CBSE syllabus before preparing their timetable. Know the CBSE Class 10 marking scheme as well. Once you are through with the syllabus and marking scheme, identify your strengths and weaknesses. Make sure you allocate more time to your weak subject/chapters and less time to subject and chapters you are strong at.
2. List down Important Chapters
As you check the syllabus and marking scheme, segregate important chapters aside. You should spend more time on subjects which contain more weightage.
3. Allocate separate time for each activity
Make sure you give time for preparation which includes learning concepts, practicing questions, solving sample papers or previous year question papers, taking up mock tests and also revision.
4. Set up small goals.
Set up daily and weekly goals and achieve them. Make sure you complete the portion dedicated to a particular day on the same day itself.
5. Take Small breaks
Make sure you take breaks in between. Studying for long hours at a stretch may exhaust you and you won't be able to give your 100 percent then.
6. Allocate some time for Entertainment & Exercise
There is nothing wrong with spending some time daily doing something you like. But avoid doing things that can get addictive, like playing computer games. Also, do exercise. These will freshen up your mind and help you focus better.
7. Do not Compromise with your Health
Eat healthy food timely. Do not skip your meals no matter what. Also, sleep enough. To give your best shot in the exam, you should be healthy and in a position to convert your knowledge to marks.
Important Tips to score more in CBSE Class 10 Exam
1. Avoid listening to music and watching television
2. Do not study after 11:00 PM.
3. Spend more time for difficult subjects and dedicate at least 2 hours per day for difficult subjects.
4. Solve CBSE Class 10 previous year papers.
5. Make use of sticky notes, flow charts, flashcards.
6. Keep revising whatever you studied frequently.
7. Stay calm and believe in yourself
Thus, we hope you all have understood how to score more in CBSE Class 10 board exams. Do prepare accordingly and score 100% marks. As the new academic year has begun, students can know the Subject-wise Study Plan for CBSE Class 10 Board Exams 2019-2020. Check our latest blog that gives you a complete for preparing step by step for each subject.
Testimonial
Navin Thakur, a student from Punjab has scored A1 in all subjects of CBSE Class 10 2019 Board Exams using Kopykitab Books. Studying well from our study materials, Navin has scored good marks in his CBSE Class 10. We congratulate Navin for his hard work and proud to see students scoring A1 by using all kinds of study materials available at our site.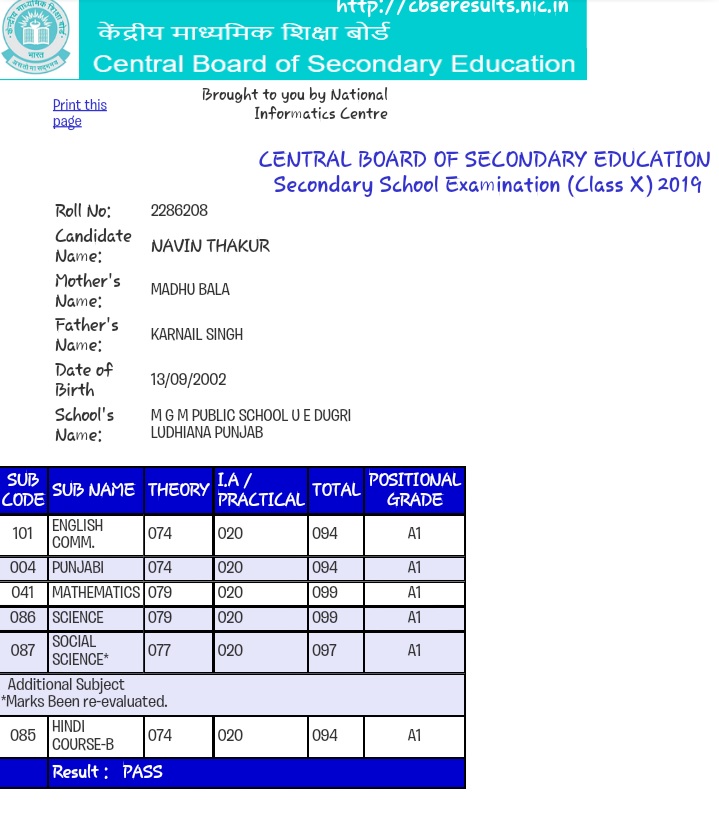 71% Off

Ebook

10% Off

Ebook

10% Off

Ebook

10% Off

Ebook

10% Off

Ebook

25% Off

Ebook

25% Off

Ebook

25% Off

Ebook

25% Off

Ebook

25% Off

Ebook

25% Off

Ebook