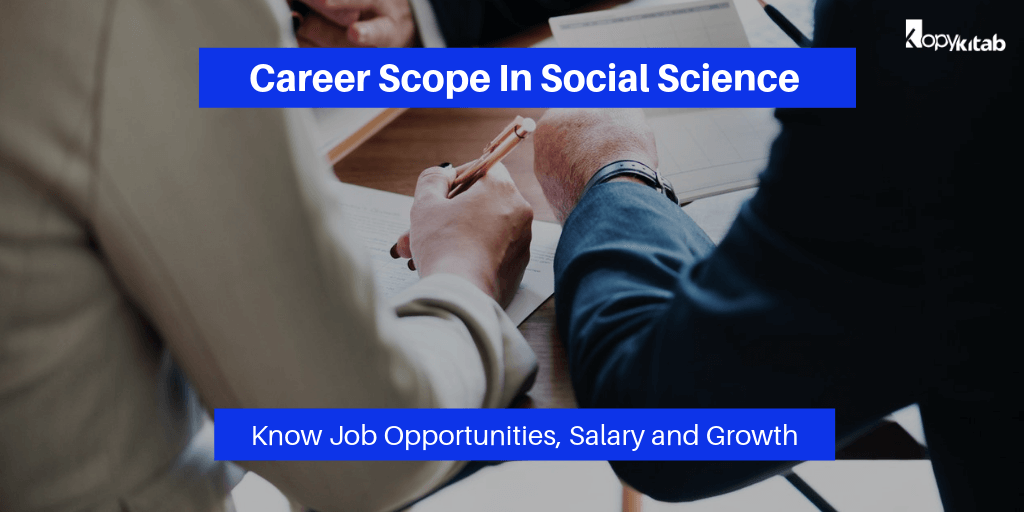 Career Scope In Social Science: With the globalization, Career scope in Social Science and Humanities has improved.
Fast-growing markets, digital technology & media houses have increased the importance of higher education in Social Sciences and Humanities.
Join Our Telegram Group To Improve Your Aptitude & Reasoning For All Exams
It was once thought as secondary discipline. The raising professions of marketing, media, entertainment, research, and administration are laying the red carpet for students of these disciplines. 
Career Scope In Social Science
Know About Social Science
By studying Social Science, you will develop knowledge and skills utilizing a combination of subjects including,
Geography,
Sociology,
Criminology,
Psychology,
Politics,
Economics.
You will have ideas about the significant issues that affect individuals and society. Also help you to understand valuable transferable skills opening up employment opportunities in public, private, and voluntary sector organizations.
Get Best Books For Social Science
You can develop the best strategies to help find solutions to a range of social issues at both local and international levels. You will become proficient in various skills like,
Problem-solving,
Information processing,
Effective social writing
Cross-cultural awareness,
Creative and critical thinking
Social research skills,
Identification and analyses of social issues and concerns
Ability for constructive intervention,
Social science research design and implementation,
Public policy design and evaluation
Social impact assessment and social planning and analyses of socio-economic issues across a wide range of contexts.
Career Scope In Social Science & Salary Structure In India:
JOB POSITION

JOB DESCRIPTION

AVERAGE ANNUAL SALARY

Social Workers

Large-scale organizations need a social work degree holder for entry-level positions. One should understand human behavior and thought processes in this profession. They often choose to specialize in a particular area such as children, or school or medical and public health. This type of professionals aims at helping clients. They try to improve the quality of life by dealing with personal problems.

INR 2,50,000

Economists

Economists study about societies and markets distribute resources, such as

Land,
Raw materials,
Human labour,
And capital to create goods and services.

They are employed by investment houses, government agencies, banks, non-profit groups, think tanks, and large corporations.

As Economists, one has to do data collection, utilizing modeling techniques, analyzing reports, studying forecasts, and producing reports.

INR 12,00,000

Anthropologists

Anthropologists study the development and behaviors of human beings throughout the world, across ages. It is helpful to understand humanity better. They examine the biological, linguistic, sociocultural, and archaeological traditions, depending on their area of expertise. They may work as Researchers and Educators with colleges, universities, or museums.

INR 4,00,000

Instructional Designer

Instructional Designers are employed in various organizations providing online learning opportunities. They work to create challenging and stimulating curricula for students of different ages and backgrounds.

INR 4,30,000

Content editor

Content Editors should edit the contents submitted by technical writers for clarity, grammar, punctuation, and content. They may also,

Write contents,
Create training manuals,
Maintain websites,
Design graphics and layout,
Develop content.

INR 3,60,000
Popular Cities that Offer Jobs to Social Science Degree Holders:
Hyderabad, Telangana
Pune, Maharashtra
Chennai, Tamil Nadu
Mumbai, Maharashtra
Bangalore, Karnataka
Kolkata, West Bengal
Pay Scale For Social Science Degree From Top Institutions In India:
| | | |
| --- | --- | --- |
| NAME OF INSTITUTE | CITY | AVERAGE ANNUAL FEES |
| Lovely Professional University | Jalandhar | INR 1,95,000 |
| NIMS School of Humanities And Social Studies | Jaipur | INR 32,000 |
| Sandip University | Nasik | INR 90,000 |
| Shiv Nadar University | Greater Noida | INR 11,10,000 |
| BFIT Group of Institutions | Dehradun | INR 90,840 |
| CT Institute of Higher Studies | Jalandhar | INR 56,565 |
| Amity University | Noida | INR 2,49,000 |
| Galgotias University | Greater Noida | INR 1,50,000 |
| AIMS Institutes | Bangalore | INR 1,95,000 |
| GD Goenka University | Gurgaon | INR 2,25,000 |
| Shri Ramswaroop Memorial University | Lucknow | INR 90,000 |
| Loyola College | Chennai | INR 10,100 |
| Annamalai University | Tamil Nadu | INR 21,475 |
| Parul University | Vadodara | INR 42,000 |
| Mahatma Jyoti Rao Phoole University | Jaipur | INR 54,000 |
| Tata Institute of Social Sciences | Mumbai | INR 10,000 |
| PDM University | Bahadurgah | INR 1,49,000 |
| Royal Global University | Guwahati | INR 1,80,000 |
Now you have complete information about Career Scope in Social Science. Feel free to ask us if there is any confusion. We will solve your issues as soon as possible.