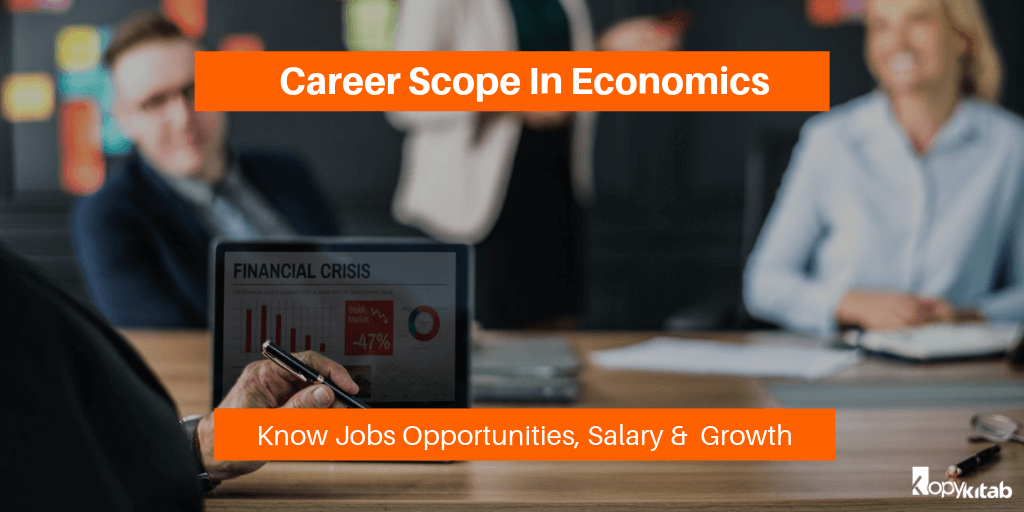 Career Scope in Economics: Do you have a dream to study Economics? Or are you studying Economics and confuse about future scopes?
Don't worry! Here you will find a complete guide on career scope in Economics. Economics is the Evergreen Subject which has high demand at both the national and universal levels because of its utility in our day to day life. The economics field is very much interesting which offers a variety of subjects in it. for eg. The banking sector, trade, commerce, insurance, and other areas. Thus Establishing a bright career in the economics section. Career options in Economics include jobs like Economist, financial risk analyst, Accountant, Investment Analyst, Financial consultant, Data Analyst and more. 
Join Our Telegram Group To Improve Your Aptitude & Reasoning For All Exams
Career Scope In Economics
Economics is one of the evergreen subjects because of its high utility and huge demand in the job markets. It is also an important discipline both for a career as well as a job point of view. Job opportunities are increased because of globalization and after the merging of the world economy. A well-trained economist has a high demand not only in India but also across the world.
Because of the rapidly globalizing economic scenario. The big business organization is hired as financial analysts, researchers, and consultants.
Required Skills To Pursue Careers In Economics
 If you have the following skills, then you will able to achieve a better successful career in Economics. 
You should have better mathematical knowledge so that you can work with different figures.
You should always remain aware of the current affairs, and you have to understand implications analytically.
You should have research-minded and should possess the ability to research every aspect of the economy.
You should be motivated enough and try to be perfect.
You should always keep patience and remain positive and optimistic.
You have to think logically in various scenarios.
Proficiency in Mathematical knowledge is essential to build up a career in Economics.
You should have better communication skills and public speaking skills to explain the complicated economic analysis to the general public who do not know Economics.
Job Opportunities In Economics In India:
Teaching Profession
After completing M.A in Economics with at least 55% marks a candidate can either pursue Ph.D. in any University or appear for University Grant Commission's National Eligibility Test currently conducted by National Testing Agency.
By qualifying in this test, a candidate can become eligible for the post of Assistant Professor in Indian Universities and Colleges or can get a Junior Research Fellowship in a Research Institution. The Ph.D. degree holders are likely to get more job opportunities in every sector.
Indian Economic Services
You have to complete M.Sc. or M.A. in Economics with at least 55% marks that can appear in the Indian Economic Service exam. The age range should 21-30 years. UPSC conducts the exam.
After selection, one has to perform tasks like economic planning and analysis in Planning Commissions for the country. They can also be placed in Planning Board, Ministry of Economic Affairs, National Sample Survey, and other departments that need knowledgeable persons in economics.
Banking Services within the Public Sector
Reserve Bank of India also recruits economists in the banking sector through their own different recruiting examinations. You should have an age limit of 21-28 years.
You can also find jobs in research institutes like the National Council of Applied Economic Research, New Delhi; Indian Council of Social Science Research, Institute of Economic Growth, New Delhi, etc. One can appear in IBPS and State Bank recruitment exam to get absorbed in the banking sector.
Private and Foreign Banks
An Economics degree holder can try for private and foreign banks. The banking job profiles available are branch managers, clerks, economic advisers, development officers, etc. 
International Agencies
Experienced and famous Economists can get employment opportunities in a well-known international organization like the World Bank and the International Labor Organization. 
Work As A Consultant
Economics graduates can work independently as an economic consultant. In the case of the private sector different scientific research and consulting, firms can offer excellent job opportunities.
Entrepreneurship
Economists will have a depth of market knowledge. They will quickly understand the market trends and profitable sectors of business. Hence by creating their own business, they can soon achieve exponential growth. So a large number of job opportunities can be created this way. It will also be helpful to reduce the unemployment issue in the country.
Top Job Roles for Economics Graduates
Professional Economist
Financial Risk Analyst
Data Analyst (Banking Sector)
Financial Planner (Banking Sector)
Financial Controller/Financial Economist
Equity Analyst
Cost Accountant
Economic Researcher
Business Economist
Agricultural Economist
International Economist (Specialization)
Industrial Economist (Specialization)
Labour Economist (Specialization)
Investment Analyst
Actuary
Salary Structure Offered To Economics Graduates In India:
An Economist earns approximately in the range of 1.88 lakhs to 14.81 lakhs per annum.
In Government Sectors, economists can earn ranging from Rs 10,000 to Rs 12,000 per month after joining.
The per month salary of Professors and Assistant Professors in Government colleges and Universities range from Rs.12,000 to Rs.80,000 in according to the seniority and experience.
One can work in the banking sector because it are also proving an impressive pay package. The earning of economic consultants is also very good.
Top Institutes To Study Economics In India 
University of Delhi, South Campus
Delhi School of Economics (University of Delhi)
Jawaharlal Nehru University, New Delhi
University of Bombay, Mumbai
University of Agricultural Science, Bangalore
Stephen College, Delhi University
Jamia Milia Islamia University
Maharaja Sayajirao University of Baroda
Bangalore University
University of Calicut
Banaras Hindu University, Uttar Pradesh
Kumaun University, Uttarakhand
Meerut University, Meerut
University of Pune, Pune
Sri Ram College of Commerce, Delhi
Lady Sri Ram College for Women, Delhi
Hans Raj College, Delhi
Hindu College, Delhi
Presidency College, Kolkata
Xavier's College, Kolkata
Xavier's College, Mumbai
Loyola College, Chennai
Symbiosis School of Economics
Madras School of Economics
IIT, Kanpur
Indian Statistical Institute, Kolkata
Ravenshaw University, Cuttack, Orissa
Top Courses to Pursue in Economics
there are many courses which come under economics at under graduation level(UG level), Post-graduation level (PG level) and a Ph. D level
Economic Courses at UG level
Bachelors in Business Economics
Bachelor of Art (Hons) in Business Economics
B.Com in Business Economics
BCom (Hons) in Business Economics
BBA Business Economics
Economics courses at PG Level
M.A in Financial Economics
M.A in Economics
M.A in Econometrics
M.A in Business Economics
M.A in Applied Economics
Master of Science in Economics
MBA in Business Economics
Master of Philosophy in Economics
Economics Courses at Ph.D. level
Ph.D. in Economics
Ph.D. in Econometrics
Now you have detailed information on Career Scope in Economics in India. For any confusion, ask us in the comment section. We are always ready to solve your issues.