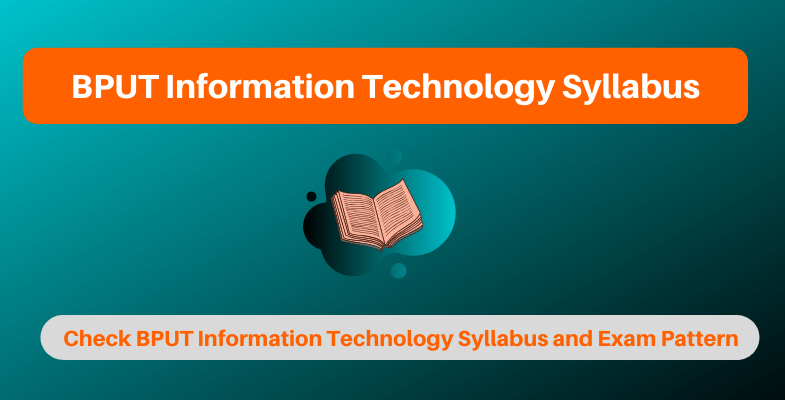 BPUT Information Technology Syllabus: You must aware of latest syllabus and marking scheme to prepare for any exam. To prepare for the BPUT Information Technology exam, you should know the latest IT Syllabus and marking scheme.
In the latest BPUT Syllabus for Information Technology, you will find the important chapters and concepts to be covered in all subjects. The depth knowledge in every topic of Information Technology will also help to crack the various exams like Gate.
Here we are providing you the complete guide on BPUT Information Technology Syllabus 2020 and Marking Scheme.
BPUT Information Technology Syllabus 2020
You can start your exam preparation by creating a solid study plan and score a better mark in all subjects in the semester exam with the latest Information Technology Syllabus. Based on the score in an Information Technology degree, you can shape your career in the proper way.
You must have Information Technology books & study materials, Previous years questions paper along with the latest Information Technology Syllabus to enhance your semester exam preparation.
Click on the link to access all semester syllabus related to Information Technology.
Job Profiles
There are a variety of job profiles presented to Information Technology graduates which allow them to achieve on different kinds of platforms. This course is very popular and students pursuing it has can have a great career ahead.
| Designation | Job Description |
| --- | --- |
| Software Developer | A software developer is responsible for the research, design, programming, and testing of computer software. |
| Testing Engineer | In this the individual is responsible for testing the software and other computer related tools. |
| IT Coordinator | Working on PRPC based applications |
| System Analyst | The job responsibilities in this profile are designing, implementing and supporting the system. |
| Applications Developer | In this an individual is responsible for applications design, development, documentation, implementation and maintenance. |
| IT Technical Content Developer | It involves development of technical content for various websites. |
Top Recruiting Companies for Information Technology
Let's take a look at some of the leading companies where the aspirants of Information Technology professionals can find good job opportunities.
WIPRO
TCS
Cognizant
IBM
Tech Mahindra
Infosys
Accenture
Google
Oracle
Amazon
Information Technology Salary Structure
The salary scale may increase or decrease as per the exposure and experience a candidate has. Mentioned-below is salary figures for different types of Information Technology professionals:
| Role | Average Annual Salary (in Rs lakh) |
| --- | --- |
| Software Engineer | 3.65 |
| IT Administrator | 4.9 |
| Project Manager | 9.7 |
| IT Business Consultant | 10.2 |
| Senior Software Programmer/Developer | 8.1 |
| Systems Development | 5.8 |
We have covered the complete guide on BPUT Information Technology Syllabus 2020. Feel free to ask us any questions in the comment section below